Educational change stirs up passion and confusion in most corners of the world. We know that our schools need to adapt to enable our children to thrive in their rapidly changing world, yet we confront seemingly infinite barriers to school improvement. Perhaps no barrier is harder to overcome than the cultural norms around delivery of education. Deeply ingrained habits in teaching and learning can be very difficult to alter. As one curriculum leader recently told me, "There is no lack of knowledge around best practices in education, but there can be a gap between that knowledge and what we see in classrooms."
Educational reforms seem to come and go, but actual change is rare - and seldom the result of an initiative. Nevertheless, change does happen - and even appears seamless in some schools. I recently sat down with a principal who has taken her school on a remarkable journey of transformation to learn more about what works in school improvement.
When Asha Alexander arrived as the newly appointed principal of Kindergarten Starters, a low-cost Indian curriculum school in Dubai, she found children in brown wooden desks taking notes in orderly silence. As class after class greeted her as she wandered through the school, she felt a sense of sadness. She shared, "Children seemed imprisoned by the fetters of structure only to be released by the shrill alarm of the bell that reverberated loudly down the corridors."
On that day five years ago, Asha returned to her office disturbed. "I wondered how could children still be learning in isolation behind desks in a city that was embracing technology. It was not congruent with our times."
Over the past five years, Kindergarten Starters has grown into a school in which technology is used to drive an emergent curriculum that empowers students to become thinkers and problem solvers. Their class sizes still large. The building is still a bit weathered. Yet, technology has been used to personalize learning for students, to extend learning experiences beyond the classroom, and to equip students to turn their their ideas into reality. It's also been used to cut costs on textbooks so that funds could be diverted to create robotics and engineering labs. A small fountain designed by a kindergarten student can be found in front of the building, further evidence of the students' voices that are so present in what was once such a quiet school.
Asha recently shared her journey with me. "I had 5500 students and their families and an army of 228 teachers.I began by addressing my concerns with a handful of like-minded individuals. First, I had to find a small band of teachers to shake the others out of years of lethargy and automation. These people had to be trained and become the catalysts of change. So for six months, which seemed like eternity to me, we gathered together a group of change agents and unleashed chaos in the school.
When our school reopened for the new academic year,there were no textbooks. Instead we presented our carefully mapped objectives and digital resources to help transact the curriculum.
Parents stared in dismay as the bookseller handed them only notebooks and stationery and thronged my office to ask if we were going to drop textbooks. If you have ever taught in an Indian Curriculum school with its reliance on textbook directed learning, you would know the size of my problem. Yet there we were, standing in front of thousands of irate parents explaining the advantage of technology.
I considered myself a fairly good communicator but that day I learned that I have the capacity to effect change in the minds of people. I stood there for over three hours fielding questions, explaining strategies and pedagogy until all of them left - exhausted but partially convinced. It taught every leadership member and teacher that we could make a change like no other. I learned that we had more potential than I had ever dreamed of.
The plan was in motion and we would have to weather the storm. Every day was one of hard work - up-skilling teachers, searching for the best possible resources on a budget. This made us creative. We marched on doing what we had to do - mentoring, coaching, supporting and celebrating every small success despite the barbed comments.
The first year stirred and sullied the crystal clear waters of textbook based learning. We learned, made,and rectified mistakes every day. Some teachers left convinced that this school had seen its best days, some parents left convinced that now it was pure madness. We held our course. Students learned and enjoyed the learning as they delved into the joys of exploration and research.
Our success that year lay in the fact that we did two things right. We based the integration of technology on a well mapped set of objectives. Secondly, we created a 90 minute block of common planning time for each grade every week which we protected to share best practice, discuss student work and learn from each other.
The second year was a bold step to initiate the Bring Your Own Device program. We realized that we were not equipped with enough computers at school to drive our work forward. We acquired better resources, continuously reviewed and strengthened our curriculum, sent teachers for digital training workshops, learned from tech gurus and we realized we hadn't drowned - our heads were above the water!
Our brown desks disappeared, collaborative learning environments emerged, our leadership team grew from 9 members to 39 members, digital learning coaches supported and mentored teachers. A digital head shouldered the vision and we began to gain momentum.
After two years of what seemed to be running in place, we started to see impact. Our student outcomes were improving. The work of teachers and students had been validated. A weight had been lifted off their shoulders and an ecosystem of innovation began to emerge. Young ones made rapid strides in Robotics. Spaces were created to encourage design thinking and self-organized learning.
We joined six others to work with Project Zero at Harvard University to make more deeply embedded changes to teaching and learning. This enabled our teachers to ground their work in research and to become informed agents of change. Through this work, we are now in the process of developing an Indian curriculum-aligned approach to project-based learning. This will allow us to deepening students' critical thinking and problem solving skills. Five years down the road, I can see the impact- confident teachers, great learning outcomes, fantastic scores on the International Benchmark Tests but most of all the readiness to embrace change on the part of students, teachers, and parents.
This is not the end. Someday, I hope to see our students wheeling way up above in the horizon empowered and enriched but above all FREE."
The writer is an employee of GEMS Education which owns and operates Kindergarten Starters.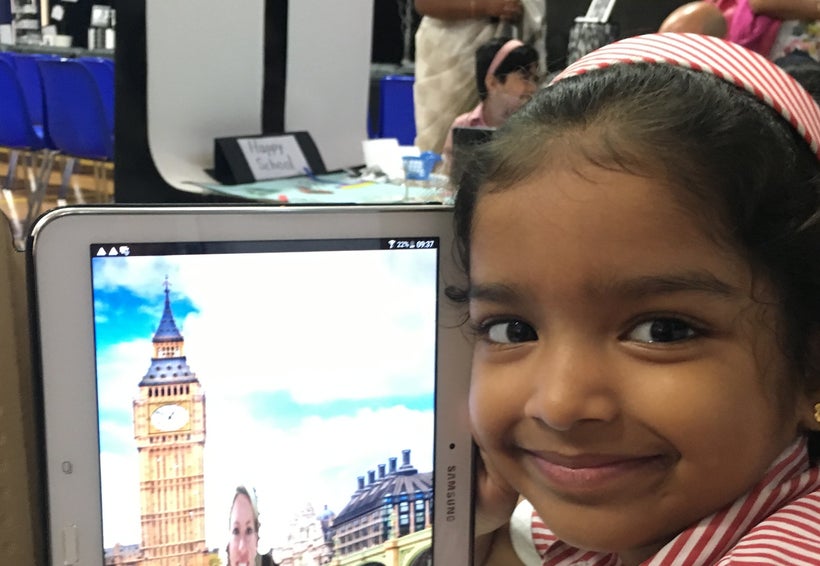 REAL LIFE. REAL NEWS. REAL VOICES.
Help us tell more of the stories that matter from voices that too often remain unheard.
This post was published on the now-closed HuffPost Contributor platform. Contributors control their own work and posted freely to our site. If you need to flag this entry as abusive,
send us an email
.