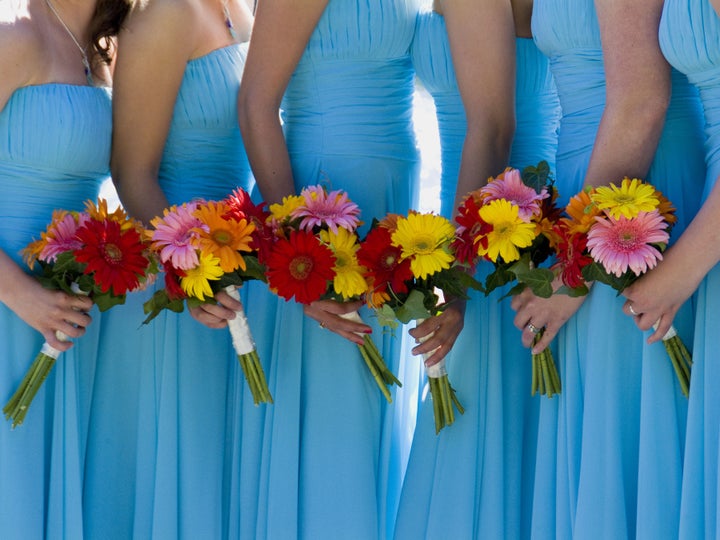 Have you recently been asked to be a bridesmaid? Is this your first time being a part of a wedding party? Are you an old-timer but want some ideas on how to make your role in the upcoming wedding the best possible for the bride? These five foolproof ways will lead you in the right direction to becoming the best bridesmaid ever. Ultimately, staying true to the fact that it's the bride's day (and not yours) will be the biggest factor in the key to a successful bridesmaid role!
Moral Support

Your number one job as a bridesmaid is to be there emotionally for the bride. This is a very special time for her; help the bride to have the most memorable experience ever. You can do this by simply being there as a listening ear when she needs to blow off some steam, or by surprising her with a coffee before a long day of planning she has scheduled. Ultimately, if you were chosen as a bridesmaid then you're one of the people she loves and trusts most, so let that shine throughout the whole wedding experience.
As a bridesmaid you will be partly responsible for throwing the bridal shower and the bachelorette party. For both of these events it is important to stay true to the bride's personality and, if she has any, her wishes. Keep her clued in as to what type of parties you'll be planning, but always maintain an element of surprise. Don't make her worry over any unnecessary details -- take care of everything with the other bridesmaids. Most importantly, keep in mind that the bride is not expected to cover any costs of these two parties.
Do your best to anticipate what the bride will need help with throughout the planning process. Sometimes helping with the littlest things (like dropping her dress off for a final steaming) can be a huge help to her. As her right-hand woman, look for ways to lend a hand throughout the planning process. This could entail anything from offering to a spare room to a wedding guest from out of town, or simply making sure she has water or something to drink during the reception. Offering help will make her whole wedding process go much smoother!
Unless you're already married yourself or in a serious relationship, it's best not to bring a date. This frees you up to be there for the bride and pay attention to her needs. Not to mention, every additional guest adds to the overall budget wedding. If you really want to bring someone, just be sure to run it by the bride plenty of time in advance.
Drama-Free Is The Way To Be
Refrain from crying, wining, pouting and complaining. You may not agree with every decision being made, but the most important thing is to remain supportive. Even if you're the last one in line, keep in mind it's still an hour to be there at all. If the shoes she chose for you hurt your feet, bring a pair of flats to change into after pictures. And if you're not crazy about the dress she picks for you, "grin and bear it." You'll have your chance to pick your dream bridesmaid dress when you get married! This should go without saying, but no changing out of your dress during the reception, and no leaving before the bride and groom have made their exit. Soak up all the time you can celebrating your friend's new marriage!
Overall, maintain a positive attitude and remember that the bride loves you enough to choose you for such a special role on her big day, so simply be there for her!
Popular in the Community