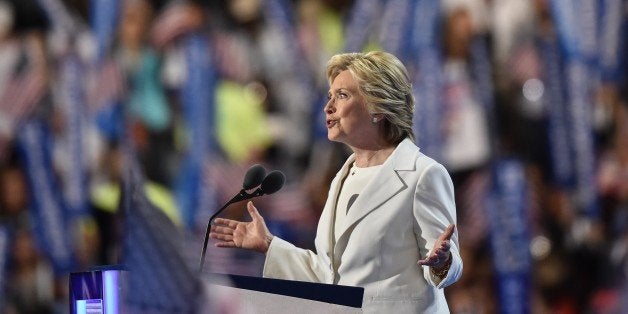 It's the kind of thing that people joke about -- how women in politics always have an extra set of challenges that men don't face. As President Obama said in his speech at the Democratic National Convention, (paraphrasing Ann Richards):
Eight years ago, you may remember Hillary and I were rivals for the Democratic nomination. We battled for a year and a half. Let me tell you, it was tough, because Hillary was tough. I was worn out. She was doing everything I was doing, but just like Ginger Rogers, it was backwards in heels.
I loved watching our president's speech. And I say that as someone who is not a fan of big, over-hyped events in stadiums and sports arenas. I prefer goal-oriented activities like organizing a group of activists to meet with their legislators, or setting up a phone bank or a door-to-door canvass. Still, even I couldn't miss being there, in the moment, when Hillary Clinton made history by accepting the Democratic Party's nomination for President of the United States.
Hillary Clinton's accomplishment is all the more striking considering how the political system in the U.S. is monumentally stacked against women political candidates. According to a 2012 report by American University's Women & Politics Institute called Men Rule: The Continued Under-Representation of Women in U.S. Politics,
Study after study finds that, when women run for office, they perform just as well as their male counterparts. No differences emerge in women and men's fundraising receipts, vote totals, or electoral success. Yet women remain severely under-represented in U.S. political institutions. We argue that the fundamental reason for women's under-representation is that they do not run for office. There is a substantial gender gap in political ambition; men tend to have it, and women don't.
The study lays out seven factors that contribute to this gender gap.
1. Women are substantially more likely than men to perceive the electoral environment as highly competitive and biased against female candidates.
2. Hillary Clinton and Sarah Palin's candidacies aggravated women's perceptions of gender bias in the electoral arena.
3. Women are much less likely than men to think they are qualified to run for office.
4. Female potential candidates are less competitive, less confident, and more risk averse than their male counterparts.
5. Women react more negatively than men to many aspects of modern campaigns.
6. Women are less likely than men to receive the suggestion to run for office - from anyone.
7. Women are still responsible for the majority of childcare and household tasks.

The cultural bias against women in politics is impossible to ignore. When women participate in a political debate, it's a near certainty that the media will comment on what she was wearing. But when a boatload of male candidates all show up wearing the same color tie, and two variations on the same suit, aside from an Internet meme or two -- and that's a recent development -- no one cares.
I was at the convention on Tuesday night when Hillary Clinton was officially nominated. It was historic, an event that would lend itself to the kind of newspaper front pages that mothers would want to save for their daughters. And yet...on Wednesday morning, the Chicago Tribune put a Clinton not named Hillary on the front page. As someone said on the paper's twitter feed, "Please tell me this is not your actual front page. This is a joke, right?"
No, I'm afraid that image was the product of an actual editorial decision by a roomful of -- let me guess -- male editors.
I sat for an interesting interview with Chuck Todd during the convention, and he asked me a question I've heard a lot in recent weeks -- did I think that Hillary Clinton could have achieved her nomination if she hadn't been married to a former president? In my mind, there is simply no doubt that Hillary Clinton is here on her own merit.
Of course, her opponents will throw everything they can at her, and that will include sexist dog whistle messaging of all kinds -- like the whole "trustworthiness" issue, which I have written about in HuffPo before. As I wrote in that column,
Hillary Clinton is the most admired woman in the world for a record 20 years, but as soon as she says she is running to be President of the United States of America, suddenly people say we can't trust her. There is a gendered aspect to this that we need to confront. Politicians are constantly, constantly telling us not to trust women. We're told we can't be trusted to make our reproductive health decisions. We're told we can't be trusted when we say we've been sexually assaulted -- it's assumed that we are lying, or asked for it, or wore the wrong clothes, or said the wrong things. Even in the corporate world, women aren't trusted to be top leaders. Only 5% of Fortune 500 companies have female CEOs. So when people say they can't trust Hillary, they are tapping into the same tired old excuses for keeping women out of leadership. I call sexist bullshit on that.
So how did she do it? How did she win the nomination in spite of all these gendered barriers? Grace. Resilience. Taking to heart her mother's insistence that she never back down from any challenge. Commitment to her Methodist values of doing "all the good you can, for all the people you can, in all the ways you can, as long as ever you can." That's a pretty good summation of what we should want from our political leaders, don't you think?
In a truly incandescent convention speech, Michelle Obama summed it up:
I am here tonight because there is only one person who I trust with that responsibility, only one person who I believe is truly qualified to be President of the United States, and that is our friend Hillary Clinton. That's right. See, I trust Hillary to lead this country because I've seen her lifelong devotion to our nation's children, not just her own daughter (who she has raised to perfection) but every child who needs a champion. Kids who take the long way to school to avoid the gangs, kids who wonder how they'll ever afford college, kids whose parents don't speak a word of English but dream of a better life, kids who look to us to determine who and what they can be.
******
And look, there were plenty of moments when Hillary could have decided that this work was too hard, that the price of public service was too high, that she was tired of being picked apart for how she looks or how she talks or even how she laughs. But here's the thing. What I admire most about Hillary is that she never buckles under pressure. She never takes the easy way out. And Hillary Clinton has never quit on anything in her life.
Never quitting is how we will win. Getting in the game and staying in the game. Putting up with the 99-degree heat, the miles of walking, the daunting search for a seat in the ridiculously crowded arena. Yelling and laughing and waving the signs alongside total strangers. (And to my niece Lauren, who watched the whole thing on TV and tweeted out "What's a girl gotta do to get a MICHELLE and OBAMA sign from the DNC?" -- I'm working on it.)
But this moment is about more than souvenirs and snapshots of convention highlights. Every day, I'm waking up to the knowledge that we now have fewer than 100 days until the election. That's why I'm determined to respond to our first lady's call to knock on every door, get out every vote, "pour every last ounce of our passion and our strength and our love for this country into electing Hillary Clinton as President of the United States of America!"
I've made my plan to help Hillary Clinton win this election. Have you made yours?
Popular in the Community