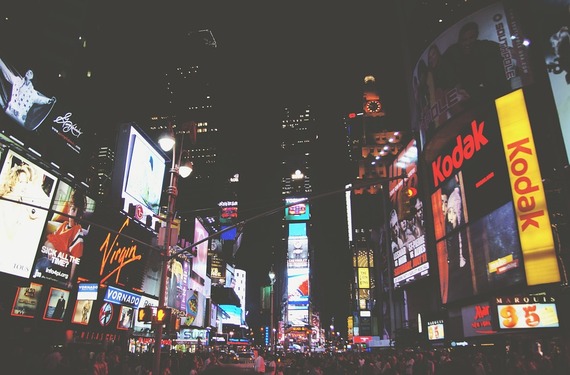 When it comes to app promotion, Facebook and Google rule the world. Just as they tend to be key players in a variety of fields related to tech, social media, and online communications--the two heavy hitters continue to take the mobile advertising arena by storm--reeling users in with their unique ads, individualized algorithms, and simply because they dominate the internet.
Of course, there are many reasons they are kings of the industry including their reach, influence, and prowess in the field; however, just because they are the biggest doesn't mean they are the best. In fact, there are actually many areas that Facebook and Google need to work on in order to become stellar app promotion platforms. Here are just a few from the top of my head.
Not Quite Mobile First
The world is becoming more and more mobile-centric everyday. In fact, nowadays people are
. In addition, mobile media use has now reached 51% of the total media consumption, making it more urgent than ever for ads to be focused on mobile users, especially when we are dealing with something as mobile oriented as apps.
Particularly for Google, ad real estate in the mobile sphere is a challenge. Facebook has the advantage in this realm because their news feed supplies a seemingly endless amount of ad space as the user can continue to browse and scroll down. However, with regards to Google, if you are not on the first page or two, your ad will have significantly lower clickthroughs.
While this can be true for desktop as well, the situation is even more magnified when it comes to mobile. While desktop users might have the patience to go through a few pages in a search engine, mobile users in particular are looking for something fast and convenient. Therefore, they are less likely to continue clicking to new pages and as a result, the amount of space Google can offer to their partners is highly limited.
Less Capacity for Targeting
While Facebook is a great platform for targeting due to the ample amount of personalized user data they have access to, Google is still lagging behind. Though Google does consider both context and search intent, Facebook is able to delve deeper since they have insights on specific people, their location, gender, age, jobs, schools, and more. But since Facebook knows it has this power, they will make you pay for it. That's why other app promotion technologies have come into fruition, providing savvy mobile app developers a means to hyper target their ads without breaking the bank.
"Although Facebook has built an incredible app discovery business model translated into the new Audience network, they are currently failing on delivering scale of new users at an affordable way. Their effective interests, demographics targeting, and user acquisition costs are reaching high prices very quickly and many small and indie developers aren't able to afford the cost." says Elad Natanson of Appnext.
Clearly, while targeting is necessary, the financial barrier that Facebook ads has created turns away many of the newer, less established apps due to lack of budget.
The Price is not Right
This leads us to the pricing issue. There is no denying that Facebook's ad platform has a lot of benefits, but only for those that can afford it. The cost per CPI on Facebook is around $2, significantly exceeding the prices on competing mobile ad networks. Furthermore, since Facebook ads are becoming increasingly prominent, many millennials and younger users will filter them out, making it not worth the hefty price if this is your target audience.
Don't Always Take Advantage of Native Formats
Native mobile ads are the wave of the future. Since these types of ads can easily blend into the context of the surrounding content, users don't view them as being annoying or obtrusive. In fact, many even find them entertaining, especially if they are in
.
While Google does use native ads for searching, they still have not developed the same for display footing. The closest they have is their Lightbox ads, which are essentially banner ads with the capability of becoming full screen. Without being on trend with regards to creating user-friendly app formats, advertisements will be far less effective than they could have been.
They are Stretched to Capacity
As we know, both Facebook and Google are gigantic corporations. This means in terms of reach and technology, they excel. However, with regards to their ability to maintain knowledge of the industry and specialize in the problems experienced on the day to day, they fall short. Nobody can do everything and do it perfect, not even Mark Zuckerberg.
In contrast, when ad networks are smaller, and specialize in this specific niche, they understand the industry and make the needs of developers their number one priority. They are easy to reach, easy to work with, and value your business. For me, this is a huge consideration when formulating business partnerships.
All in all both Facebook and Google get a lot of things right when it comes to app promotion. But there are still areas where they can improve, especially when trying to target newbies in the industry. Depending on what you are looking for, there a number of great mobile advertising specialists that can give you most the benefits of the big guys without the drawbacks. Therefore, it's worth your time (and money) to do a bit of research to discover which one will help you monetize your app and create a dynamic, successful mobile business.
Calling all HuffPost superfans!
Sign up for membership to become a founding member and help shape HuffPost's next chapter