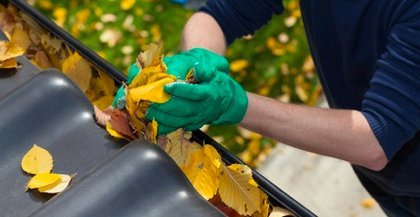 Successfully running one of the largest disaster restoration and cleaning companies in Chicago requires paying attention to how simple things such as a change of season can affect business. When summer ends, temperatures drop, and the interior and exterior environment of buildings and homes start to change. Some structural damage risks increase while others decrease.
Fall is a time when I have to shift my team's focus to different seasonal tasks and equip them with the right tools to take on new challenges. I also have to consider the changing needs and limitations of my customers and my team members.
Below are a few more specific examples of what fall means for my Chicago business.
More Fire Damage Restoration - As the weather gets cooler here in Chicago, people turn on their furnaces for the first time in months. Unfortunately, not everyone knows how to maintain a furnace properly, and a neglected unit can ignite serious house fires. Additional fire risks come from fireplace accidents and malfunctions, electric space heaters and even increased static caused by drier air. However, fire isn't the only problem associated with heaters. People also need to check their carbon monoxide detectors to make sure that their heating systems are working safely and properly.
More Water Damage Restoration - Those beautiful falling leaves can also spell trouble, especially when they land in gutters. If they're not taken care of immediately, they can cause long-term damage to a home and require water damage restoration. A gutter system is designed to channel water away from a home or building. When it becomes clogged with leaves, water pours over the sides and pools around the foundation. Over time, the water seepage causes foundation cracks and rotting of other building materials, which in turn leads to mold growth. In many cases, professional mold remediation is needed in addition to structural repairs.
Frozen Pipe Disasters - Although frozen pipes are generally a problem in winter, fall is when we start preparing for burst pipes that cause extensive interior water damage. Before the first freeze, I make sure that my teams readily have access to the training, tools and materials needed to provide fast and efficient water damage restoration services.
Severe Weather - September is the peak of the hurricane season, and although it doesn't usually cause severe damage in Illinois, we do get the high winds, excess moisture and tropical rainfall, which can also lead to water damage and mold problems.
Sick Days and Scheduling Conflicts - October marks the beginning of cold and flu season. As a parent, I know exactly what's coming. My team members who have children are frequently exposed to contagious illnesses; this means more employee sick days and a greater need for backup plans. Holidays can also cause scheduling conflicts for both employees and customers.
Fall Cleaning Opportunities - Fall isn't just about damage restoration and weather patterns. The change of seasons also presents a prime opportunity to convince home and business owners to consider professional cleaning services. With the holiday season right around the corner, many people want to get everything in order.
When you're aware of how the slow glide into autumn can affect your business, you avoid costly surprises and missed opportunities. Like any other season, fall is filled with both obvious and hidden opportunities to excel.
This blogger graduated from Goldman Sachs' 10,000 Small Businesses program. Goldman Sachs is a partner of the What Is Working: Small Businesses section.