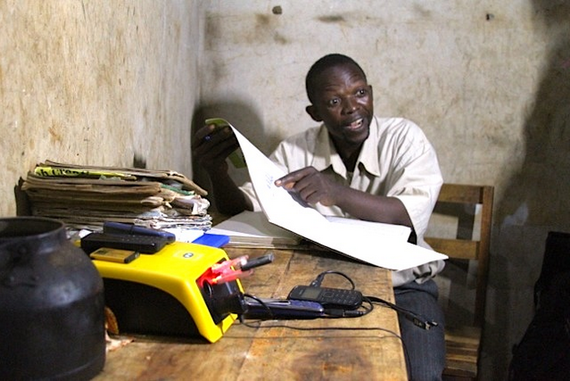 We're only one month into 2015 and it already looks like it'll be a wild ride when it comes to investment in solar energy beyond the grid.
I say that because I recently sat down with a private equity investor who has been interested in beyond the grid solar markets for years. He is, of course, unique -- someone with a deep background in these energy markets who saw the potential years ago and is very interested in seeing them succeed. But, as he pointed out several times during the conversation, despite the enormous potential, the beyond-the-grid solar market never felt mature enough to actually invest. That is until now.
But much more than the total investment, it was those who made the investments that spoke volumes. From Solar City to Schneider Electric, big names with proven track records put private investment into a market they believe has big potential. It was that step past social impact investment, or multilateral development bank investment, that signaled something had changed.
You see, a couple of deals snuck in late in the year that did not make Greentech Media's list. The first was a potential watershed deal that saw $4 million in debt flow from the U.S. Overseas Private Investment Corporation (OPIC) to Simpa Networks. That deal could pave the way for much needed financing from bilateral agencies and other sources that will move the market from serving hundreds of thousands of people to hundreds of millions of people. The fact that debt, in any form, is now entering the off-grid solar space is a really big deal.
But that was 2014. So why are we so bullish on exceeding that performance in 2015?
Exhibit A is Fenix International's new $12.6 million Series B round from big name companies including GDF Suez, Schneider Electric, and Orange France Telecom. This deal is the starting gun for the 2015 beyond the grid solar race. More importantly, this single deal has elements of every prior deal that signaled the space was ready for a breakout year. From big names like Schneider Electric to working capital debt, Fenix's deal is the new normal.
In fact, in so many ways, Fenix demonstrates the rapid maturation of the space. They've got a plug and play product offering coupled with their own pay-as-you-go finance platform (ReadyPay) to increase affordability. And their systems are much bigger than early entrants -- up to 75 watts -- demonstrating the desire of their customers to move up the energy ladder after basic needs like lighting and mobile phone charging are met.
Of course only one investment early in the year might leave a few skeptics crying foul on such bold predictions. But consider this -- there are two separate debt facilities in the works (one that should be made public any week now). In addition, one of the space's biggest public sector financiers,OPIC, doubled down by elevating its support to a political level with the Indian government (see the White House press release dedicated to off-grid financing and super efficient appliances).
Add to that the pipeline of innovative companies that have been banging down the door for such financing for years, and we have a witches brew of access to finance and a pipeline of cash starved companies that might just spell magic in 2015.
Buckle up, it's going to be a fun ride.
REAL LIFE. REAL NEWS. REAL VOICES.
Help us tell more of the stories that matter from voices that too often remain unheard.