The opportunity to shape CreateNYC, the forthcoming cultural plan for the City of New York, has prompted a spate of pioneering field research by DataArts, UPenn, and others. Now, Dance/NYC, the organization I run, and a coalition of research partners weigh in with Advancing Fiscally Sponsored Artists & Arts Projects, the first-ever comprehensive assessment of the segment of artists and projects entered into an arrangement known as "fiscal sponsorship" with legally registered 501(c)(3) nonprofit institutions. Under this arrangement, sponsors provide financial and legal oversight and share their tax-exempt status.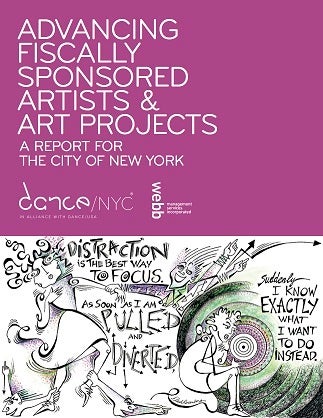 Fiscally sponsored artists and arts projects are contributing to the fabric of the city in a real and vibrant way. At 3,100, the estimated minimum number of sponsored projects is three times the number of New York City Department of Cultural Affairs' (DCLA) grantees—roughly 1,000 traditional nonprofit institutions. The workforce is based in neighborhoods in all five boroughs, and its members work both in and across the disciplines of dance, film and electronic media, literary arts, music, theater, and visual arts (2.73 disciplines on average per worker in the study sample) to achieve new creative horizons and impact.
Yet the segment is significantly challenged in identifying and accessing the resources it needs to sustain and scale up its delivery of public value. Projects in the study sample run on lean annual budgets—approximately $24,500 on average—that are too small to pay living wages or incorporate many key artistic and operational costs, including space needs. Most alarming, 42% of the sample reports going unpaid for its labor.
The chief hurdle for sponsored groups is access to funding sources, particularly to overly restrictive foundation and government funding programs that exclude sponsored groups despite their tax-exempt status. While 94% of the sample receives charitable funding from individuals, only 51% receives foundation grants, and only 29% receives government income from any source. Currently, fiscally sponsored artists and projects have access only to limited City government funding, primarily through boroughs arts councils and regrantors supported by DCLA.
In addition, this segment is suffering the crisis of affordability that is impacting all New Yorkers. When rating areas of need, artists identify the following priorities: living wages, affordable presentation space, affordable development space, supplies and materials, affordable health care, affordable living space, and affordable training.
Findings from a DataArts' workforce demographics survey add critical dimension to understanding this landscape and the relationship between the sponsored workforce and the local population. There is some promising news in the survey results. In terms of gender, 65% of respondents identify as female, outpacing the workforce of DCLA grantees and the city's overall population, which is 52% female according to US Census data. The percentage of respondents who identify as lesbian, gay, bisexual, transgender, and queer (LGBTQ) is substantial at 27%. While indicating opportunity to better engage both the Millennial (born 1982–2000) and Silent/Greatest Generation (pre-1945), the findings on age generally align with the city's population, which skews young.
Most encouraging, in terms of disability, 13% of respondents identify as disabled, exceeding the percentage of New Yorkers (10%) who identify as disabled, suggesting the growing movement of disability arts may be finding a home in the fiscal sponsorship arena.
However, survey findings point to entrenched patterns of exclusion of African, Latina/o/x, Asian, Arab, and Native American (ALAANA) populations. With 74% of respondents self-identifying as white non-Hispanic, the survey offers a snapshot of the workforce that is strikingly out of step with the racial and ethnic makeup of the city's population, which is 33% white non-Hispanic. These findings invite explicit and sustained efforts to increase ethnic and racial diversity along the continuum of career readiness and advancement.
The report offers three specific and practical recommendations for cultural planning to advance fiscally sponsored artists and projects. First and foremost, it articulates short-, mid-, and long-term goals for increasing the availability of City funds for sponsored work, which include increasing allocations to existing decentralized grant programs, refreshing those programs, and exploring opportunities for DCLA to provide direct support, which may include making City Council member funds available in every Council district.
Second, it recommends bridging identified gaps in access to critical resources, with a focus on growing affordable presentation and development space and intervening to make connections between sponsored artists and resources that already exist: for instance, by strengthening communications environments and expanding technical assistance.
Third, it recommends expressly and equitably including fiscally sponsored artists and arts projects in DCLA's ongoing diversity initiatives and relevant research, policies, programs, and funding, as well as developing new, targeted initiatives based on the survey findings, with a focus on increasing ethnic and racial equity.
Importantly, the study exhorts collaboration with fiscal sponsors and the sponsored arts workforce as a way to effectively develop, implement, and evaluate cultural planning mandates. In particular, the City would achieve powerful returns on investment by coordinating communications and service delivery through fiscal sponsors and providing them with relevant training, technical assistance, and financial resources to better serve their sponsored artists and arts projects. The process of preparing this report has already mobilized the fiscal sponsor community as a united voice, primed to support the plan's implementation.
By putting fiscally sponsored artists and their artistry front and center in cultural planning and the policies, programs, and funding the plan may generate, the City will enhance the creative potential of its residents and encourage artists to move here. Crucially, in a national climate where the arts are under threat, it will also demonstrate strong government leadership and innovation that may be followed and adapted nationwide.
Making the case for fiscally sponsored artists and projects through and beyond the City's cultural planning will require continued collective advocacy, and I invite you to join. Weigh in now with your ideas for the CreateNYC planning team at CreateNYC.org!
Calling all HuffPost superfans!
Sign up for membership to become a founding member and help shape HuffPost's next chapter
This post was published on the now-closed HuffPost Contributor platform. Contributors control their own work and posted freely to our site. If you need to flag this entry as abusive,
send us an email
.