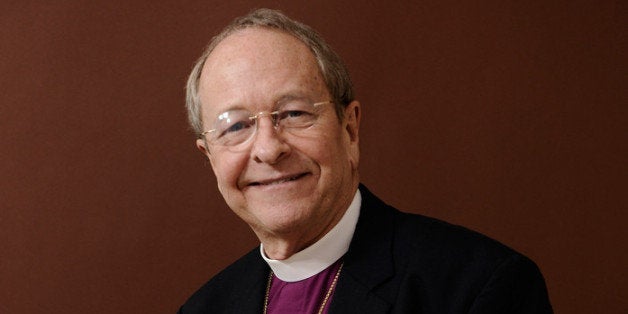 There is always sadness in the news that a marriage has ended in divorce. Whatever the circumstances, a divorce marks the death of the dream of happily-ever-after and the end of a relationship that was entered into with hope, joy and the intention that it be until-death-do-us-part.
Ironically, news of the impending divorce of Bishop Gene Robinson and his husband Mark Andrew "went public" while my fiancé and I were shopping for rings for our June wedding. And I found myself dealing not only with my own sadness for a couple I know and love, but with reporters calling for comment. Here are some of the questions I got:
1. Does Gene and Mark's divorce "undermine the case for marriage equality?"
No. On the contrary, I think it strengthens it. I think it helps make the point those of us advocating for marriage equality for same-sex couples have been making for many years. And that is simply that our marriages are equal. They are equally blessed and equally challenging. They are equally full of joy and equally full of disappointment. We equally love and cherish each other and we equally hurt and misunderstand each other. And, when a marriage fails, we are equally sad, scared and heartbroken. Just as the values that make up a marriage transcend the gender of the couple in the marriage, so do the challenges. And because all of our marriages are -- for better or for worse -- equal, they deserve equal protection under the law.
2. But what about the "until death do us part" part? Doesn't divorce make a mockery of that vow?
What I believe is that the vow "until death do us part" is absolutely binding on absolutely every marriage. And what I know is that sometimes the death that ends a marriage isn't the death of one of the partners but the death of the marriage itself. And when that happens, the faithful thing -- the honest thing, the healthy thing -- is to grieve the death of the marriage. And then, from a Christian perspective, to trust the Easter promise that love is stronger than death -- even the death of a marriage.
3. Has Gene Robinson "let down" all those who supported his ordination as a bishop and look to him for spiritual leadership?
No. Gene Robinson is dealing with the end of his marriage to Mark Andrew the same way he had dealt with all the other life challenges he has faced throughout his ministry: with honesty, integrity and the kind of transparency that inspires the rest of us to, as the scripture says, "go and do likewise." In John 8:32 Jesus told us " the truth will set you free" -- and Gene Robinson's commitment to telling the truth... even when it's inconvenient, uncomfortable or difficult... is exactly the kind of leadership we ask of our bishops: "to be in all things a faithful pastor and wholesome example for the entire flock."
And all those led me to my own question:
4. What does Gene Robinson's divorce teaches us about marriage?
It teaches us that even good people of deep faith with the best intentions can fail at making the marriage they hoped would be forever last forever. It teaches us that telling the truth about our lives and our challenges is not only healthy for us but can be in inspiration for others. And, most of all, it teaches us, in Gene Robinson's own words: "Love can endure, even if a marriage cannot."
Popular in the Community