My son and I recently attended indie rock trio BETTY's annual holiday show at City Winery, which included a powerful spoken word performance by feminist icon Gloria Steinem.
Loyal fans and followers filled the New York City venue, and conversation was buzzing about the election, women's equality, and what the results meant for women's rights.
By the time we left for the evening, my son and I had been deeply moved by a message from the show and its messengers: The future will be much more impacted by how women respond to the election results instead of the results themselves.
Look at Each Other
As we've heard President Obama do in recent days Steinem and BETTY song after song challenged us to rise, and acknowledge that the power is in the people. "Look at each other. Don't look up or around, look at each other," challenged Steinem.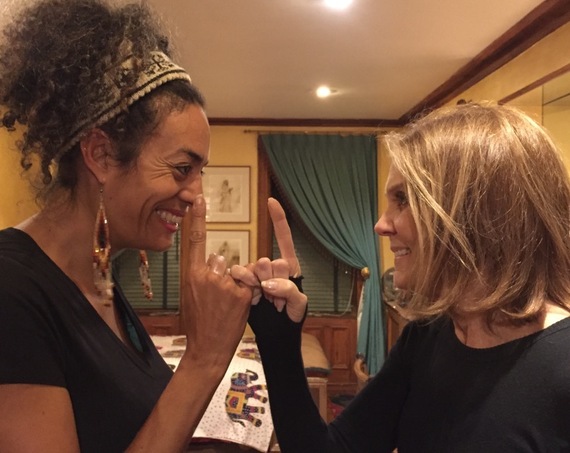 As millions of women prepare to march around the nation in solidarity with Women's March for Equality in Washington D.C. on January 21, BETTY bassist Alyson Palmer is leading the charge for a national campaign called 1@1 National Minute of Silence for Women's Equality. The countdown to the call for one minute of silence at 1:00 PM Eastern Time, will be led by Gloria Steinem, and streamed on the 1@1, following a performance by BETTY of their song Rise.
Go to http: //www.1at1.org/ for more information. "We rise on Saturday, January 21 when it's 1pm in Washington DC, all the way to 8am in Hawaii."

The band is no stranger to social activism. Through it's the BETTY Effect organization, it creates musical events and tailors performance-based discussions for invited groups to promote self-expression, daring discovery, and strong community cohesion.
Be the Change
With regard to 1@1, "My 'we are the ones we are waiting for moment,' came shortly after 11/9," says Palmer. "When I heard about the Women's March on Washington I was temporarily lifted from my post-election despair, then plunged right back in when my next thought was a cynical one. "Sure, but who can afford to go to Washington for a march? Who has the money, time or lack of responsibilities enough to just pick up and go? Once again, the bubble serving the bubble," she adds.
Beyond January 21st
The 1@1 campaign plans to inspire well beyond January 21. According to the website, when you sign up for the 1@1 Action Plan, a few times a month at 1:00pm for one year, you will receive a one-minute video on the app from a change maker. She will explain her project, cause or organization then end with an Action Ask, "Each small step will become a resounding stomp forward to create real, lasting change in America," according to the website
.
Evolution
Steinem, Palmer, BETTY, and millions of women everywhere have already reminded up and coming generations that they have all the power they need to create the world they envision when they simply remember their power to Rise.
My son today asked me to take him to a local march that's part of the Million Women marching campaign on January 21st. At 1 PM, together, we will participate in 1@1's minute of silence.
Calling all HuffPost superfans!
Sign up for membership to become a founding member and help shape HuffPost's next chapter