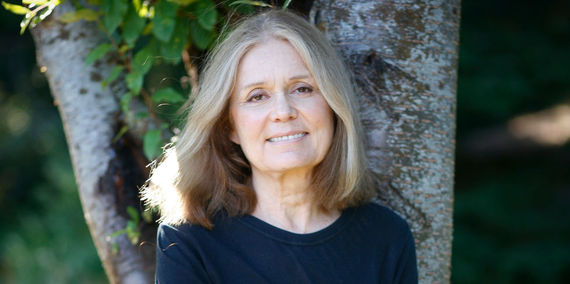 Recently I had the chance to hear Gloria Steinem speak in a small setting about her life, her recent work and the state of the women's movement to date.
She read from her most recent book, My Life on the Road and answered questions of the moderator and members of the audience with refreshing presence.
She is quite simply, ethereal and peaceful in person. The depths of Gloria Steinem's understanding of what it has meant to be a woman during the 82 years she has been on this planet were conveyed with every word she uttered.
I felt calm and connected to her even sitting in the audience. I was eager to know what I could learn from her that I hadn't already read in one of her books or seen in an interview she had given.
It was apparent in the ease with which she answered questions that she was doing so from the clearest possible place in her heart. A long time ago, Gloria Steinem figured out what she was here to do and she's been doing it.
When she was asked what some of the initial motivation to put herself out there was, she said, "The women's movement came along and I discovered I was happy."
When she was asked about the inspiration of Bring Your Daughter to Work Day, which she launched in conjunction with The Ms. Foundation she said,
"If you can't see it, you can't be it."
When she was asked about education and women she said:
"Women's colleges produce more women who do non-traditional things."
On the topic of men and finding a great partner she said,
"Find one who makes you feel smart, wants you to achieve all your dreams and makes you laugh."
On bringing change to the world she said,
"Be a witness. Take action. Lead to activism. Organize across boundaries. Improve the standards of success."
The last question was "What advice would you give to your younger self?" Gloria said,
"Everything's going to be all right."
And there, at that moment, I was set free. My strong faith was now even stronger. God had been making this point to me in prayer my entire life and here was Gloria Steinem live with one sentence helping me to expand my faith in the world and perhaps most importantly to expand my faith in me.
I felt lighter and like someone had just exposed me to the Holy Grail of thoughts for the future and how to live in the now.
I could choose to be her younger self and I could take what she was telling me or ignore it because I had so much to worry about that she didn't know about.
Imagine where our hearts and minds could take us if our mission was as clear to each of us as Gloria Steinem's mission is to her? Imagine where our hearts and minds could take us if we had enough faith to know that the things we may be worrying about may in fact be a distraction from what we are here to do.
"Everything's going to be all right."
We don't know what is going to happen in our lives but if we can go forward believing and having faith that everything will be all right then we are sure to see what we are here to do and do it, like Gloria.
Jeanne M. Stafford is a professional speaker and communications trainer. Stafford trains her audiences and clients to communicate without a script and think of YES like an improviser. Jeanne is writing a book about communication techniques she learned through her adventures with Improv, Asperger's and Politics. Sign up for her FREE 30 Days of YES and find out how using YES words can empower you to possibility. Follow Jeanne on twitter @jeannestafford and visit her website http://jeannemstafford.com
Calling all HuffPost superfans!
Sign up for membership to become a founding member and help shape HuffPost's next chapter