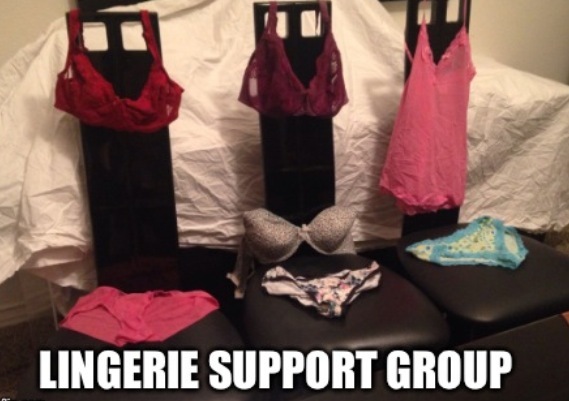 Loudspeaker: Welcome to Lingerie Anonymous where we raise our "Underawareness." Females use, misuse, and abuse us. We get hung, flung, wrung, sprung, and molested by his tongue. Whether we're sexually exploited or put through the spin cycle, it's our duty to speak out. Now please join me in reciting "The Sanitary Prayer."
Help us accept the things we cannot change . . . like thrift store underwear, pantie-liners, and the way she'd rather toss us than wash us.
Loudspeaker: At this time, I'd like to turn the meeting over to Victoria's Secret Pink Boy Shorts for a few announcements.
VS Pink Boy Shorts: The votes are in for our new name. From here on, we'll be known as "The Delicates." I'm sorry but "The Intimate Apparels" didn't win. Too old fashioned.
Strapless Bra: Who counted our ballots?
VS Pink Boy Shorts: Woolite did. And I think we can all trust Woolite with "The Delicates." Also our guest speaker was involved in a tragic accident and won't make it today. It's a shame because she found her true purpose and was quite inspirational. May she breast in peace.
Minimizer: Meh. What's all the flap about? Just another Nursing Bra. You're always making something out of nothing. An infant spit up on her while playing Peek-a-boob, so they hung her out to dry. Big whoop.
Strapless Bra: If you're done minimizing maternity, I have an important confession. After months of wriggling my way down to her waist just five minutes after she puts me on, I've come to the conclusion that I actually identify as a garter belt.
Negligee: The Trans-Undergarment meeting is down the hall. It's a rough road, but if you know deep down you're really a retro sex object for men, you can slowly transition. Who wants to talk next?
Padded Pushup Wonderbra: I'll go. I need to get this off my chest. I'm feeling deflated and on the brink of collapse. All the deception gets me down. I support her knockout knockers in low cut tops on date nights, and I'm all about amazing cleavage pics on Facebook. But at some point, both my "Girls" gotta be more authentic.
Sports Bra: I can relate to the fantasy not matching the reality. Every morning, she plucks me determinedly from the drawer and I think,"Hooyah, a real workout! Jogging by the lake, some treadmill action, or calisthenics." But within ten minutes I'm cooling my seamless cups at the smoothie bar while she runs her mouth, not her legs. The woman has zero discipline. Athlete Shmathlete.
Training Bra: Cheer up, maybe they'll ban bras or burn them again?
Demi-Cup: Nah, going braless was a big flop. But what do you know? Are you even mature enough to be here?
Underwire Bra: I'd like a turn please before it gets down to the wire. I'm so angry, I could poke someone's eye out. I hate that 'Wicked" Show. She's always singing, "Defying Gravity" whenever she puts me on. It's enough to make a bra go haywire.
Animal Print Undies: And how many times must she "meooow" or belt out Katy Perry's "Roar" song? She thinks she's so wild.
Red lacy bikinis: Ooh la la. We're gonna get some!
Walmart 5 Pack Special: Sluts.
Convertible Bra: Listen, if it makes you feel any better. . . I've got nine different positions and I can only remember four. She keeps wearing this complex backless sundress -- the classic booby trap for bras!

Black Cotton Underwear: Look, you brassieres have it easy. In fact it's the breast job ever. When I come out of the closet, you can bet it means one thing. Stains are in my future. And we all know what kind, too. Let's face it -- I'm just sacrificial panties.
Granny Panties: At least you all see the light of day. Draped seductively over her dressing room chair or posing for a selfie. I'm a shut-in. Bottom of the pile. Every once in a while, I'm allowed out under sweatpants. It's elder abuse, I tell you!
Bathing Suit Bottom: I don't know what you're all complaining about. I wouldn't even have to come to these groups if she'd just do her laundry once in a while.
Men's Boxer Shorts: I know this isn't a co-ed meeting, but man I hope he'll reclaim me one day. There's only so many Lifetime movies and Ben & Jerry's binges a fellow can take. I'll be quiet now and I promise not to flirt with Super Frilly Shit today.
Super Frilly Shit: Well, I haven't made much progress with my issues. Just to catch up the newcomers . . . she bought me for an illicit, steamy affair but there was no way I could lay flat under those skinny jeans. Man, what was that chick thinking? You can't muffle a ruffle. Nowadays I pride myself on being passive aggressive - - I can make that bitch itch like nobody's business!
Slip: I think we should lighten things up a bit with a joke. I was a great last minute Halloween costume this past year. She pinned words on me like "Psychology" and "Ego" and "Id."
Men's Boxer Shorts: What the hell for?
Slip: I was a "Freudian Slip."
Walmart Special: Ha Ha. But it ain't no laughing matter. My self-esteem is completely shot. Along with my elastic. I'm the underwear your mother warns you not to wear in case of a traffic accident. Tattered and torn -- I'm just hoping she'll march for "Fray Pride Week."
Thong: Well I have a classic identity crisis. I swear I used to be a generic name for beach flip-flops. Tell me I'm not the only one who remembers that? Anyhow I'm cool with all the dental floss jokes, even a little cheek suffocation, but I draw the line at being edible. WTF?!
Nude & Seamless: You should try being invisible. I can't believe . . . Shhh, someone's coming. Oh I just knew this would happen. I'm afraid we've said too much already.
SPANX: Quiet down everyone! Get your big girl panties on and deal with it. I've had just about enough of your bellyaching, thigh slapping, body snarking, woe-is-me crap. If I come into your homes, you'll all be out of work so fast it'll make your thread spin. Every last one of you. Where's the gratitude?
Men's Boxer Shorts: Leave it to Spanx to pull ranks. Everybody give thanks to Spanx. Ya buncha Skanks!
All Lingerie: All hail to the Queen of Shapewear. Spanx rules!
Loudspeaker: Talk about having "Control" Issues.
For More Laughs, Visit the Author On Her Humor Blog Right HERE
Related
Popular in the Community