People say, "I can't imagine."
They think that missing a dead child is like missing your kid at college or on the mission field but harder and longer.
It isn't nostalgia for a time when things were different or better or you talked more: it's a gut-wrenching, breath-robbing, knee-buckling, aching groan that lives inside you begging to be released.
There is no smooth transition up the ladder of grief recovery so that you emerge at the top, better for the experience and able to put it behind you.
We've all heard the much touted theory that grief proceeds in the following stages:
denial
anger
bargaining
depression
acceptance
And people (who haven't experienced grief) tend to think it's a straight line from one stage to another, gradually going from bottom to top and then on with life.
Reality is, these "stages" coexist and fluctuate back and forth from day to day and even hour to hour.
Grief remakes you from the inside out.
Losing a child has made me rethink everything I believe and everything I am. It has changed and is changing my relationship with myself and with others in ways I couldn't imagine and often don't anticipate.
And it is hard, hard work.
Life around us doesn't stop. Grieving parents return to work, continue to nurture their surviving children, keep getting up in the morning and taking care of daily details.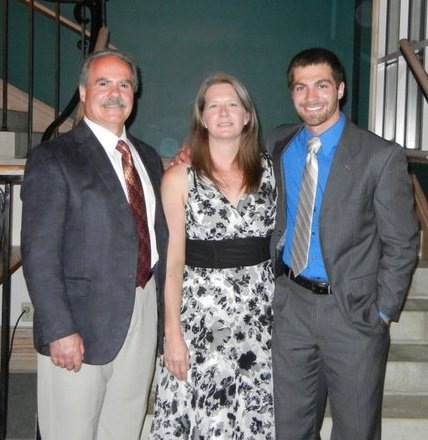 My son, Hector Dominic, on the right. He was killed on April 12, 2014 in a motorcycle accident.
We are doing all the things others do, but we are doing them with an added weight of sorrow and pain that makes each step feel like wading through quicksand.
We want you to know we are doing the best we can.
Life without my child is like having a leg amputated -- I am forced to learn to manage without it, but everything will always be harder and different. And it will be this way for the rest of my life.
The one thing a grieving parent DOESN'T want you to know is how it feels to bury your child.
I don't want anyone else to know what it means to leave part of your heart and a chunk of your life beneath the ground.
"But please: Don't say it's not really so bad. Because it is. Death is awful, demonic. If you think your task as a comforter is to tell me that really, all things considered, it's not so bad, you do not sit with me in my grief but place yourself off in the distance away from me. Over there, you are of no help. What I need to hear from you is that you recognize how painful it is. I need to hear from you that you are with me in my desperation. To comfort me, you have to come close. Come sit beside me on my mourning bench."

Nicholas Wolterstorff -- LAMENT FOR A SON
This post is part of Common Grief, a Healthy Living editorial initiative. Grief is an inevitable part of life, but that doesn't make navigating it any easier. The deep sorrow that accompanies the death of a loved one, the end of a marriage or even moving far away from home, is real. But while grief is universal, we all grieve differently. So we started Common Grief to help learn from each other. Let's talk about living with loss. If you have a story you'd like to share, email us at strongertogether@huffingtonpost.com.
Related