I was sitting in my meditation this morning and it hit me that that today is Cinco de Mayo. Normally this wouldn't really be significant, except for the fact that I realized it was exactly 2 years ago today that I got a divinely inspired idea that changed my life forever!
You see 2014 was definitely a transformational year for me. This was the year when something deep inside of me was ignited to find my purpose and my calling in life. I had started studying energy and happiness in 2013, but then once I learned about life purpose everything changed for me.
How didn't I ever realize this before? How had I gone my entire life without trying to figure out what I was born to do?
I would think over and over, stunned that I didn't know about life purpose sooner. I prayed, I soul searched, I listened to inspirational talk after inspirational talk. I was going to get this life purpose thing down no matter what it took, it was an obsession. I had been praying diligently to be shown the next steps and how on earth I would accomplish what it was I was here to do.
I remember the moment like it was yesterday. It was a beautiful sunny afternoon and I was out for a walk. I was so happy with myself because it was the first time in years that it was Cinco de Mayo and I didn't care about going out to meet friends for margaritas. (Not that there is anything wrong with that, its just I had lived so many years with my priorities in the wrong place. So this was big for me.)
I was jogging along and all of a sudden I stopped dead in my tracks. I had no idea how this came to me, but all of a sudden, it hit me, I knew what I was going to do! I knew exactly how I could share part of the message I am here to share. This, my friends, is divine inspiration at its best, although I didn't even realize it was divinely inspired at the time.
My entire being was quivering with excitement at my new found idea. Anticipation was flowing through my veins. Finally, I had clarity on what I wanted to do! I came straight home and called the new life coach I had just hired.
"Hey! I know! I know what I want to do!" I exclaimed, dying to share.
I then told her my idea was to write a young adult trilogy that could help people with personal growth, and to learn about life purpose, and divine communication.
"I am going to do it in a way that will be fun, mystical, and magical. It will be a book, they can't put down and one they can't wait to get back to. A story that will ignite a voice deep inside of them that is dying to be heard!" I told her bursting with enthusiasm.
I really wanted to share this message with you today so you can see that A LOT can change in two short years. I didn't even start writing for several months after my idea. This is simply the 2 year mark from when the idea was born.
Today I stand proud as I am living my dreams! I am a speaker at the world wide Hay House Summit speaking along side of 30 plus New York Times best selling authors, and everyone who taught me all that I have learned. I am leading retreats, speaking, and teaching workshops across the U.S. I have a best selling novel that is entertaining people and allowing people to connect to the truth of they really are. I have witnessed my book on the shelves at Barnes and Noble and I am getting calls from my favorite magazines wanting to review my book! The best part of all this is its only the beginning! If I can do it, you can too!!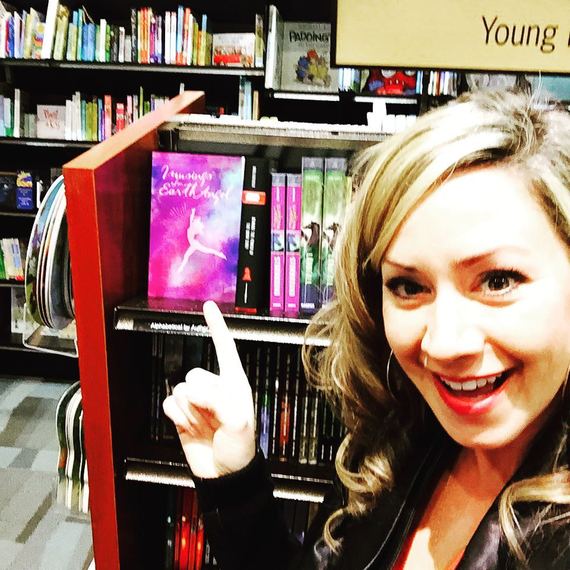 You see there is power in alignment; there is a universal force that will help you once you get in sync with what it is you came here to do.
I hope this inspires you to take the time and sit in stillness. Get quiet consistently so you can hear the whispers of your heart. Tap into who you really are, and what you are here to do. My mission is to teach people how to live a life of happiness and fulfillment and I promise you one thing. If you align with your purpose and who you really are joy will exude from you in a way that you didn't even know was possible. I am sending you so much love!
XOXO
Love,
Suzanne