Part One - Carl Oglesby and the Hopeful 1960s Dawn of the SDS
It isn't the rebels who cause the troubles of the world; it's the troubles that cause the rebels. - Carl Oglesby
Terry Robbins and Diana Oughton's shredded bodies littered the cellar floor after homemade bombs prematurely exploded in a townhouse at 18 west 11th street in New York City's Greenwich Village. Their friend, Ted Gold, lay dying under the rubble.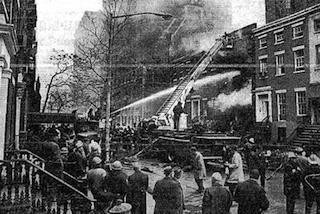 FDNY responds to the bombing.
Forty-four years ago, on March 6th, 1970, this momentous bombing marked one of the violent transitions from the SDS into the Weathermen. By December of 1969, the Communist/Stalinist incarnation of the Weathermen had successfully commandeered the SDS leadership, sending dark waves through American politics and the anti-war movement. Because of my friendship with Carl Oglesby and my involvement in the SDS, I have a unique history with this movement, and hope now to share my insights on what happened during this rich time in American political history. Much of the movement became anti-business -- a small number even became communist -- but Oglesby's SDS was pro-civil liberties and free enterprise. At the time, I thought this anti-war libertarian wing was the majority of the SDS, but I would soon discover otherwise.
Hundreds and then thousands of Americans were dying every week during the Vietnam War. America brought 3.4 million to Southeast Asia, and 650,000 of them were forced to serve as draftees. Campuses erupted in student protests, culminating into what seemed like a civil war between the advocates and opposition.
The SDS was a product of the Student League for Industrial Democracy in Ann Arbor, Michigan, by Aryeh Neier (former head of the Soros Foundation). The Student League was a socialist organization founded in 1905 that generally stood against private ownership and supported state control of business. However, they were also pro-democracy and anti-communist. By the early 1960s, the organization had about 2,000 members, mostly in the Northeast. But the movement was about to come back to its Michigan roots in a major way.
When the radio news of the bombing reached my home in Flint, Michigan, a shiver went down my spine. I knew some of the participants and had chosen to leave the SDS as a result of changes in their new platform and the infiltration by young Marxists.
Today, the student-activist organization Students for a Democratic Society (SDS) is being reactivated on college campuses around the country as the New SDS. Yet, how many of its new members are aware of SDS's complex past and the role of its legendary leader, Carl Oglesby? What about its corruption by the violent, radical, Stalinist leftists who ousted Oglesby and began bombing public places throughout the country? Will the new SDS be compromised as it was in the 1960s?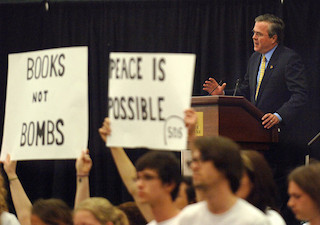 I write now from my perspective, and acknowledge that there are many valid and differing accounts from the period and about the SDS organization.
In 1961, my parents hired a very nice young man named Carl Oglesby to be my tutor. He attended our Unitarian Church in Ann Arbor, and worked for The Bendix Corporation, a major government military supplier. In 1963, he wrote a paper for the Michigan's Far East Journal arguing for the immediate withdrawal of our troops from Vietnam.
Oglesby was influenced by his mentor, a Libertarian economist named Murray Rothbard, who also became my friend until his death in 1995.
In Ann Arbor and Flint, we were strongly aware of President Eisenhower's warnings about the military-industrial complex. We were also strongly against the Vietnam War--an illegal and undeclared war, impossible to win, that was ultimately about nationalism and the movement for self determination--and in my opinion, political and economic independence. From 1965 to 1969, the number of American troops in Vietnam went from 60,000 to over 500,000. Many of the soldiers were draftees, and roughly 76 percent of the young men sent to Vietnam were from lower-middle and working class backgrounds. The average age was about 223. They were given three months of training by instructors with no comparable combat experience, and then shipped out.
According to Nick Turse's recent book, Kill Anything That Moves, much of the horror took place in the countryside, where our unsupervised, trapped teen soldiers, often high on local drugs, would sleep in snake- and leech-infested swamps, among other nightmares.
Our boys were murdered. The death toll among American troops was over 58,000, with another 75,000 coming home classified as seriously disabled. It is estimated that as many as 3 million Vietnamese were killed in the war and another million Cambodians died from secret illegal bombings.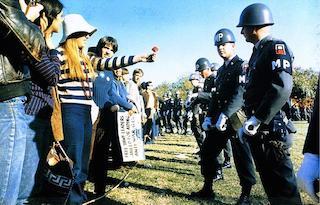 Carl Oglesby became a leader of the SDS in 1965 at Camp Kewadin in northern Michigan. His mentor, Murray Rothbard, was overjoyed that Oglesby, as a free-market Republican/Democrat of the Libertarian Party, had become the leader of one of the most influential youth movements in the country.
On the way to that meeting, he told my family that if he were to be elected, he would change the SDS from its broad mission to uphold civil rights and ban nuclear weapons to specific tactics: anti-war, anti-draft, anti-tax, and pro-small business. Oglesby correctly argued that the Vietnam War helped the growth of the large and oppressive state by expanding the government's power and influence. He and other leaders from Ann Arbor also advocated ending the Vietnam War as a primary political goal. This anti-war, pro-capitalist stance put our family in agreement with the majority of the SDS members at the time.
Carl traveled tirelessly around the country building up local SDS chapters on college campuses. Soon, there were over 300 chapters nationwide with 100,000 members organizing local teach-ins and protests against the war. So, Carl decided to leave Bendix early in 1965 (he formally left in June), so that he and his wife, Beth, could become "full-time SDSers."
We attended the first anti-war "teach-in" on March 24, 1965, led by Carl at the University of Michigan's Student Union. Twice, we had to leave the building due to bomb scares, a harbinger of the chaotic times to come. Arthur Miller was one of the speakers on March 24th. I clearly remember sitting in the audience when Miller said, "You mustn't forget that the FBI is among you."
After the meeting, Carl asked me to write strategy papers for the SDS discussing how to best market the organization to working-class kids in places like Flint, Michigan, where General Motors was based. He then appointed me the "theoretician" of the national junior high school chapter of SDS. As there were no organizational charts, in reality no-one was in charge and there was no centralized leadership.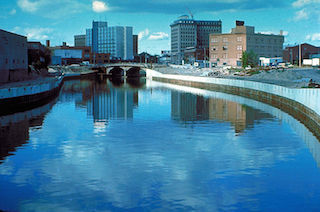 Flint, as it looked in the 1970s
We all agreed on one thing: the Vietnam War must end. A defining moment in the anti-war movement came when Alice Herz, an 82-year-old Quaker from Ann Arbor, immolated herself to protest the bombing of Vietnamese villages. This event received national attention: the brutality of the war was making itself apparent to people from all walks of life.
We really believed that our student-activist movement would not only end the war, it would change our country for the better, making it more democratic, more free and more just. Little did we know, forces within SDS were mobilizing to internally infiltrate and corrupt. Our lives and our SDS were soon to be radically altered.
This article is part one in a three-part series. Check back next week for the second installment in my story. (http://www.huffingtonpost.com/steve-mariotti/)
Popular in the Community