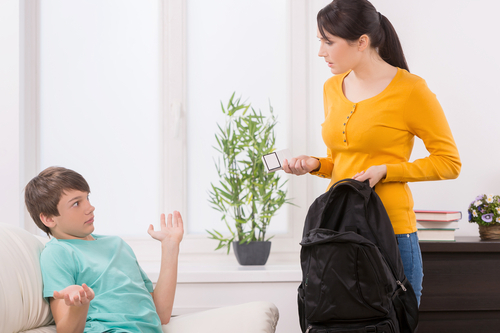 I'm mid-conversation with my 15-year-old, and he's filling me in on the happenings of his day. They chose pseudonyms in French class. His "French" name? Bruno. I remind him that Bruno is Italian, not French, but he could care less. "It's hilarious," he assures me.
Then, I hear it -- the faint but ubiquitous ding of an iPhone coming from his pocket, and he's transported someplace else. As we continue our chat, there is visible tension in his jawline and his stare is more vacant. He's suppressing the urge to glance at his phone, but he can't stop himself from thinking about it. He's looking at me, he's responding to what I'm saying, but it's not him. I've already lost him.
I tell him that I'll be picking him up from swim practice tonight. I tell him about his cousin's birthday party next weekend. He walks away and makes it about five paces before he pulls the phone out of his pocket.
I find out later that he has no memory of my telling him either of these things.
Concern about kids' use of technology is nothing new; concern over my own child's use of technology is.
As a parenting expert and author, I'm fortunate enough to work with some of the premiere universities and hospitals currently conducting research on this very subject. So shouldn't I be inoculated against this type of unwelcome infiltration in my own home? Um, hell no. No parent is.
So, what actually happened to my child's memory during the last two minutes of our conversation -- the part after the "ding" when I told him about a birthday party and confirmed his pickup at practice?
Are cell phones actually hurting our children's memory?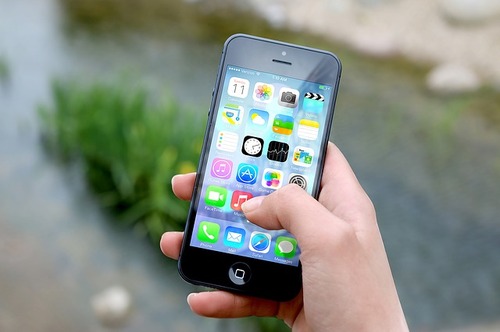 To find out out the answer to this question, I consulted with Erik Fransén, a researcher out of Stockholm's KTH Royal Institute of Technology. In a recent article published in Wellness he explains that the problem with technology use has to do with our working memory, or what we often refer to as our "short-term" memory: "Working memory enables us to filter out information and find what we need in the communication ... it's also a limited resource."
According to Fransen's research, working memory can only carry up to three or four items. When we add a new message to that (DING, check your cell phone! DING, Check your cell phone!) we lose our ability to process information.
Parenting a digital native often means having a child whose cell phone serves as a third limb. When that happens, we may be giving our kids' brains carte blanche to forget anything we say after hearing the DING.
"The effect of media multitasking on memory is still relatively unknown. Many parents think it's simply use of more than one media device at a time; like watching The Walking Dead while texting. It's not that simple," explains Stephanie Donaldson-Pressman, clinical director for the New England Center for Pediatric Psychology and co-author of The Learning Habit.
Research on this subject is something parents are now demanding, so Donaldson-Pressman teamed up with the writers create a user friendly book for parents that incorporates all the research from this ground-breaking study.
You wouldn't go to a party and converse with 10 people who are scattered about a crowded room at the same time. You talk to one person at a time or the conversation loses relevance and passion. Yet that's exactly what our children are doing when they're on the couch texting 10 different people. It's social chaos, it's loud, and it's really not surprising that someone can't focus, sleep, or remember things after navigating that.
The Learning Habit Recommendations

Have a cell phone spot in your home: Turn the phones off and place them there upon entering the house.
It will become a habit, just like hanging up your keys.
Whenever possible, power down before conversations.
Cell phones should not be permitted in bedrooms.
Cell phones should be powered down a minimum of one hour before bedtime.
Have a cell phone contract that is clear and specific. Have your child sign it and post it in a common area of the house.
No cell phones during meal time. Not for anyone.
Parents have a lot more control than they are choosing to exercise. When you put a cell phone in your child's hand, it suddenly becomes as important as any other lesson you're going to teach them. Use it to help them develop media management learning habits by having clear, time-specific rules in place.
In our house, learning how to manage cell phones has been a learning process; at times a painful one. We are still navigating this tricky digital path, which changes every day. As a parent I can't think of another single device that has changed the family dynamic of our home as much as a smart phone.
Never again will I underestimate the power of a cell phone in a teenager's hand, even when it remains unanswered.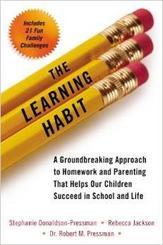 Reprinted from The Learning Habit by Stephanie Donaldson-Pressman, Rebecca Jackson, and Dr. Robert Pressman by arrangement with Perigee, a member of Penguin Group (USA) LLC, a Penguin Random House Company, Copyright © 2014 by Good Parent, Inc.
RESEARCH: The Learning Habit had 50,000 parents participate, and includes hundreds of case studies thanks to outreach efforts by WebMD, The Huffington Post, Parents Magazine, and The National PTA.
Related