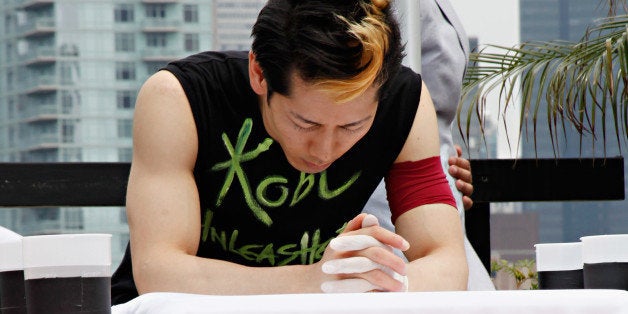 When it comes to competitive eating these days, Takeru Kobayashi is just a wiener -- and his career is nothing to relish.
On July 4th, he watched legendary eater Joey "Jaws" Chestnut house 61 hot dogs and buns to defend his eight-year winning streak at the Nathan's Hot Dog Eating Contest. But he wasn't in Brooklyn to celebrate New York's greatest gustatory gala. He was in Manhattan, running his own, unsanctioned "hot dog eating contest" at a bar.
And he wasn't even eating the buns.
Like a scorned NFL player having a game of touch football while the Super Bowl airs on TV, Kobayashi has fallen from grace. His downfall began in 2010, when contract disputes got the once-celebrated Kobi kicked out of Major League Eating. He was arrested at that year's hot dog eating contest when he stormed the big stage in Coney Island, wearing a "Free Kobi" T-shirt.
But to the people, Kobayashi has become a dull tummy ache that won't go away. He's "that one Japanese guy who used to eat all those hot dogs." It's sad, really -- the man whose rise to glory brought with it several hot dog eating records and the world's undivided attention on July 4 is now failing at minor eating events held at art festivals.
Yesterday, as Chestnut kept the Great American Hot Dog Dream alive, Kobi ate a whopping 113 hot dogs -- but without their infamously filling buns. In 2011, he claimed that he beat Chestnut in the Nathan's contest, but he was eating his dogs at an unofficial venue offsite, eating while he watched the real competition on TV.
1978 — Takeru Kobayashi is born.
2001 — As a competitive eating rookie, Kobi doubles the former Nathan's Coney Island hot dog-eating record by wolfing down 50 hot dogs and buns in just 12 minutes.
2001-2006 — Breaks his own record three times, and demoralizes Nathan's competition six consecutive times.
2006 — Breaks his own world record set for speed-eating hamburgers, raising the bar to 97 burgers in 94 seconds at the Krystal Square Off.
2006 — Sets the world record for downing bratwurst, downing 58 sausages in 10 minutes.
2007 — Joey Chestnut sets a new record with 59-1/2 HDBs in a qualifying round. Kobi loses to Chestnut in the finals, 66-63, claiming a jaw injury.
2008 — Chestnut again tops Kobayashi.
2009 — Kobi defeats Chestnut in a Pizza Hut P'Zone competition.
2009 — Chestnut defeats Kobayashi at the Nathan's championship, 68-64-1/2.
June, 2010 — Kobayashi declares his free agency, announcing that he won't sign the Major League Eating contract.
July, 2010 — Chestnut wins again at Coney Island, as Kobayashi is arrested for trespassing.
November, 2010 — Kobi fails in an attempt to set the world record for speed-eating a 12-inch pizza.
July 4, 2011 — THIS.
Since then, he's dabbled in minor taco eating competitions, starred in a few commercials and released his own line of hot dogs. Kobayashi is starving. His legend will never die -- but his future in competitive eating is as soggy as the buns he refuses to eat.
Before You Go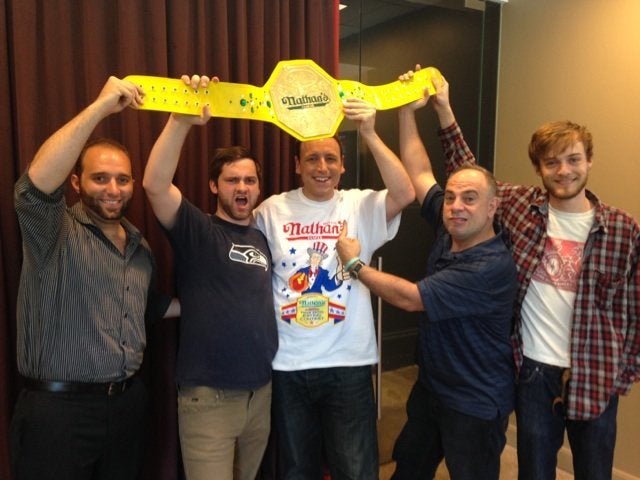 Joey Chestnut On HuffPost Live
Popular in the Community