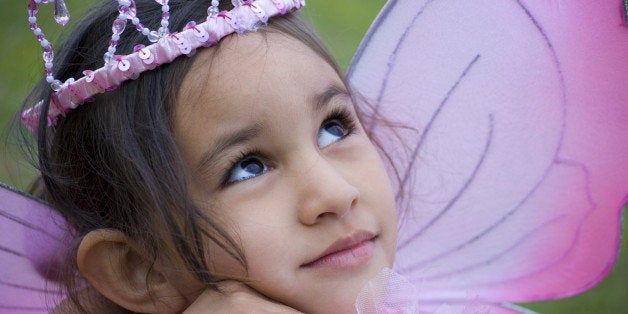 Who did you want to be when you were five years old?
a princess?
a movie star?
an artist?
What happened to your dreams?
Did "reality" catch up with you?
Isn't it CRAZY that when you're five years old, when you're so so SO remote from your dreams, THAT is when you most FIRMLY BELIEVED in who you are and who you were going to become?
Are you living your childhood dreams right now?
What if you actually set aside a time today to do what you dreamed of ever since you were a kid?
What if you spent some time being a bit of a princess?
What if you set aside some time to pitch an e-mail to a local TV producer?
What if you set aside five minutes to draw a picture of your favorite hero?
As an adult, we have so much more capacity to do what it is that we've always wanted to do, and yet, we don't.
We get caught up in "adult duties" such as studying, getting into the best schools, making sure our places are clean, making sure we are keeping everybody happy except one person.
Would the five-year-old you be proud of who you are today?
Or would she shake her head in disappointment?
How many years did you have to make your dreams happen?
What did it take to let go of your dreams?
Was it an off the cuff comment from an "adult" who finally talked so much sense into you that you finally did the "sensible" thing and gave up on all your dreams?
Was it an early failure that traumatized you so much that you decided to NEVER try again?
Was it a comment from somebody you looked up to, who said to go the route that was safe, because "what are the odds of you achieving your dreams?"
If any of these words sound familiar, know that you're not alone.
Yes, there are well-meaning people who want the best for us and who don't want to see us fail, but fail from WHAT?
Fail from getting into one of the many Ivy League colleges of the world?
Fail from the respectable 9-5 management consultant job path that you're supposed to take?
Fail from getting married or having kids or what normal women are supposed to do?
So what if you didn't achieve ANY of these prescribed lists that other people setup for you?
What about the fact that you only get one life to live?
What about the fact that none of us really knows when we're going to drop dead and it will all be over and that you'll never even get a chance to hold a crayon again, let alone the opportunity to become an artist.
You want to become a princess?
Start being a ruler of your own decision making process.
Stop listening to people who never even dared to make their dreams a reality and stop listening to people who are crying over sour grapes over the fact that they weren't able to succeed in their dreams so you must not succeed either type of people.
You are not meant to be perfect.
And when you rob yourself of the opportunities to BE, when you rob yourself of the opportunity to DREAM, who the hell are you but a skeleton and just flesh and bones?
I went to the right college.
I went the normal route of getting the job.
Didn't really light me up that much and honestly? Pretty much no.
But what did light me up was when I decided to become a princess.
And not just a princess but a warrior one at that.
I made it a NON-NEGOTIABLE to do what I loved every morning.
I get up very early to write, I get up early to teach others how to get their message out there, and I love it.
And I am very much living my dream of achieving more fame when I was a 5 year old girl.
Was it difficult to let go of all the things that I was supposed to do?
But was it even more difficult to let my dreams slip away without even giving at least a fight to make sure they came true?
But I would never go back to the life I had because you know what?
You ARE a princess.

And you ARE the ruler of your own decision making process.
All you have to do is remember that as with everything in life, you must make sure that you are first.
Not your parents.
Not your family.
Not your friends.
Not your partner/boyfriend/husband.
You are the one person who will be with you forever, and you are a princess who is WORTHY of her desires becoming real.
So what's it going to be, princess?
Are you going to make your dreams come true?
Calling all HuffPost superfans!
Sign up for membership to become a founding member and help shape HuffPost's next chapter