Melody had just one wish for her third birthday: To eat cake for breakfast with a robot.
Her parents, Melissa and Jared Wright of Tucson, Arizona, wanted to make their daughter's birthday wish come true. So they got to work on creating a robot last Friday and finished just in time for Melody's birthday on January 3.
Melody's mom told The Huffington Post that they secretly worked on the robot in their garage. After finishing late Saturday night, they put the robot in their kitchen and heard Melody's sweet reaction to it the next morning.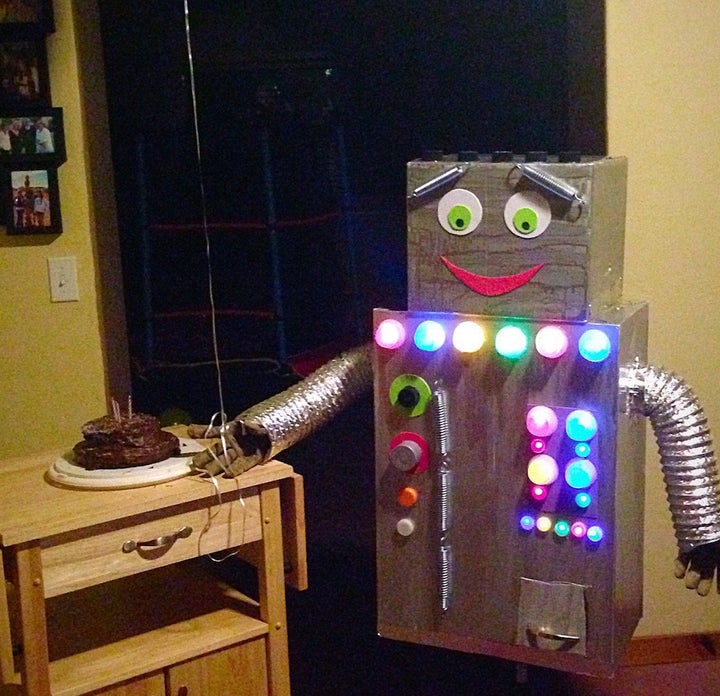 "We were still in our bedroom," Melissa said. "We heard her gasp and yell 'Robot! Robot!'"
Melissa and Jared, who also have a 6-month-old daughter named Layla, used two cardboard boxes, paint, metal tape, an old desk chair and clear water bottle caps, among other materials, to create the robot.
"She's always been into robots," Melissa said. "And now that 'Star Wars' is out, she is obsessed with light sabers and R2-D2."
And Melody did indeed have her wish come true on her birthday. She ate cake for breakfast with her new robot-friend that she adorably refers to as: "Robot."
The robot will also be the "centerpiece" at Melody's upcoming birthday party on January 9, the mom told HuffPost.
"Robot" sure knows how to make a birthday fun!