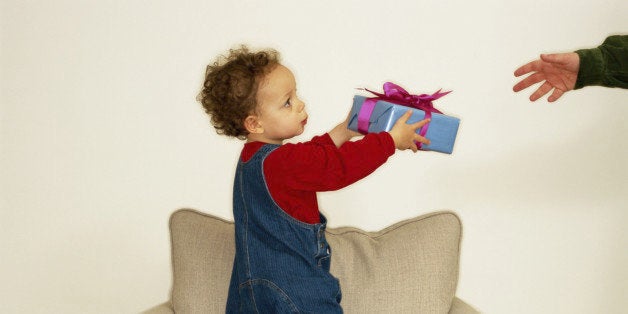 "I want it to give it away, Mommy."
"What do you mean, love?" I was a little heartbroken by my 2-year-old's response to his Christmas gift. It was a wonderfully shiny, yellow dump truck that he was ecstatic to see under the tree mere minutes ago. The very same one that I juggled on one hip while pushing the stroller through busy city streets.
"Like my birthday presents," he explained simply.
And, just like that, with four words, my little boy put my heart back together and filled it with more pride than it could hold. A few weeks ago, prior to my son's second birthday, we asked our loved ones to forego the birthday presents this year. Instead, we ran a toy drive for a local foster children program. It was a conscious effort to introduce the concept of philanthropy to a 2-year-old. Admittedly, a part of me felt it may have been a wasted effort to teach a lesson in generosity to a toddler who had trouble sharing his toys in the sandbox. I even had the fleeting thought that perhaps I'd be forever traumatizing him by giving away what would have been his birthday gifts.
It became a bit of an adventure for my son and me; packing the toys, making the trip to the drop-off center and talking about why we were doing it and who the toys were going to. In the days and weeks that followed, he didn't recount our little adventure to friends and strangers -- something he frequently does with even the most mundane daily events. My otherwise hyper-verbal toddler remained unusually silent on the subject, either uninterested or simply taking it all in. I wasn't sure.
In the everyday chorus of parenthood, the never-ending refrains of "please share" and "be nice" seem as if they are mostly falling on deaf ears. We go to great lengths to be exceptional role models for our children. We watch our words, we self-correct our behavior and jump at opportunities to teach our children right from wrong. But the view from the trenches -- the ones that are dug deep in tantrum battlefields and picky eating wars -- makes it seem as if it is all in vain. More days than not, we are defeated.
Then there are moments like these that are few and far between. Our children show us they are listening, watching and internalizing the life lessons we're trying so hard to teach. The fleeting thoughts of guilt, the constant fear that we aren't doing enough and the all-consuming worry seem to vanish in that moment. These are the moments that fuel our daily battles, remind us that our efforts are not in vain and give meaning to parenthood. These are the moments that keep us striving to be the best people we can be for our children.
Tomorrow, when I'm juggling that dump trunk on my hip while pushing a stroller through busy city streets, I won't be defeated. I will stand a little taller.