What's the difference between a signature look and a rut? That's the question that struck me one morning this past December as I swiped on my crimson lipstick -- the same one I'd worn for the past three years. While I consider myself an adventurous person, it seemed that once I found a beauty look I loved, I stuck with it. And that look was a red lip.
It's so ingrained in my identity that it's even begun to announce itself before people meet me. My best friend who lives in L.A. once sent me a screenshot of a text from her friend. "I started following Maria on Instagram," the text read. "I love her daily red lip."
The idea of uniform dressing has always appealed to me, which is likely why I mostly dress in denim and black. But as a beauty editor, I'd tend to turn up my nose when someone started extolling signature beauty looks. "Makeup is about expression!" I'd cry. "You should constantly be experimenting!" And yet there I was, standing in my cold bathroom, swiping on the same damn MAC lipstick I'd worn since I was 23. Was I a hypocrite?
So I did what I always do -- I went to DEFCON 1. (My mother says this is a problem with me.) I decided to wear a new lipstick every day for 30 days, regardless of whether my lips fell off in the process. I scoured the market for shades I loved and others that scared the crap out of me. And, like you do with any challenge, I set some ground rules:
1. I'd only wear red lipstick twice.
2. I couldn't repeat brands.
3. I had to wear black lipstick at least once.
4. I had to keep the lipstick on all day, no matter what.
Armed with 30 tubes of lipstick, I set out on a monthlong beauty identity crisis, changing up my look every single day. What I didn't expect is that something as simple as applying color to my lips would have such an impact on my daily life -- or that there are so many insane lipstick shades out there. Would I go back to being a crimson devotee, or would I find love in a tube of black lipstick? Click through to find out -- and to hear my unfiltered reviews (and see my swipes) of 30 must-try shades right now.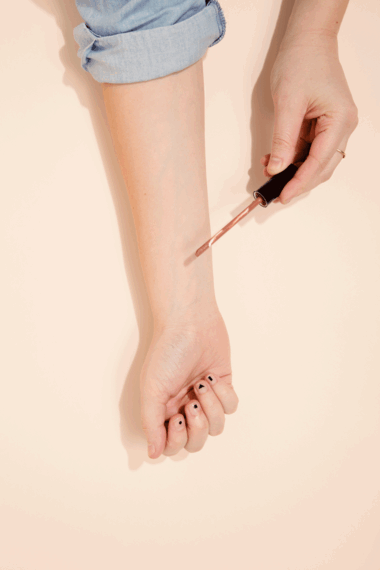 I decided to kick off the challenge with a little theme: "I Love the '90s." Nude, brown, and peach-toned lips are a huge trend right now -- but I hadn't tried them yet. (Bad beauty editor!)
Day 1
The first lipstick I swiped on was from the infamous Kylie Lip Kit, in Dolce K -- a mid-tone, neutral brown -- which left me pleasantly surprised. Aside from the overpowering smell (a cloyingly sweet vanilla), I truly dug the texture and how long it stuck to my lips. My fellow beauty editors gave me snaps on the shade, and I only had to reapply it once post-Shake Shack burger.
Day 2
While I'd heard great things about Wander Beauty, I wasn't all that familiar with its lipsticks, which was definitely part of the appeal. When I rubbed on Rose, a dusty pink, in the morning, I almost didn't believe I was wearing anything. The formula is super-sheer, which is great for gals who don't like in-your-face color. I am not one of them, but it turned out to be the perfect shade for a makeout-heavy date that evening.
Day 3
I am a massive fan of Urban Decay lipstick, so I was stoked about the brand's collaboration with Gwen Stefani. And since there was very little rhyme or reason to how I picked shades anyway, I chose Ex-Girlfriend simply because that's one of my favorite No Doubt songs. The sheer, blush hue looked amazing at first, but I found myself having to reapply it over and over again. It's a semi-matte, and it came off fairly quickly. Even so, it's still my new go-to brunch shade -- even if it stains my coffee cup.
Day 4
Oh, Kat Von D. You and I share the same adoration of badass lip shades -- and I especially love your Studded Kiss Lipstick in Chula, a perfect mix between burnt-orange and brown. Like all of Von D's matte lipsticks, it clung to my lips for hours. I felt so confident in this color that I brazenly walked up to a guy at the bar that night and started chatting him up (a rarity for me). I ended the night with a phone number and a new favorite hue on rotation. Was ditching my red lip already working in my favor?
Day 5
I rounded out my week of '90s hues with a tube from Charlotte Tilbury. Walk of Shame has a cheeky name, and the color payoff is brilliant. One layer coats your lips in a cool pinky-brown shade -- although the pigment didn't really stick to the inner rim of my mouth. (Don't you hate that?) This is the perfect lipstick for the 9-to-5 girl who's headed to drinks after work and doesn't want to reapply.
From start to finish: Kylie Cosmetics Lip Kit in Dolce K, $29, currently sold out; Wander Beauty Up Close Lipstick in Rose, $24, available at Net-A-Porter; Urban Decay Gwen Stefani Lipstick in Ex-Girlfriend, $18, available at Urban Decay; Kat Von D Studded Kiss Lipstick in Chula, $21, available at Sephora; Charlotte Tilbury Matte Revolution Lipstick in Walk of Shame, $32, available at Charlotte Tilbury.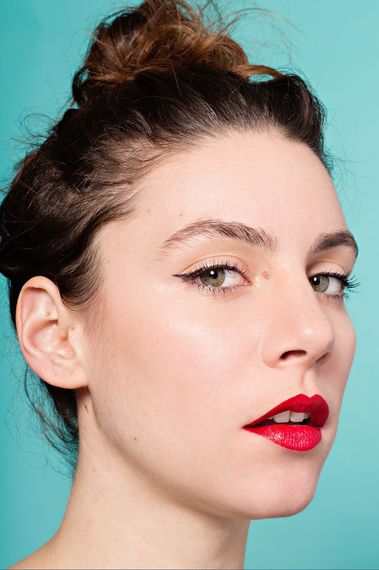 Day 6
After my whirlwind week of browns and taupes, I needed a little normalcy in my life. So I played one of my safety cards early and swiped on this sumptuous red from Marc Jacobs. This turned out to be a major mistake, because I immediately fell in love with the color.
Seriously, this may be my new favorite red. It's semi-matte, applies like a dream, and is insanely flattering. A girl on the subway actually took off her headphones and told me how much she liked the color. I nearly cried knowing I wouldn't be able to wear it again for another 24 days. Hey, the heart wants what it wants.
Marc Jacobs Beauty Le Marc Lip Crème Lipstick in Dashing, $30, available at Sephora.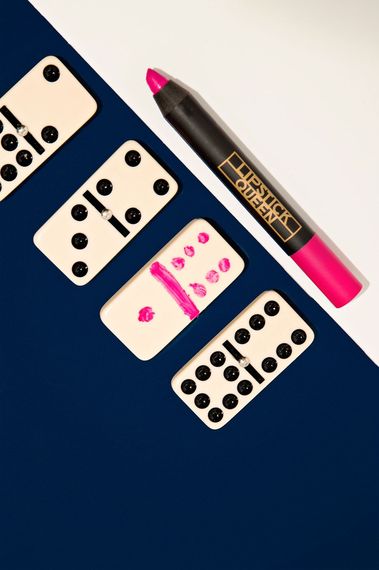 Day 7
When I polled my coworkers about which shades I should absolutely try during my 30 days, our editorial assistant Mi-Anne Chan exclaimed, "Hot pink!" (a shade she'd never seen me wear). Hell, I don't even think I'd seen myself in a hot-pink lipstick.
So I gave this fuchsia hue from Lipstick Queen a try...and felt so not like myself, it was almost painful. But I reminded myself of why I was trying this challenge in the first place and soldiered on. I pressed on the pencil with my finger to create a stained effect, which actually turned out to be quite pretty. The formula was creamy and shockingly hydrating. Overall, it was a nice departure from my typical routine. It wasn't my favorite thing on the menu, but I'd order it again.
Lipstick Queen Cupid's Bow Lipstick in Eros, $22, available at Lipstick Queen.
For the rest of Maria's lipstick adventures, visit Refinery29.