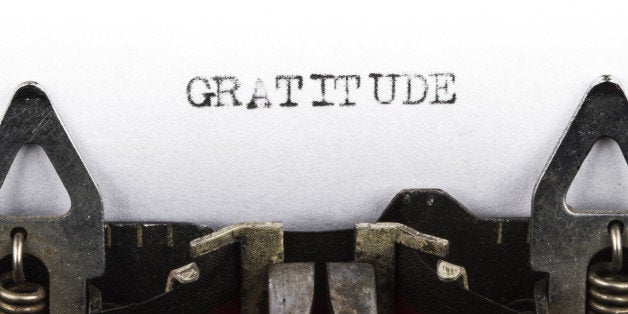 Getting married meant a couple of things for me. Actually, it meant a lot of things, but for the sake of brevity I will highlight only a few here. The way I look at is that two mechanics join together and set about the task of building a machine. Hopefully, the machine lasts a lifetime. In my case, the machine did not make it for the long haul.
What happens when two mechanics say "I do" to building a machine together? The building blocks for any machine are clearly friendship, respect and love. However, the manual is replete with many technical details, covering topics such as labor, space, money, and time. Looking back, I wish that I had focused on the importance of gratitude.
First and foremost, we had to establish a certain division of labor. For example, my husband manned the barbecue, and I washed the dishes. He took the garbage cans to the curb on Monday evening, and I brought them in. He used the last square of toilet paper and left the new roll on the counter. I then threw away the used up roll and put the new roll on the holder. He "loaded" the dishwasher, and I rearranged it before putting in the soap and turning it on. You get the idea.
After establishing the division of household labor, we negotiated the sharing of common space. Each of us chose a side of the bed to sleep on. We divided the bathroom into his and her spaces. I took almost all of the closet space and bureau drawers, leaving him with a small corner and a couple of drawers. I claimed a desk for myself. He found a spot for his briefcase and a place to charge his iPhone. We assigned seats on the couch and chairs at the dining table. This may sound familiar to you if you have built a machine with someone.
In addition to sharing a garage, we needed fuel for our machine: money. As new mechanics, we faced a range of financial issues, such as who would negotiate car and home purchases, where should we bank, which credit card has the best miles program, and how much should we save for retirement. It essentially became a question of what's his is mine, and mine is his. Mechanics can share a joint piggy bank because the machine should last forever, right?
We couldn't very well keep an idle machine in the garage. After all, couples need to branch out into the world and interact with friends and family. This means that we faced yet another negotiation: how would the machine spend free time with our friends and family. We set about having date nights with other couples. Sometimes the machine would venture out on its own for lunch or a girl's night out. We also had to figure out how the machine would celebrate birthdays and holidays, such as Thanksgiving, and whether the machine's in-laws would be invited. At some point, we, as a happily married couple, had to determine whether our machine would be expanded to include a little Junior or a Miss (our answer was yes).
Suffice it to say, there is a lot to establish as a married couple. Over time, routines and patterns fall into place. Hopefully, the machinery of marriage is well maintained and powers along, without too many squeaks and stall outs. Or maybe, as in my case, the machine completely breaks down. Bam. Our machine was retired to Divorceland, with no hope of refurbishment.
Suddenly, I faced the task of living life as a single person, building a new machine so to speak. In the beginning, I concentrated on the basic challenges. I stopped making "honey do" lists. I managed to take the trash cans to the curb myself, a task which I still dread to this day. I learned how to hit the ignite button on my grill and make a halfway decent cheeseburger. I took over the entire closet and bureau. I claimed the middle of the bed as my sleeping spot. I learned that if I was sick and needed something, I could no longer ask my husband to pick it up for me and would need to have it delivered. I enjoyed eating ice cream directly from the pint again.
Over time, I began to take on bigger challenges, such as dealing with my financial affairs and raising children on my own. I negotiated the purchase of my house. I even managed to buy a car and feel only slightly taken advantage of. I made a budget and then nagged myself for pretty much ignoring it. I celebrated birthdays and holidays without a husband on the scene. I established new traditions for my children. I learned to take my children on beach and skiing vacations alone (Tip: Book a hotel with a kids' club so that you can have some down time, too). I learned that not only could I attend parties and functions, without a date, I could actually have fun going on my own. I went to movies by myself. I binged on Netflix shows at home alone. I went on hikes unaccompanied, even venturing as far as Joshua Tree. I learned to watch a sunset alone. I realized that buying flowers for myself actually makes me happy.
As I look back, I can say that I have succeeded in building a new machine. The new machine is powerful: it can take in sunsets, hikes, movies and even love. This new engine is also reliable, ticking along at a comfortable pace. More or less, I know the intricacies and workings of the new machine and can sense when it is going to stall or surge ahead. Gratitude is now the oil that keeps the new machine going. Sadly, I missed this point in my previous mechanic's job. My biggest regret is that I didn't cherish my old, retired machine, until it was too late. Going forward, I will refrain from making trivial complaints about the new machine. I won't push the machine to do things it shouldn't do. Instead, I will appreciate all of the things it can do. Most of all, I will make sure to never run low on a machine's essential oil, gratitude.