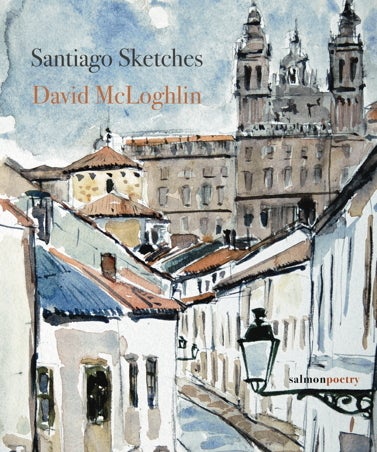 When traveling to unfamiliar lands, I often wonder what my fellow sojourners see, feel, taste. Do they they hold out their arms in the rain, as I do, to record the touch of foreign downpour? Or wonder about the lives of those going home to comfort food and sheets scented with last night's sweat?
David McLoghlin, through his collection of poems Santiago Sketches, confirms that it's indeed natural for the out-of-towner to consider the local details. For nine months, David lived in Santiago de Compostela, in Spain, and recorded, with precise details only a poet of his calibre could master: what he felt, saw, drank, tasted, remembered on the city's medieval streets.
In short poem after short poem, David unfurls this beguiling city and its inhabitants. "Two elderly women in buffalo coats," challenge the male-dominated bar with their presence. "Strong café con leche" begins the mornings with a "brown stain of milk," accompanied by the "Smell of a cigarette just lit."
The city's destination as a site of Christian pilgrimage is also evident. Elsewhere, the entire city celebrates All Saints Day with an oddly named pastry, or as the poet describes, "We eat the saint's bones." The poet observes the ordinary workers helping to maintain the sacred sites, and notices the Islamic / Christian history of Iberia in a three line poem that embodies how "Santiago Matamoros" was enlisted into the conflict: "In the cathedral, with a mad gleam / Saint James the Moor-slayer sweeps off / forty-thousand heads." But there is a sense of the profane alongside the sacred, as the poet observes the seedier side of the city: "Early morning. / At the fountain, the junkies / washing their needles."
Frantz Fanon wrote that to speak a language is to take on a culture. Over his time in the region of Galicia, we witness the locals embrace McLoghlin through their use of Spanish and the local minority language, galego, in conversation, and he returns the gesture through his own immersion, though tentative at first, as one would expect.
But what's most startling at times, are McLoghlin's own memories, a confrontation with the self, so to speak, that can only happen when one is enfolded in silence, far from the humdrum of daily life. In one poem, he thinks of "Nerja a thousand kilometres to the south" where he spent holidays with his family as a child. And, could he go to a place full of delicious food and empty bars and cobblestones and not remember women? There are some he knew then. They smoked Ducados. An old woman who "wore her beauty like dried flowers." There was Emma and Lucía and Daniela. And so many others revealed to us through the poet's powerful lens.
The soulful tourist--one who finds the best experiences occur in the hidden spaces off the beaten trail and away from the ordinary-- might be better served by Galicia reading Santiago Sketches rather than TripAdvisor. And if physical travel is too distant a fantasy, David's words will take you there.
David McLoghlin is the author of Waiting for Saint Brendan and Other Poems (2012) and Santiago Sketches (2017), both published by Salmon Poetry. Sign Tongue, his translations from the work of Chilean poet Enrique Winter, won the 2014 Goodmorning Menagerie Chapbook-in-Translation prize. David received first-class honours from University College, Dublin for a research MA in modern Spanish literature, and holds an MFA in Poetry from New York University, where he was a Teaching Fellow. He has received recognition from Ireland's Arts Council, the Patrick Kavanagh Awards, The Ballymaloe International Poetry Prize, and the Sewanee Writers' Conference. His writing has been broadcast on WNYC's Radiolab, has been anthologised in Ireland and the USA, and has appeared in publications such as Poetry Ireland Review, Barrow Street, The Stinging Fly, and Cimarron Review. www.davidmcloghlin.com
The book is available on Amazon.
REAL LIFE. REAL NEWS. REAL VOICES.
Help us tell more of the stories that matter from voices that too often remain unheard.
This post was published on the now-closed HuffPost Contributor platform. Contributors control their own work and posted freely to our site. If you need to flag this entry as abusive,
send us an email
.