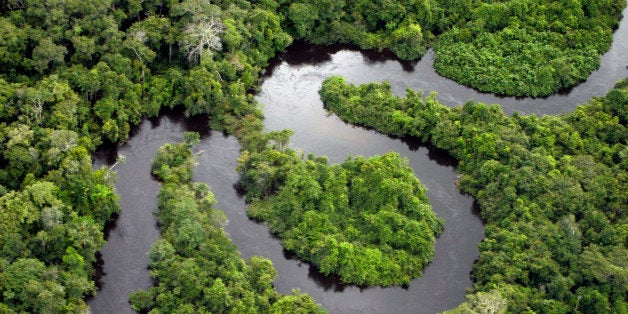 Olivio Salas was 11 years old when he died. His mother, Adolfina García Sandí, an indigenous Achuar leader from the Corrientes River Basin in the Amazon Rainforest, believes that he died after drinking water that California oil giant Occidental Petroleum had been poisoning for decades. The Achuar had witnessed oil flowing down the river, the source of their water and food. They described their experiences of cutting open fish and watching petroleum spill out. For a long time, the Achuar's complaints were ignored and they felt they had no choice but to suffer deep in the Peruvian Amazon, out of sight and out of mind.
But lets start at the beginning of the legal battle: In 2006 the Federation of Native Communities of the Corrientes River (FECONACO) asked my organization EarthRights International (ERI) to undertake a mission to the Corrientes River Basin to investigate the social, environmental, and human rights impacts of more than 30 years of petroleum activities. A multinational and multidisciplinary team of human rights lawyers, doctors, nurses, and environmental scientists, traveled to each of the five affected communities, located downriver from an oil concession known as Block 1AB. The team held a community assemblies, interviewed over 60 individuals about the oil operations, took soil and water samples, medical histories and diagnostic medical examinations, including testing for lead concentration in the blood.
We found elevated levels of lead and cadmium in Achuar children's blood and documented other signs of long-term oil pollution.
In 2007, we helped five Achuar communities (Antioquía, José Olaya, Nueva Jerusalén, Pampa Hermosa, and Saukí) bring their case to Oxy's own back yard and sue the company in their home state of California. The suit alleged that Oxy dumped toxic by-products and spilled oil, contaminating Achuar territory and water and causing premature deaths, birth defects, and other severe health problems for their people. At EarthRights International we try to take the lead for our legal strategy from the communities we are working with. We don't make decisions about what makes sense for that community, we present the options and it's the communities' choice. In this case, they wanted to take the fight to Oxy's hometown in order to obtain justice for all the years of contamination.
In 2015, after an 8 year legal battle, a settlement was finally announced. But how do five villages in one of the most remote regions in the world successfully fight one of the largest oil companies in the world?
Throughout the years ERI lawyers traveled to the five communities to hold assemblies to discuss legal strategies regularly. And that's the thing about a case like this: no place is too remote to demand justice. While Oxy, and other oil companies like it, believe that they can get away with hurting environments and people in remote regions of the world, we wanted to send a message that no part of the world is too remote or too difficult to work in to have communities have a real shot at obtaining justice through a legal process.
Working with these communities is of course challenging; the communities are a two day boat ride away from the nearest commercial airport in Peru. Communicating with our clients is also difficult: they have no reliable phone service and no internet access. To us, this was not a deterrent--to the contrary, it was a major reason for us to take the case. As companies scour the earth's most remote corners looking for ever dwindling resources, they must know that they cannot hide from laws and lawyers who protect human rights and demand environmental justice. People like Adolfina, and communities like the Achuar, know that companies like Oxy can run, but they cannot hide.
During this week where we honored so many women, we at ERI are celebrating champions like Adolfina, and sharing their inspiring stories which confirm that no place, and no person, is too remote for justice.
Calling all HuffPost superfans!
Sign up for membership to become a founding member and help shape HuffPost's next chapter