As a widely publicized caravan of thousands of migrants makes its way through Mexico toward the United States and sets off a new round of fury from the White House, President Donald Trump has threatened to use the military if necessary to repel them.
But the reality is that for now, Trump can do little more than complain.
Most of the ideas Trump has floated in response to the caravan seem unlikely to flourish as U.S. policy. He's vowed to cut off aid to Honduras, El Salvador and Guatemala, where most of the travelers are from. But that would require congressional approval and runs the risk of exacerbating the regional instability that caused many to leave in the first place. He's threatened to shut down the U.S.-Mexico border, but that would be disastrous for trade and for the roughly 500,000 people who legally cross into the U.S. every day for work, school, shopping and tourism.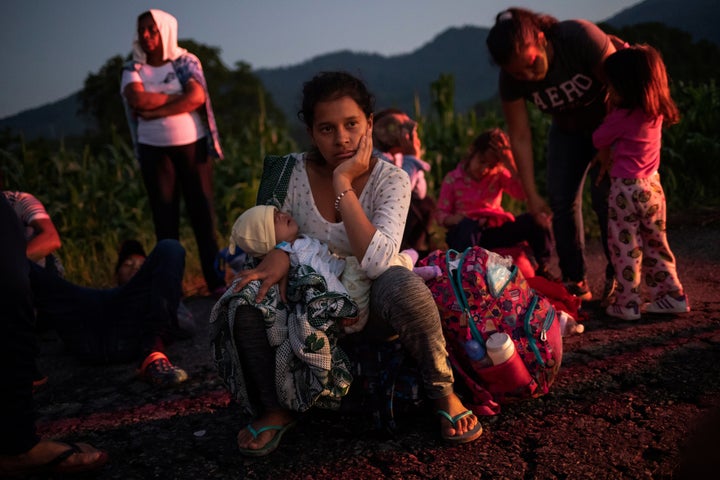 Trump already tried sending the military to the southern border earlier this year, when he deployed the National Guard. But they can't actually detain immigrants. If the move was meant as a show of force to scare away would-be migrants, it didn't work. Unauthorized crossings are up slightly this year compared to last and the number of families crossing together as a unit hit a monthly record in September of more than 16,500 people.
For the moment, Trump is doing what he does best: Spreading alarm, demonizing immigrants and lashing out at Democrats. But once the migrants arrive, U.S. officials will have little choice but to let many of them in.
What's next
The caravan is largely made up of Hondurans, Salvadorans and Guatemalans and includes both asylum-seekers and people traveling north for economic reasons, according to the United Nations' refugee agency. There's no evidence supporting the president's claim that people from the Middle East are part of the caravan, as he acknowledged Tuesday.
Not everyone will try to get to the U.S.; some may stay in Mexico, while others may decide go back to their home countries or get deported from Mexico, as happened with past caravans. That's the Trump administration's clear preference. Officials have repeatedly called for legitimate asylum-seekers from Central America to stay in Mexico rather than continuing on to the U.S., in spite of potential dangers they could face in the neighboring country.
The Mexican government has registered about 1,700 asylum claims, mostly from women and minors. Nearly 500 Hondurans with the group already returned to their countries of origin, according to the Mexican government.
It's not clear where those traveling to the U.S. are headed. The most direct route would land them in southern Texas, the area of the border that currently sees the most unauthorized crossings. But those traveling with the caravan have yet to announce their intentions and some speculate they might head toward California, like last year's caravan, according to The Guardian.
Getting into the U.S.
For those who do try to make it to the U.S., their first option would be to go to a port of entry on the border to seek asylum ― a method that doesn't involve crossing the border illegally. Trump administration officials have encouraged asylum-seekers to do just that, while simultaneously making it harder.
The administration has increasingly used what it calls "metering" to limit the number of asylum-seekers it processes each day, sometimes with the cooperation of Mexican officials who block people from crossing over to ports of entry, according to human rights groups and attorneys.
U.S. officials claim it's an issue of space ― they don't have the capacity or time to admit the large number of people asking for help. Facilities weren't designed to handle thousands of people per day, a senior administration official said Monday, adding that "lines are probably going to remain" at ports of entry.
The Department of Homeland Security declined to comment Wednesday on its plans for handling a potential increase in asylum-seekers at the border.
Some activists suspect it's an intentional effort to keep asylum-seekers out, either by inflating capacity constraints or creating them by failing to invest in processing or quickly releasing people. Whatever the case, some suspect the added layer of bureaucracy at the border might encourage people to find another way in.
"This administration is really playing up metering," Sarah Pierce, an analyst with the nonpartisan Migration Policy Institute, told HuffPost. "But the main thing about metering is that it incentivizes people to cross illegally."
Those who cross illegally are still allowed to ask for asylum under U.S. law, though those that do so risk facing criminal prosecution for jumping the border, along with fighting their case in immigration court. That's especially true for single adults, who remain subject to Attorney General Jeff Sessions' "zero tolerance" policy of prosecuting as many petty border-crossing infractions as possible. The families traveling with the caravan, however, pose a more complicated problem.
How to handle families?
Once migrant families crossing with the caravan wind up in U.S. custody, the Trump administration will face a choice: Either it can continue the current policy of releasing the vast majority of new arrivals after arrest or brief periods of detention, or it can experiment with a new form of the controversial family separation policy it tried earlier this year.
Currently, families are typically either released with notices to appear in court or detained for up to about 20 days. The government then releases families because a court order enforcing a 1997 federal settlement called the Flores Agreement prevents locking up children for longer than that. The administration wants to change that through proposed regulations that would let it lock up kids with their parents long-term, but the rule change has yet to take effect and will likely face an immediate legal challenge.
Even if the Trump administration could hold families longer, it might not have the capacity to do so. As of earlier this month, the largest of the three family detention centers, South Texas Family Residential Center in Dilley, was near its 2,400-bed capacity. The second-largest, also in Texas, has more space, but currently is holding only adult males and their sons.
Trump has long railed against the practice of letting families out of detention ― a practice critics like him deride as "catch-and-release." The White House is reportedly already considering what officials call a "binary choice" for parents to either waive their children's right to release or have them ripped away so the adults remain in detention without them.
Outside experts argue the government should be more focused on how to handle the number of asylum-seekers ― especially families with children ― rather than trying to scare them from coming. That would mean more investment in processing and adjudicating claims rather than policies meant to scare people from coming that might not work if they're already scared at home.
"This is desperation," said Theresa Cardinal Brown, director of immigration at the Washington-based Bipartisan Policy Center think tank. "It's really hard to deter desperate people."
Getting asylum
Caravan members who seek relief in the U.S., whether at a port of entry or after crossing the border illegally, face a long and difficult path to actually getting approval to remain in the country.
Immigrants are first screened by asylum officers to determine whether they have "credible fear" of returning to their home country and thus can pursue asylum claims here. Around a quarter of applicants fail to pass that stage, making deportation the most likely outcome.
The roughly 75 percent of applicants who pass the credible fear stage are allowed to continue to pursue asylum claims through the courts, often outside of detention. This can take years ― something the Trump administration opposes, because the immigrants live in the U.S. while they wait.
Ultimately, the bids for asylum often don't work, particularly under new, narrowed guidelines on who can receive that status and the history of low asylum approval rates for immigrants from Central America.
The administration may not be able to turn asylum-seekers and families away as quickly as it would like to. But it still will get the chance to deport many of them.
Before You Go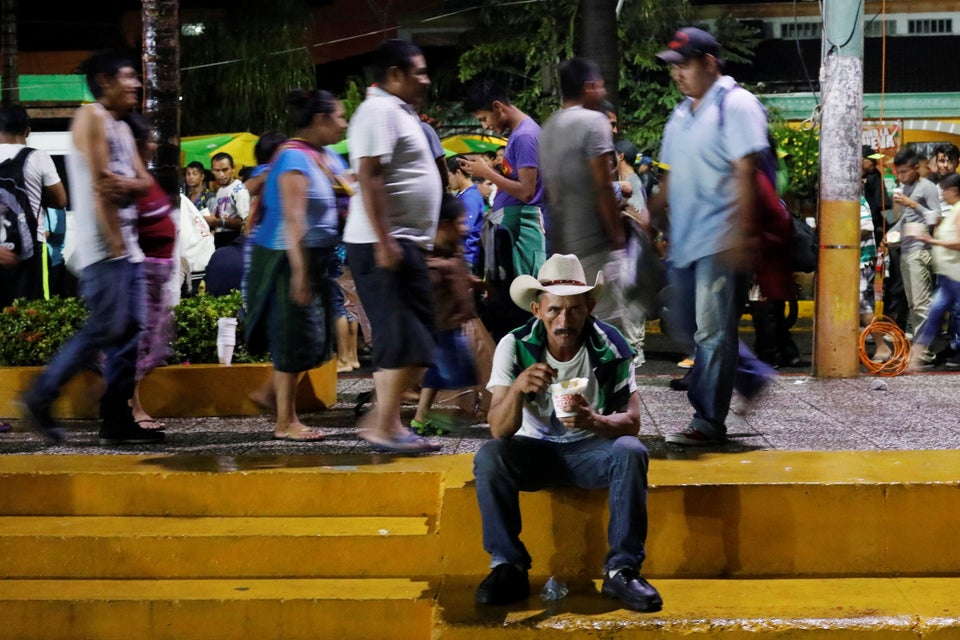 Migrant Caravan Moves Toward The U.S.
Popular in the Community