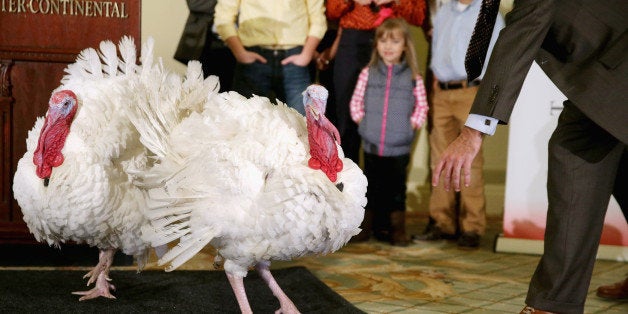 Caramel the turkey, one of two big gobblers pardoned by President Barack Obama last Thanksgiving, has a lot to be thankful for this year.
For one thing, and it's a big one, he is still alive.
(Story continues below.)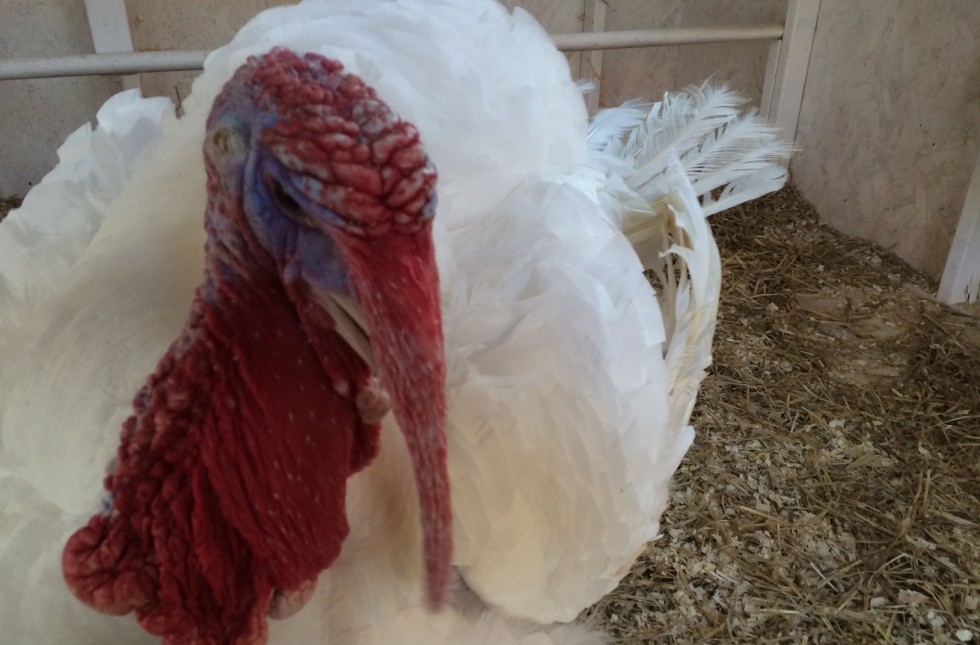 Caramel the turkey at Morven Park, in Leesburg, Virginia. (Photo credit: Arin Greenwood)
If you are sensitive toward birds, you're generally best off not looking too closely into the usual post-pardon life of a turkey, which has traditionally been very brief.
Indeed, Caramel's fellow pardonee, Popcorn, died over the summer.
"Something heat-related," says Teresa Davenport, spokesperson for Morven Park, the Virginia estate to which the pair was dispatched after their ceremonial duties were completed. "One day we found him collapsed."
Caramel himself has a growth on his left foot, but -- thankful again -- the veterinarian says it's benign. And he's recently gone on some joint medication, since being bred for size rather than longevity can be hard on his ankles, Davenport explains. She says he's lost some weight, though, and between that and his meds, "he just seems happier."
The gregarious 1.5-year-old certainly does seem happy on the Thursday before Thanksgiving. He's pecking around his large enclosure -- fitted with heat lamps in the winter, fans when it's warm -- with a handsome and shy buddy named Franklin, who was donated by a local farm and turned 2 in July.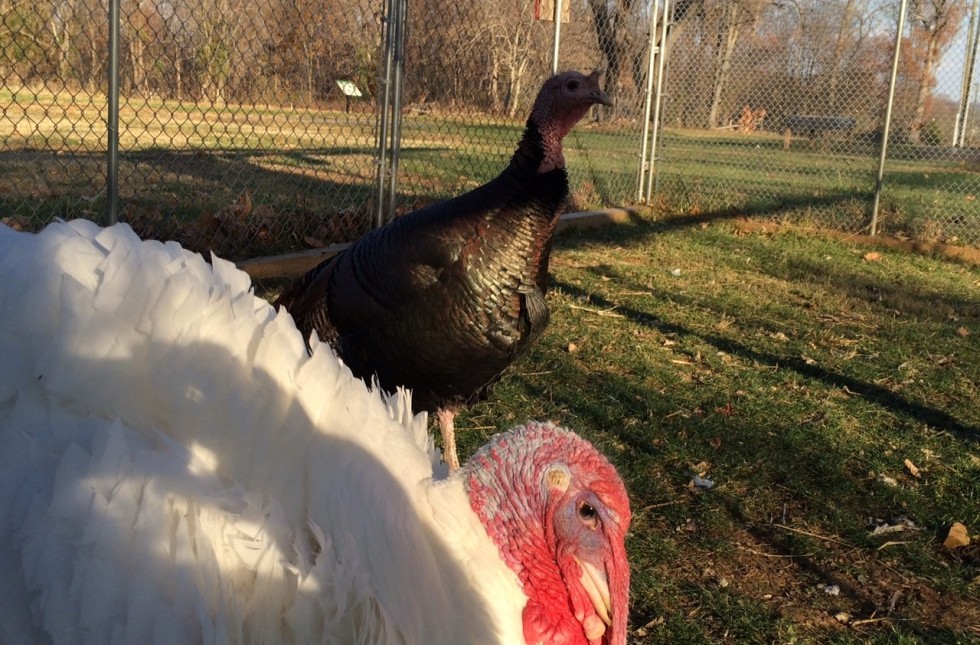 Caramel with his friend Franklin at Morven Park, in Leesburg, Virginia. (Photo credit: Arin Greenwood)
Caramel and Franklin have grown tight in the last 12 months, another thing to be thankful for. They are different breeds: Caramel, like all previously pardoned turkeys, is a "broad breasted white"; Franklin is what's known as a "heritage brown." But they groom and chirp at each other like they're one and the same.
They like to "wander around the pen like an old married couple," says Davenport.
That couple will soon be a quad.
The 1,000-acre property was home to former Virginia Gov. Westmoreland Davis, who served from 1918 - 1922, and his wife, Marguerite. It now offers a hunting museum, horses, gardens and hiking trails, on top of the famous turkeys, whom visitors are encouraged to look in on.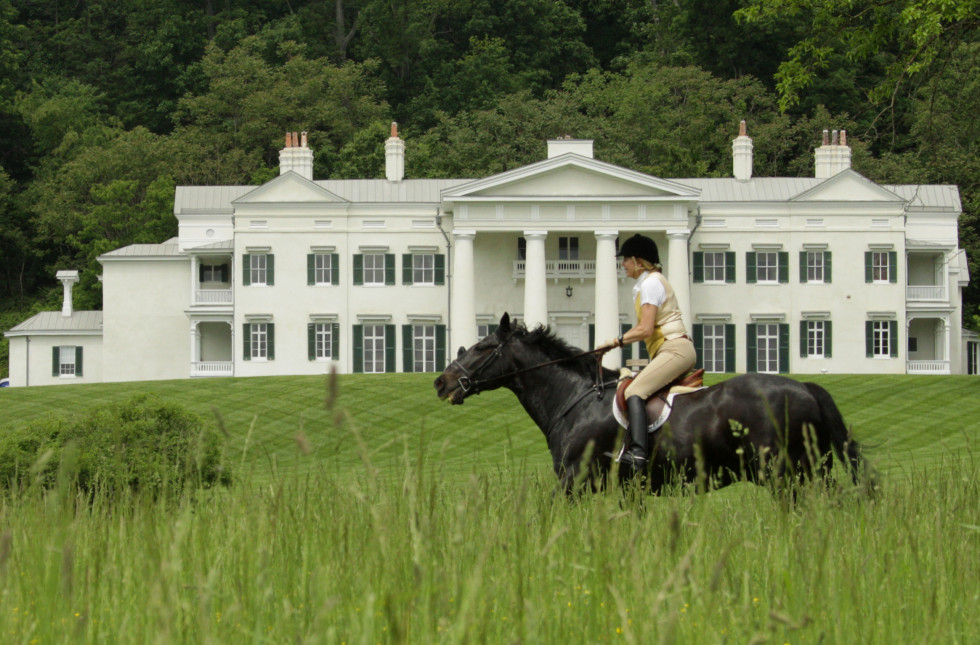 Yep, that's a horse in front of the former governor's house. (Photo courtesy of Morven Park)
And because it's only the second year of getting the turkeys, Davenport says she's not sure this time around what Caramel and Franklin will make of their expanded flock. Will they be thankful for more company? Maybe!
She is, however, excited for the new arrivals. The turkeys are a nice draw for this attraction which, due to its location, competes for tourists with behemoths like Mount Vernon and Monticello.
But even outside of that, the turkeys are fun. Their feathery pomp and circumstance is exciting, and Davenport enjoys their individual personalities. Her hope is that Caramel and this year's pardoned turkeys (and Franklin) will live long lives together.
"We get really close to them," she says.
Keep tabs on Caramel, Franklin and the newcomers on the Morven Park Facebook page. And get in touch at arin.greenwood@huffingtonpost.com if you have an animal story to share.
Related
Before You Go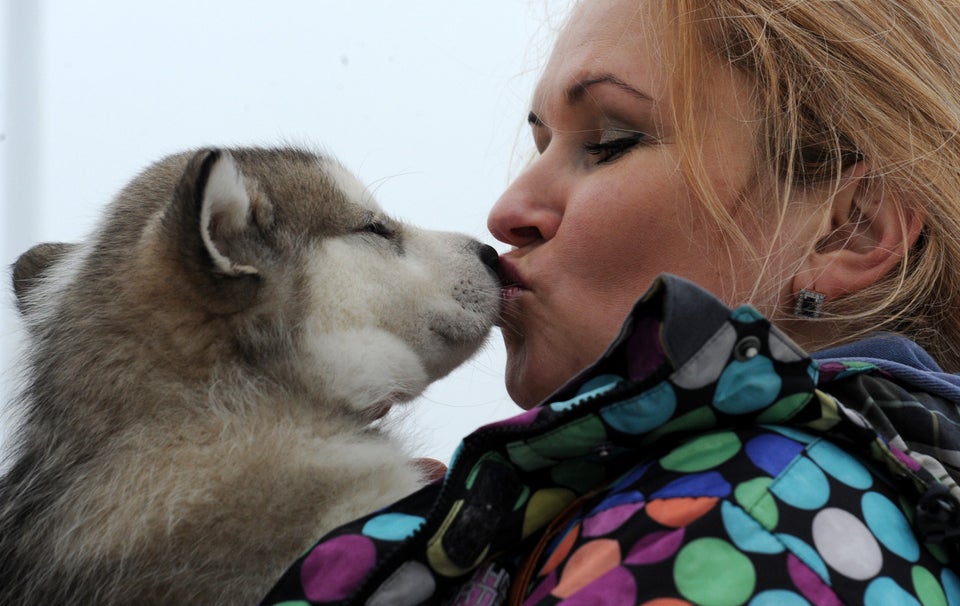 Animal Photos Of The Week
Popular in the Community