Yesterday , I wrote on my personal blog about Broadway star and Chick-fil-A fan Bailey Hanks as part of a broader discussion. Today, I feel as though it deserves it's own post.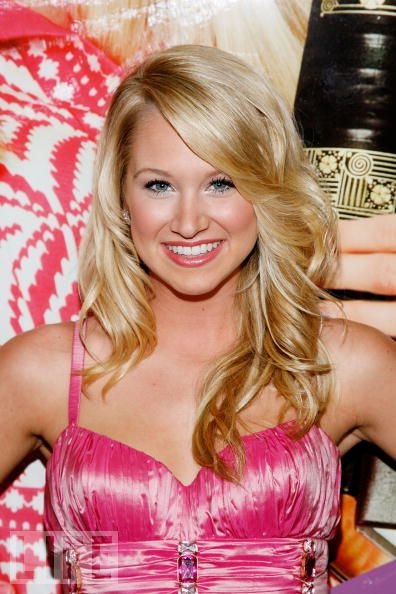 Bailey, who was cast to take over the starring role in Broadway's Legally Blonde following a MTV reality contest, has been playing Elle Woods on the road for years now. While I'm sure she's a talented young lady, I can't help but wonder how the presumably dozens of gay people who work with her must feel about her support of an anti-gay corporation.
Yesterday upon finding out she had touted her support for Chick-fil-A on Facebook, I added an image to a piece I'd already been working on about the greater conversation regarding people's reaction to the whole controversy. I also tweeted my disappointment to Bailey herself. Upon responding that she was a "Proud Christian" and not responding to my questions regarding her support for a company that gave millions to anti-gay hate groups, she quickly blocked her public twitter feed. Additionally, she quickly removed the image she'd posted on Facebook.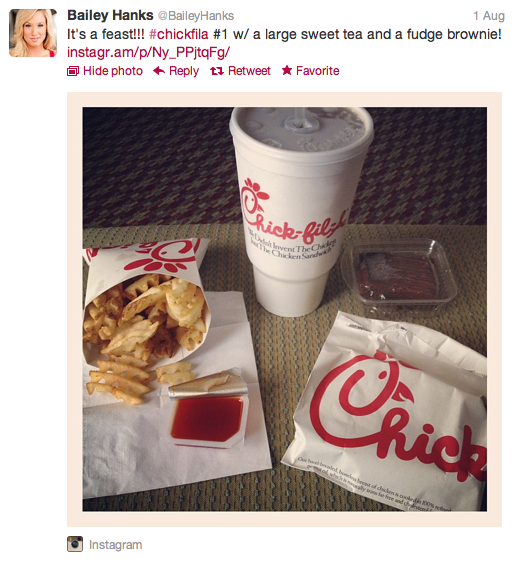 While everyone has the right to do and say what they please -- it's still a free country after all -- it surprises me to see someone who spends everyday surrounded by gay people, yet still believe they don't deserve the same rights and protections that she does. It reminds me of the drama surrounding Scott Eckern -- the Artistic Director at the Sacramento Music Circus a few years back. Scott had contributed to the Yes on 8 campaign, supporting a California Amendment that would strip LGBT couples of their right to marry. 18,000 couples had already been married at that point and the hateful proposition halted those marriages from happening. I was heavily involved with communications with Scott at the time and Marc Shaiman (composer of Broadway's Hairspray) and Susan Egan (Belle in Disney's Beauty and the Beast) also played a heavy part in leading the charge against someone who would make all their money because of gay people, but then work to have their rights taken away. In the interest of not damaging the reputation of his organization, Eckern resigned.
And while Bailey Hanks is hardly a household name, her opinion is one that is seen by lots of young gay people. What does it say to a young teen struggling with their identity when they see someone they look up to supporting something so hateful? What does it say to coworkers who are gay when they are working with someone who not only doesn't believe in their rights to equal protections under the law, but posts it on her Facebook page?
Look, I don't believe Bailey is a bigot. I think she's terrifically uninformed and ignorant on the facts.
Bailey -- If you're listening, this is not about someone's personal beliefs. This is about the fact that Chick-fil-A has given millions to anti-gay groups who are fighting to have gay people put to death in some countries. This is about the groups they support who are working to have homosexuality criminalized here in the U.S.. These are organizations who believe children are better off spending their whole lives in a foster care system instead of having two loving same-sex parents. They spread lies that gay people are child molesters (when every credible study has proven the opposite). They tell people that we are unable to be in committed relationships, that we are trying to harm the church or damaging heterosexual marriage and families. None of these things are true of course, but your words and your support of Chick-fil-A says to your friends, your co-workers and your young gay fans that you believe they are worth less than you. It says that you believe they shouldn't be allowed to have families. I don't think that's what you feel. In my heart of hearts, without even really knowing you, I believe your experience tells you something different.
Bailey Hanks' Broadway colleagues are now speaking out about the situation. Laura Bell Bundy, the original star of Broadway's Legally Blonde and whom Bailey replaced had this to say:
"As I fully support everyone's right to freedom of speech and belief, MY belief is that hate and bigotry is wrong. That is MY first amendment right. I choose not to support an organization against the equal rights of any group of people- -- especially my beloved gay community... whom without I would not have a career, a livelihood, creative fulfillment, any good shoes,taste, music, a stylist, a publicist, a producer, a writer, a director, a choreographer and two of the greatest friends a gal could ask for. I knew there was a reason I always liked beef better than chicken anyway.
I will never forget that love I have received from the gay community and I hope to give them back that love in equal measure."
Popular in the Community