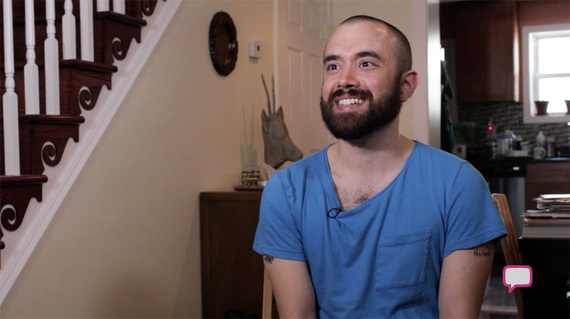 I'm From Driftwood is a 501(c)(3) nonprofit archive for lesbian, gay, bisexual, transgender and queer stories. New stories are posted on the site every Wednesday.
Like many gay men, Jose Reyes didn't have much experience dating guys until he was a little older. When he was 25, he had his first date and kiss with another guy at a conference in graduate school. Jose remembers the exciting experience:
[W]e were affectionate all night and hugging and he was I think 6'4" and I'm 5'4" which meant that when he pulled me in for a quick little kiss, I went face first into his shoulder which is probably exactly how I'd want my first kiss to go, just totally wrong and awkward, so it's a good memory.
After the conference, Jose and his crush each went back to their respective states where they lived. For a while after, they had exciting chats, IMs and Skype conversations, but then Jose detected something might not be right:
So we got to a point where I was really excited to chat and I was getting somewhat kind of a cold response and finally I just said, 'I'm just not sure you're interested in me the way you were.'

And his response was, 'Well, I'm seeing someone else. I can't be in a relationship with you, we live really far away. It's just not realistic.'
It's never fun to hear someone isn't interested, for whatever reason, but for Jose, this was the first time he'd ever experienced it, resulting in a stronger reaction than was probably warranted:
I sat in that shock a little bit longer and then just exploded into tears. Just exploded. And was sobbing and fell to the ground and had this total outburst of what I call 'Junior High Drama' of just disappointment. And I kind of realized I had never felt that before. And thinking back about how there were other people that I knew that got to experience that in junior high and I didn't. I was 25 when that happened.
REAL LIFE. REAL NEWS. REAL VOICES.
Help us tell more of the stories that matter from voices that too often remain unheard.