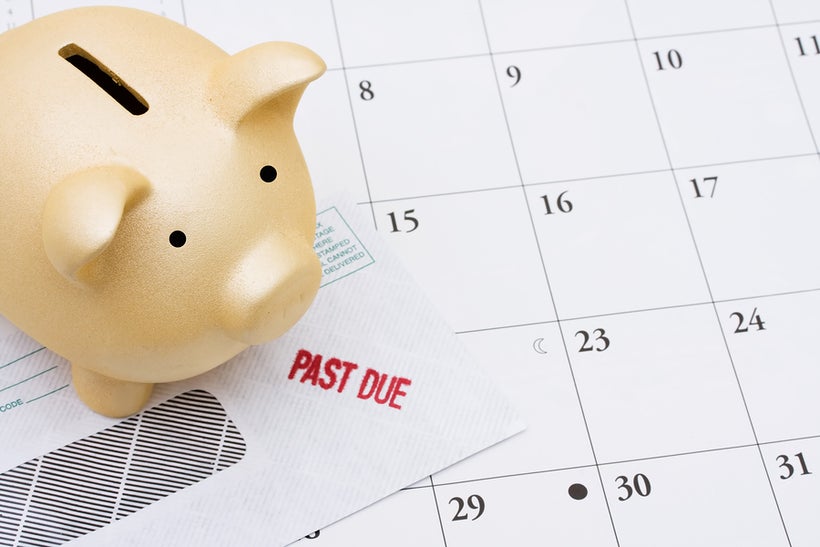 By Jessa Barron, NextAdvisor.com
What are the penalties for missing a credit card payment?
Making a late credit card payment can have some serious consequences, including:
Late fees: Like many of your other day-to-day bills, such as utility bills and cell phone bills, making late payments on your credit card bills also usually results in late fees. Although there are some exceptions to this — Citi Simplicity Card – No Late Fees Ever (a NextAdvisor advertiser), for example, charges no late fees and no penalty APR — most credit cards issuers charge a $25 to $35 fee for making late payments on your monthly bill. Whether you're a day late or 15 days late, you'll be responsible for paying this fee in addition to the amount of your overdue bill.
Increased APR: Since most credit cards have variable APRs, your rate can change from time to time thanks to the natural fluctuations of the index it is based on (e.g., the Federal Reserve). However, falling behind on your credit card payments can also impact your APR. Many credit cards' terms and conditions state that failing to make a payment and becoming delinquent on your credit card bill (which is usually considered being more than 60 days late) can result in what's known as a penalty APR. This increased APR will be applicable to all your outstanding balances, including unpaid balance transfers. So, not only will you have to pay your overdue payment with late fees on top, but you'll also be responsible for paying it all with increased interest. It's important to note that if you have a credit card with a 0% intro APR period, you could also be at risk of losing that 0% intro APR if you're late on a payment, even if you're still within the intro APR period.
Collections: While missing the due date for one or two credit card payments isn't great your wallet, missing multiple payments and letting those bills get sent to collections is even worse. That's because a debt in collections can stay on your credit reports for up to seven years, which directly affects your ability to get approved for new lines of credit, such as car loans, personal loans, credit cards and mortgages. It usually takes multiple missed payments and notices before a creditor will send an unpaid debt to a collection agency, but beware that sometimes, all it takes it one missed payment. If you already have one or more accounts in collections, you can read our guide to learn more about what to do and what your rights are in that situation.
Decrease in your credit scores: Although the above penalties are each worth taking note of, the biggest consequence for missing credit card payments – or any payments for that matter – is the negative impact it has on your credit history. When it comes to calculating your credit scores, payment history makes up 35%, which means it's the largest factor in determining your creditworthiness. This is why it's extremely important that you are not only at least making your minimum payments every month, but that you are doing so on time.
How to ensure you don't miss a credit card payment
Sometimes missing a credit card payment is inevitable, due to an unforeseen emergency, but there are some steps you can take in your daily life to prevent this from being a regular occurrence.
Budgeting: One of the biggest mistakes people make when it comes to owning a credit card is not having a budget in place. This, in turn, can cause overspending to the point where there's no money left to pay down or pay off their credit card bill. To help avoid this, create a budget so that you know where every single dollar from your income is going. You can even make a list of your monthly necessities (e.g., rent, car payments, utility bills and credit card bills) versus your monthly wants (e.g., your weekly dinner out or your gym membership). This way, you can see where adjustments can be made if necessary to ensure you're making on-time payments for your credit card bills and other mandatory monthly costs.
Contact your bank or credit card issuer: If you are experiencing a hardship, like a medical emergency or a natural disaster, which impacts your ability to pay your credit card bill on time, you should immediately contact your bank or credit card issuer. Often, they will be able to work with you to come up with a solution that helps prevent late or unpaid bills; some may even be willing to waive late fees, depending on the circumstances. On a similar note, if your payment due date is the problem, you can always ask your credit card issuer to change your due date to align your bill with your paycheck. Although there is no guarantee that your credit card issuer will do this, it doesn't hurt to ask. It's worth mentioning that Capital One and Citi already have a pick-your-own-due-date option for several of their credit cards.
Set reminders or sign up for automated payments: Sometimes people miss credit card payments simply because they forget the due date. This is especially true if you have multiple credit cards with different issuers and you're having a hard time remembering which bill is due on which day. An easy solution to this problem is to set up email reminders or text alerts to remind you of an upcoming bill. You can also enroll in autopay with your bank. This way, your credit card bills are automatically paid through your checking account on or before the due date. As we mentioned above, it's important that you stick to your budget to avoid an overdraft fee on any of your bank accounts, especially if you opt to use automated payments.
Consider consolidating your debt: If you have unpaid credit card debt that's become too much to handle, you may want to consider a balance transfer credit card or a personal loan to consolidate that debt into more manageable monthly payments. Both of these options can reduce the amount you're paying by bringing down your interest rates, especially if you choose a credit card option with a 0% intro APR period. You can learn more about these debt consolidation options and determine which is best for you and your situation by reading our blog post on the best way to pay off debt.
Paying a credit card payment late is never ideal, but sometimes life happens. By making sure you not only understand the consequences, but also your options if you're forced to pay late, you can help set yourself up for success. Follow our personal finance blog for more tips and insight on managing your finances, and read our reviews of the best credit cards to learn more about which credit cards are ideal for you.
Disclaimer: This content is not provided or commissioned by the credit card issuer. Opinions expressed here are author's alone, not those of the credit card issuer, and have not been reviewed, approved or otherwise endorsed by the credit card issuer. This content was accurate at the time of this post, but card terms and conditions may change at any time. NextAdvisor.com may be compensated through the credit card issuer Affiliate Program.
Calling all HuffPost superfans!
Sign up for membership to become a founding member and help shape HuffPost's next chapter
This post was published on the now-closed HuffPost Contributor platform. Contributors control their own work and posted freely to our site. If you need to flag this entry as abusive,
send us an email
.