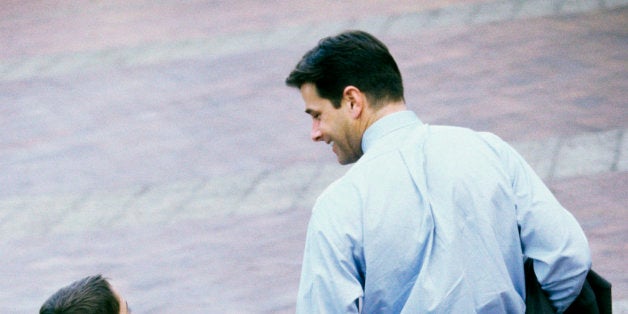 In high-conflict divorce situations, regardless of how hard you try to keep your children out of the middle, they can feel the tension. In the book, "Co-Parenting When Your Ex Won't," I write, "You can look at your child and know in a heartbeat whether or not he's getting sick or is upset in any way, right? Your child can look at you and see the same thing." That means that despite your best efforts, your children can see the anger in your eyes when they talk to you about your co-parent.
Here's the good news: It doesn't have to be traumatic or completely heart-breaking for your child to see this in you. What do I mean by that? I mean that it's an honest feeling you have, and no, your child shouldn't have to feel that "caught in the middle" or guilty feeling that comes from seeing it in your eyes, but it's reality. What you do next makes it either better or worse for your children.
If your child senses this and either shuts down or comes right out and asks you why you hate Mom or Dad, this is your chance to choose your words carefully. Even if you are actually hating your ex, your child is not the one that needs to hear that. I'm not advocating for lying to your child, I'm simply asking that you lessen the blow a bit. Saying, "I don't hate your (father/mother), we just have different ways of handling situations" is a lot different than saying, "I hate the way your (father/mother) treat you when you're with them."
Responding to your child and saying, "I'm so sorry you think I hate your (father/mother), just because we disagree doesn't mean either of us have stopped loving you or working to make your life the best it can be" can make them feel a little better. Using a phrase like, "Sometimes Mom and Dad have different ways of doing things and we disagree a lot, but I don't want you to feel like you're ever the reason for it or in the middle of it. We will always figure it out," shows your child that you're committed to them. There are many phrases that acknowledge their fears, turn the attention back to the child, and point out the fact that you and your co-parent both love him/her.
Once you've responded appropriately to your child, you're not out of the woods. Now is the time to follow up. Your child is watching how you handle this. This is probably the first, and biggest, crisis of your child's life so they're watching for ways to handle it. They may not ask you for ideas, but they're definitely watching. As the saying goes, "Children learn more from what you do than what you say."
Ask yourself how you're handling it. If you're a ball of stress, I don't blame you at all! The best thing for you, and your child, though, is to get that out appropriately. Take up a new hobby, journal, blast the music and dance it out. Whatever you do, tell your child that you understand how angry they must feel and tell them what you do when you feel angry. Let them give it a shot.
Divorce is hard on kids, there's no way around that, but seeing their parents upset and angry at each other can make that difficult transition longer. These are just two ways to handle it when your child sees anger in your eyes - even when you try to shield them from it. Have you tried something else? Comment below and tell us about it!