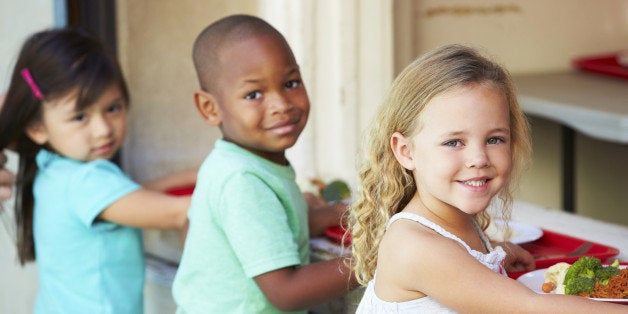 The New York Times recently ran an article called "Why Students Hate School Lunches" (9/26/15). While this headline draws attention, the piece unfortunately does not tell the full story.
As former educators, we share the goal of all school leaders to set students up for success. As moms, we recognize that to get kids to eat healthier foods, food needs to be delicious and kids need to help generate new menu ideas, develop and test recipes, and even name the foods they create. As founders of Revolution Foods, we have demonstrated that school cafeteria food can be delicious, healthy, affordable and loved by students. We believe that we owe it to our nation's youth to nourish their minds and their bodies to provide them with a foundation for success. We recognize the need for nutritious, "real food" school meals that kids love, designed specifically to support school meal programs that build lifelong healthy eating habits. While some schools may be struggling with overflowing trash cans with kids throwing away uneaten food, we have seen the opposite. We have worked with school districts to implement compliant, turnkey solutions. With this approach, we have witnessed impressive results - most importantly, dramatic increases in the number of students participating in school meal programs, which undoubtedly supports students' ability to learn and, at the same time, yields positive financial results for school programs! We work with school leaders and partner with the hard-working men and women who are leading the charge in cafeterias each and every day. From breakfasts to lunches to suppers, we prepare food fresh daily in local culinary centers with ingredients kids recognize, using home-style cooking techniques.

The trifecta of nutrition, great taste and affordability takes time, commitment, careful listening and respect for the schools and students we serve. Yet, having served over 175 million meals to date, we know it's achievable. Designing and serving healthy, delicious meals each day in school means more kids have a chance of accomplishing their goals in life because they are on a path to becoming healthy adults and are not constrained by the debilitating health impacts of diabetes, obesity, or heart disease. As educators and influential adults, we must make school a safe place for our kids not just to learn arithmetic, science and history, we must also make school a safe place for kids to fuel their minds and bodies to ensure a productive future.
Kristin Richmond and Kirsten Tobey, Two Passionate Moms and Co founders of Revolution Foods