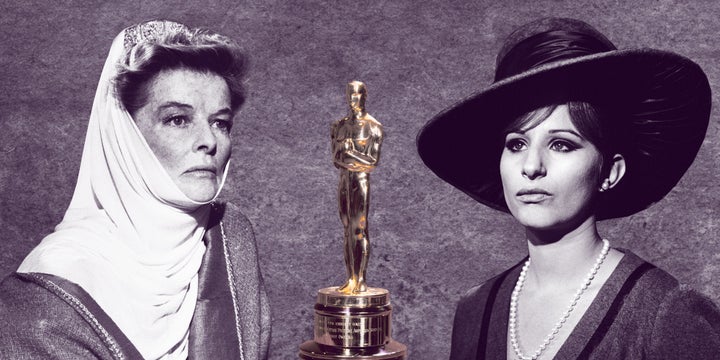 In 1969, something exciting happened at the Oscars.
After reading off the five nominees for Best Actress at the 41st Academy Awards, a look of utter shock swept across presenter Ingrid Bergman's face as she opened the envelope. "It's a tie," she said to gasps from the audience. "The winners are Katharine Hepburn in 'Lion in the Winter' and Barbra Streisand..."
The rest of Bergman's announcement was inaudible as the crowd erupted in applause for the "Funny Girl" star. Hepburn, who at that point had won two out of her 10 Best Actress Oscar nominations, wasn't in attendance, so the spotlight shined solely on Streisand. Dressed in a sheer black sequin pantsuit with a Peter Pan collar and bow, the 27-year-old looked at her golden statue and uttered, "Hello, gorgeous!"
Yes, they're highly unlikely, but ties have happened at Hollywood's biggest awards ceremony. Counting the one in 1969, there have been six in Oscars history. The others:
2013 (85th Oscars) – Sound Editing: Paul N.J. Ottosson ("Zero Dark Thirty") and Per Hallberg and Karen Baker Landers ("Skyfall")

1995 (67th Oscars) – Short Film (Live Action): Peter Capaldi and Ruth Kenley-Letts ("Franz Kafka's It's a Wonderful Life") and Peggy Rajski and Randy Stone ("Trevor")

1987 (59th Oscars) – Documentary (Feature): Brigitte Berman ("Artie Shaw: Time Is All You've Got") and Joseph Feury and Milton Justice ("Down And Out In America")

1950 (22nd Oscars) – Documentary (Short Subject): Richard De Rochemont and James L. Shute ("A Chance To Live") and Chuck Jones and Edward Selzer ("So Much For So Little")

1932 (5th Oscars) – Actor: Fredric March ("Dr. Jekyll and Mr. Hyde") and Wallace Beery ("The Champ")
How Ties Are Calculated And Confirmed
First off, another history lesson. It wasn't always the case that a tie meant a dead-even vote. Initially, Academy rules stated that if a fellow contender came within three votes of the winner, both would receive the award. That's what happened ahead of the 1932 ceremony, when March actually got one more vote than Beery.
By 1950, though, the rules had been changed to require an actual tie for more than one contender to get an Oscar.
The Academy has strict rules to determine which individuals or films can be nominated for an Oscar. In order to submit either for nomination, producers or distributors must sign and submit an Official Screen Credits (OSC) form in early December (The Oscars telecast is usually in late February or early March) proving their movies meet Academy criteria for consideration ― criteria like film-length and theatrical release information.
Once the eligible nominees have been determined, the Academy mails ballots to voting members that same month. Members are allowed to choose up to five potential nominees, ranked in order of preference, in categories that correspond to their distinct professions ― actors nominate actors, film editors nominate film editors, etc. When it comes to Best Picture, though, all voting members get to nominate a film. This year, the initial votes for Oscar nominations began rolling in (via mail and an online submission system) on Jan. 5, with a deadline of Jan. 12.
To determine the final list of nominees, accountants at PricewaterhouseCoopers use a preferential voting system ― they take the total number of nomination votes received for each particular category and divide it by the total possible nominees plus one to get a "magic number" threshold. For example, say there are 600 potential ballots for the Best Director category. Accountants would divide that number by six (since there are five possible nominees), and the "magic number" required to become an official nominee for Best Director would be 100 ballots. (Best Picture is the only category that can have up to 10 nominees.)
Then, following the nominations announcement in January, the actual awards voting begins. (Every Academy member can cast a vote for each category during finals voting.) According to a source close to the Academy, 23 out of the 24 Oscars categories are tabulated using a "winner-takes-all" system, meaning the person or movie with the most votes in each category wins ― period. If two or more nominees achieve this with the exact same number of votes, they all become winners.
"There could be a four-way tie if all [the nominees] received the same number of votes," the source said. "That's never happened ― it's only ever been tied between two people or two films ― but yes, it could be a three-way tie or a four-way tie if that's how the votes shook out."
(For the record, as many categories contain five nominees, it could also be a five-way tie.)
The one category that will never end up in a tie is Best Picture, because the winner is determined using that previous preferential voting system, rather than winner-takes-all. This year, the 7,200 voting academy members will rank the nominated movies in order of preference, then accountants at PwC will sort the ballots based on members' first-place choices, eliminating the film with the fewest No. 1 votes. As is practice, votes for eliminated films will go to the second-ranked movie on each of the respective ballots. And this process continues ― at each stage, the movie with the fewest No. 1s gets eliminated, and its votes are redistributed to the ballots' next choices — until one film has at least 50 percent plus one of the entire vote.
"Basically, it ensures that the winning film has the most support of the Academy that's possible," the source told HuffPost. "So it's actually the most democratic way of tabulating the votes."
As the source noted, "the Academy itself doesn't touch the ballots at all" during the voting process. Instead, accountants at PwC count every ballot "by hand." If a tie does occur, those PwC accountants would conduct multiple recounts to confirm the draw.
A rep for PwC did not respond to a request for comment.
So What Happens At The Ceremony?
Once the ballots are counted (and recounted) and the envelopes are sealed, only three people in the world know in advance who the winners are ― or whether a tie has occurred ― the selected PwC accountants.
After last year's Best Picture debacle ― when Warren Beatty and Faye Dunaway received Emma Stone's Best Actress envelope by mistake and announced "La La Land" as the Best Picture winner instead of the actual victor, "Moonlight" ― the Academy and PwC decided to appoint an additional accountant, on top of the two who remain side-stage, to sit in the production booth during the show.
"There will be the two on the side stages, as they always are, and they will each have their own set of envelopes and continue that practice," the Academy source said. "Then a third balloting partner will be with the director in the truck to help if there is an issue ― solve it quicker, if that makes sense. As the Academy CEO [Dawn Hudson] said in one of her statements, we don't anticipate [a mistake] happening again in another 90 years. It's pretty buttoned up at this point."
A tie isn't necessarily an issue for the winners ― if anything, it's just a nice surprise. But for a presenter, things could get confusing, which is why the Academy also added more "worst-case scenario" rehearsal time to their new protocol.
"It's impossible to know what to do in that situation, but they do prep presenters in advance that ties are a possibility," the source said. "It's very clear on the card that it's a tie and what to say and what to do."
Mark Wahlberg, who announced the Sound Editing tie in 2013, was definitely taken by surprise. "No B.S., we have a tie," he said as the crowd erupted in whispers.
"When I heard it was a tie, my mind kind of went, 'Can this happen? What are they going to say? Does nobody go up to get the award? Do we have to have a recount?'" Karen Baker Landers told HuffPost. She, along with business partner Per Hallberg, tied with Paul N.J. Ottosson for the Sound Editing award that year.
"The air kind of got sucked out of the room, and you could hear murmuring. Looking back, it was awesome to be a part of that but at the time it was very confusing," Landers said.
"The whole idea that you actually had two movies tying with thousands of votes is pretty cool," Hallberg said.
Landers and Hallberg were honored to become a part of Oscars history in more ways than one, but they know that if a tie occurs in an acting category this year, it would be a much bigger deal.
"They would have more fun with it," Landers said. "Maybe both the winners come out onstage together? It was very straight the way that we did it with them. Paul came up, walked off. We came up, walked off. I'm thinking, 'Did I mention it was a tie? Did we have fun with that at all?' I don't think we did."
Hallberg added, "It's a night for the Academy to honor their own membership, but then at the same time it is a TV show and I'm sure they'd do something quite different with it if [a tie involved] actors. That would be more along the line of entertainment, right? That's the reality of it."
The awards season race has been pretty predictable so far this year, with Gary Oldman ("Darkest Hour") and Frances McDormand ("Three Billboards Outside Ebbing, Missouri") taking home most of the leading actor statues, while Sam Rockwell ("Three Billboards") and Allison Janney ("I, Tonya") have earned consistent accolades for their supporting roles.
Sally Hawkins, "The Shape of Water"
Frances McDormand, "Three Billboards Outside Ebbing, Missouri"
Margot Robbie, "I, Tonya"
Saoirse Ronan, "Lady Bird"
Meryl Streep, "The Post"
Timothée Chalamet, "Call Me by Your Name"
Daniel Day-Lewis, "Phantom Thread"
Daniel Kaluuya, "Get Out"
Gary Oldman, "Darkest Hour"
Denzel Washington, "Roman J. Israel, Esq."
Mary J. Blige, "Mudbound"
Allison Janney, "I, Tonya"
Lesley Manville, "Phantom Thread"
Laurie Metcalf, "Lady Bird"
Octavia Spencer, "Shape of Water"
Willem Dafoe, "The Florida Project"
Woody Harrelson, "Three Billboards Outside Ebbing, Missouri"
Richard Jenkins, "The Shape of Water"
Christopher Plummer, "All the Money in the World"
Sam Rockwell, "Three Billboards Outside Ebbing, Missouri"
Here's to hoping for another round of live Academy drama.
CORRECTION: In a previous version of this story, the films that won for Sound Editing at the 85th Oscars were attributed to the wrong editors. Paul N.J. Ottosson won for "Zero Dark Thirty" and Per Hallberg and Karen Baker Landers won for "Skyfall."
Before You Go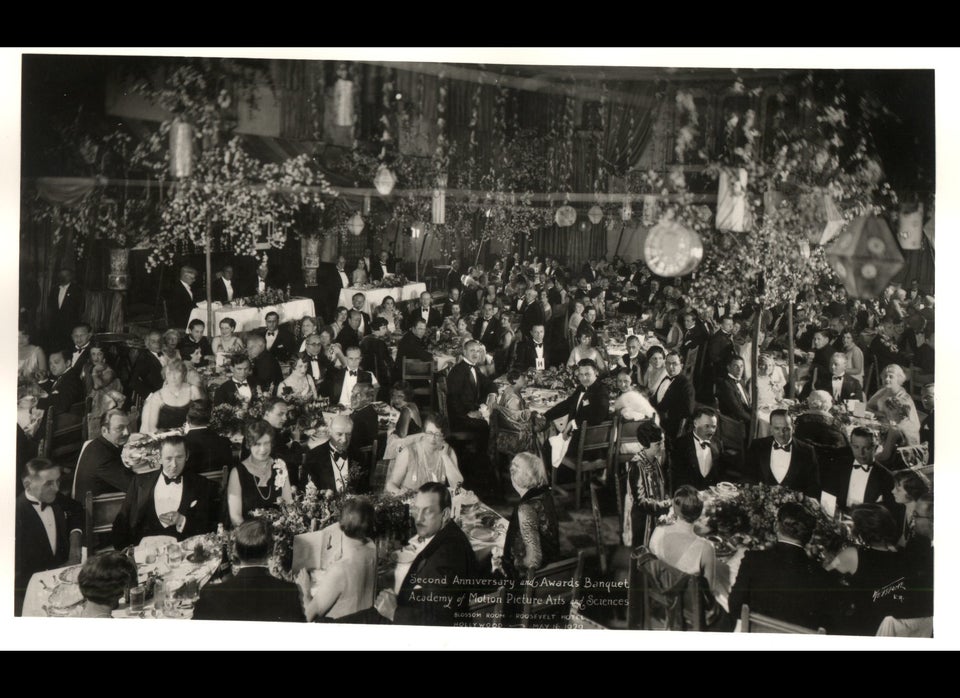 The Oscars: Photos Of Hollywood's Biggest Night Through The Years
Popular in the Community