Suffering ends the moment we decide to forgive. This is a core belief of Malynn Utzinger, MD, a certified yoga instructor and specialist in holistic medicine. As part of filmmaker Louie Schwartzberg's "Gratitude Revealed" series, Utzinger beautifully narrates what happens when we are able to move past old hurts and practice forgiveness. It's not about accepting a wrong or going against your own values, she says. It's about healing -- and the result is that it illuminates the powerful path to living a more gracious life.
Gratitude Revealed: Forgiveness
The act of forgiveness -- that moment of letting go and feeling the first new ray of light open you and flow into your heart -- that is the moment when healing begins.

Old, hardened stories have worn grooves in your mind and heart. Hardness becomes a habit, long after the event has passed. You hope that hanging onto the old story will one day make it right.

But the gift comes when you decide that the change is within you.

The moment you let that happen, the whole story falls away. The wind blows. And everything is new again.

Every cavern of your heart stretches to invite the light in. Shafts of light warm your face and open your eyes, illuminating you to what is the incredible reality and wonder of each life around you.

You start to be amazed that we have all gotten this far, that we manage to live and love at all, given the complex circumstances of our daily lives.

A tremendous and unforced compassion and connection arises spontaneously within us and flows to others.

Forgiveness is a letting go.

It's not accepting a wrong or going against your basic values.

Forgiveness is for healing yourself.

The places within you that have been tight and hard can soften. Your body can open. You have new space within you, new chambers in your heart, places you may have never known before.

Of course, the hardest part is that we so often show up thinking that we are done with forgiveness.

But, forgiveness needs to be given each day, over and over again, for the hundred small ways in which we don't see one another.

It's that forgiving, for the little things, even when you think it doesn't matter, that will set you free and show you how you are connected to everything.

And then, one day, you may at last come to forgive yourself, and allow others to forgive you, too.

This is the hardest act of all.

An act of bravery.

And the first true act of great love.
Gratitude Revealed is filmmaker Louie Schwartzberg's series of 16 film shorts that explores what gratitude is, produced by his studio, Moving Art. Utilizing a diverse array of styles, approaches and his 30-plus-year archive, Schwartzberg's films show why gratitude is important and what we can all do to live more gracious lives.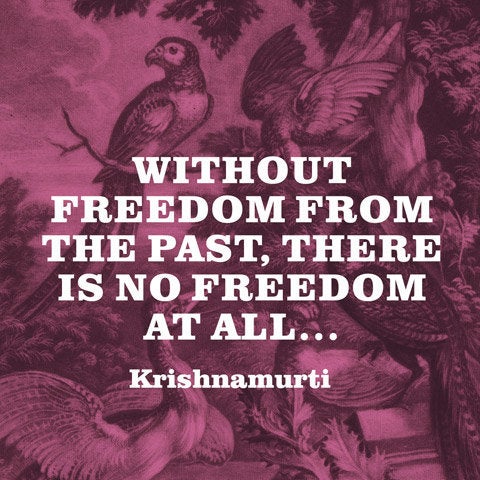 Quotes About Letting Go
Related
Popular in the Community