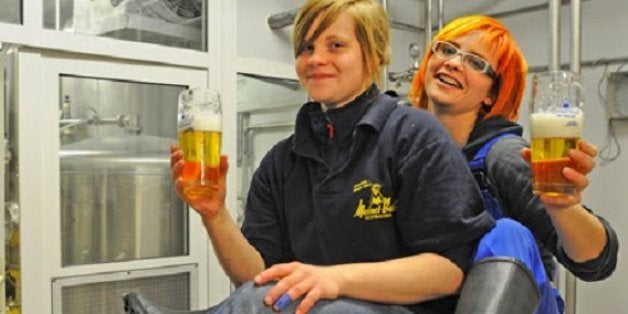 Imagine that your ancestors have been making beer since 1731. You're going to be hard-coded to be a brewer too. Right?
That pretty much describes the Meinel sisters. But what happened when they took over the family business? Not what you'd expect.
The Meinel family has the kind of serious Bavarian beer cred that only goes to brewers who have been making beer for a long time. In their case, a really long time.
Twelve generations of the family have tended the brew kettle for 285 years, turning out beer that has a reputation stretching far beyond Hof, the remote town near the Czech border in the Bavarian region of Franconia, where it is brewed.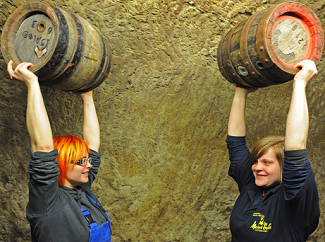 Enter Gisela and Monika Meinel, two classy, spirited twenty-something sisters who are taking over the Meinel Brewery, pioneering new insurgent beer styles and rocking the Bavarian beer scene in the process.
We're talkin' revolution.
There are three things you need to know in order to grasp just how daring the sisters are and how improbably edgy the beer they brew is.
The first is that if you live in Germany, you consider Hof to be at the outer edge of the universe. A sweet town it is. But it's not even kind of a hotbed of innovation or hipness. And it's as far from cool craft brewing hubs like Hamburg and Berlin as you can imagine which makes it an exceedingly unlikely place for a beer revolution.
The second thing to understand is how the weight of tradition plus economic pressures and local beer styles that are slow to change are bearing down on the sisters as they take the reins of the family brewery. These factors alone would be enough to make anybody think twice about rocking the boat by launching iffy new beers.
The third thing to remember is that the Meinels are women. And, as in the U.S., beer and brewing in Germany still tend to revolve around men. Times are changing but the sisters still contend with stereotypes in the industry.
Lesser brewers would cave. They would resist the temptation to experiment with new styles and stick to tried-and-true brews -- in other words, they would not make waves. But the Meinel sisters have embraced change and are proving in spades that they're not conformists.
Together with brewers Yvonne Wernlein and Isabella Straub, the Meinels are rolling out new craft beers for women.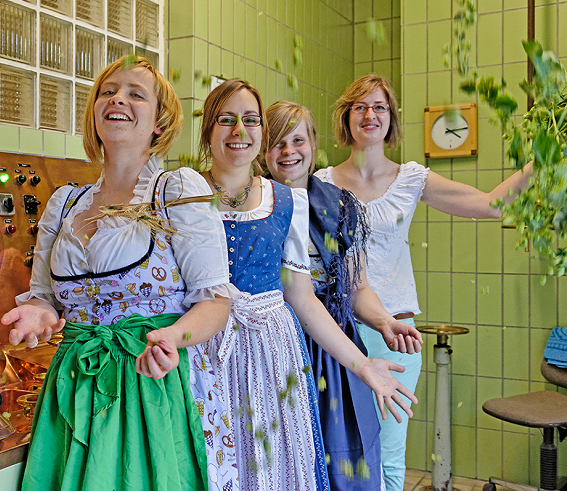 Fringy? Yes. Daring? For sure. Especially in a traditional beer bastion like Franconia. But the first batch sold out in a matter of weeks.
The four lady brewers are still at it, and the latest in their lineup is called "Summer Night's Dream." Another is on the way for the fall.

Before you get the wrong idea: These are not Shirley Temple brews. The sisters and their co-conspirators are definitely aiming for styles that appeal to women, but their craft beers are as un-girly as you can imagine. These are strong, sophisticated, aromatic and memorable brews.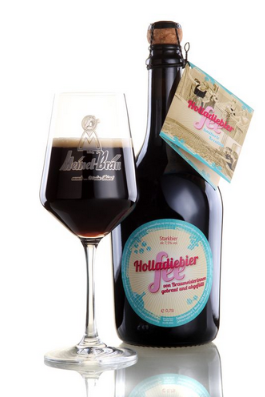 The idea of women's beer isn't without its critics. But the Meinels and their friends are not trying to segregate women drinkers. That's why they don't buy into the stereotype that women only like thin, sweet beers.
The Meinels' brews are headier and have more alcohol. They work as an aperitif, with food, as a digestif or in stand-alone mode. Judging from the response, they appeal to women but they're also definitely bro-friendly.
Other new-wave entries from the Meinel brewhouse include Absolvinator (double bock); a spring wheat beer called Meinels Blümla; Mephisto, a malty aromatic craft beer; and a special wheat bock available from October through Christmas which has won silver and gold at the European Beer Star Awards.
These new creations beckon craft beer connoisseurs and geeks like a siren's song. But unfortunately they're not available in the U.S. or anywhere else outside Germany.
The best place to enjoy them is in Germany on a beer tour, preferably at the Meinel Brewery itself. They're definitely worth traveling for.
Shifting the Beer and Brewing Paradigm
Despite progress in some areas, when it comes to beer and brewing, we still live in a time when women are stuck in supporting roles. Ladies are either models in beer ads, waitresses at the Oktoberfest or designated drivers who make sure their boyfriends get home safe after a night of drinking.
But with their very presence in the brewing world and their insistence on making sophisticated beers for women (and men), the Meinel sisters are shattering these and other stereotypes about women, beer and brewing that are badly in need of shattering.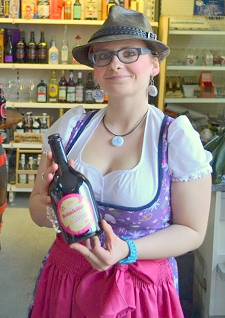 The Meinel sisters are here to stay. "We're doing this because of our convictions, not because some marketing department told us to do it," they say.
The Meinels may not have intended it, but they are shifting the beer and brewing paradigm with their hybrid approach.
They have one foot in the camp of tradition and the other in the craft beer camp, which means they are preserving the best in age-old venerable Franconian beer styles and turning out the best in innovative craft beer.
It's a revolution we can get behind and a win-win for craft beer lovers.
Tom Conrad will lead a small band of beer lovers, craft beer enthusiasts and Slow Food fans on a beer and brewery trip to Germany in October. The group will visit the Meinel sisters, meet other craft brewers and visit independent breweries.
Photo credits: Meinel Brewery.