Breakfast with Travis Wall is like meeting a unicorn, I was told that the mythical, magical creature didn't exist and yet I am faced with a young man who is simply not from this world. He is honest, unfiltered, gracious and wise far beyond his years with a knack for making the moment special simply because it is all about the moment. Having just realized his fourth Emmy Nomination for "Outstanding Choreography" for his cutting-edge work on the hit FOX show "So You Think You Can Dance," He represents a bright future where limits of time, space and in his case even gravity need not apply.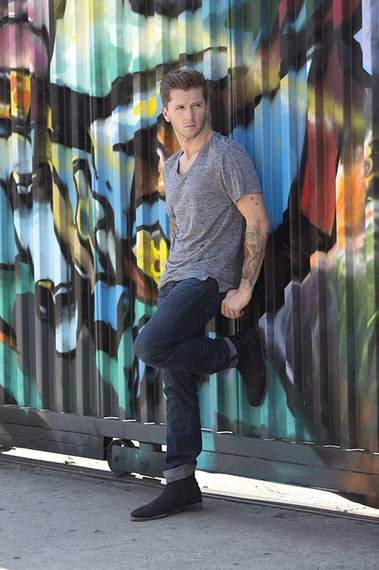 Photo Credit: Peter Svenson
Joshua Estrin: By all accounts you are a veteran of the industry. What is the real time span of a professional dancer's career and how difficult can the transition be when the body simply says stop?
Travis Wall: It is really different for everyone and for me it is about listening to my body and filling in the blanks with what my body needs. Good nutrition, massage, yoga and rest. My body is the expert not me.

JE: Besides the obvious how does being a choreographer differ from being a dancer?
TW: The two are completely different. As a dancer I have a certain set of responsibilities and a level of pressure as well. But in my experience as a Choreographer everything is so much more intense and the pressure can feel overwhelming... But I love both worlds and I thrive on it all.

JE: So You Think You Can Dance has made dance cool. But do you think we still have distance to travel regarding stereotypes about male dancers?
TW: It is a slippery slope as our show and others like it have done a great deal for the cause, but we do still have a distance to travel and we can't gloss over the truth. In reality kids are still being bullied and harassed and this season I wanted to address equality directly so I created a piece that speaks to marriage equality for the show and men will be dancing with men and women with women without apology.
JE: Tell me about your latest projects?
TW: For the last 4 years I have directed my own dance company with 2 other friends. We are a team so in reality the company is ours (dancers included) we are about to head out for our second national tour and I am proud that this dream became such a joyful reality.
JE: What songs would I find on your playlist?
TW: Hozier from the UK, of course Beyoncé and some of the more traditional vocals of Joe Cocker and Billie Holiday as each inspires me in a different way.
Popular in the Community