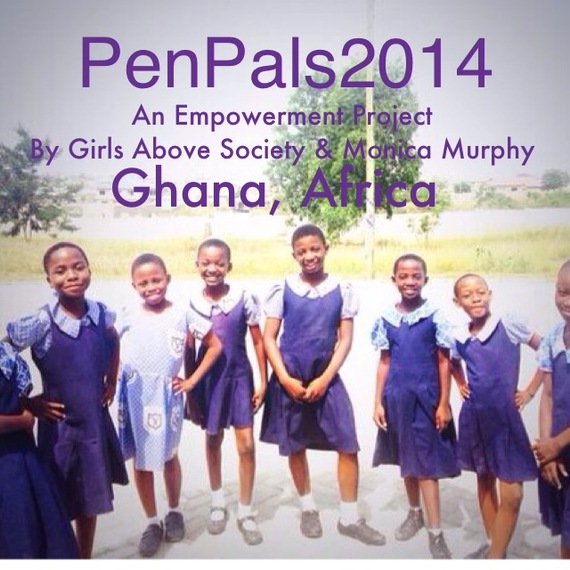 How can we encourage girls to be bold in thought, so that they feel dignified? That is the real question. So often, girls "shelve away" their potential. Encouragement will inspire a young girl to think differently about her life, so that she is inspired to run the racetrack of life.
It is gratifying to help girls recapture their hopes and dreams through brokenness and adversity.
My "superstar" girls here in Africa are determined to build a life of possibility -- despite their circumstances. They thirst, so badly, for truth. When Lauren suggested a pen-pal project, I saw this as a profound opportunity for my girls to be mentored by some of the wisest peers I have ever met. Just last week, a few girls, involved in this pen-pal exchange, came into my office with resurrected optimism to tackle the world. It touched my soul.
Witnessing how this project has paved the way into positive thinking, internal transformation, and vigor for my girls, brings promise. Yes, it is important to take every opportunity to tell girls that they can achieve anything that they set their minds to. Every day, I see my girls face difficulty with unshakable conviction and rebounding determination. Their futures are bright, and surely, they were born to find their own "trademark."

-- Monica Murphy
I met Monica on Twitter. As you can see from her short essay above, the incredible Pen Pal Project we started has created a blast of "GIRL POWER!", Monica is currently teaching some "superstar" girls in Ghana, Africa. Monica gathered her girls and I recruited two awesome mentors and co-hosts of The Lauren Galley Show on CETV Cloie Barcelona and Elizabeth Vazquez and what you are about to read just might surprise you but will surely make you want to feel the power of making a difference.
The most overriding obstacle to higher female education is the widespread poverty in Ghana. Of junior high school students surveyed, 85.4 percent of students cited that not having enough money for school supplies or uniforms as a problem for them. A quarter of the students said that they often go to school hungry. When looked at with all financial concerns combined, nearly 100 percent of students admitted some financial problems (Lambert).
In the U.S., I speak with many girls who lack motivation and confidence due to a lack of encouragement from mentors and pressures from the media. The Pen Pal project's mission was to inspire Monica's beautiful girls and instead they have taught me that regardless of one's circumstance, we all have passions and dreams that can be achieved if the proper mentorship and encouragement is provided.
Below you will see the impact our pen pal project is having on these "superstar" girls. For Cloie, Eliabeth and I, well... we are awestruck by their determination. They are true "SuperStars" making their own trademark.
This pen-pal project has helped me know some people from another country. I have been able to break free of my shyness. These mentors inspire me to learn hard and to achieve what I want to be in the future. This has really helped me.

-- Hannah
This project is so much fun and it has made a change in my life. For example, it has inspired me to be confident and bold.

-- Antonia
This pen-pal project has inspired me to have faith in what I do, no matter the challenges or circumstances that I face. This project has also helped me to face my challenges, circumstances and troubles. I can now solve my problems that I have. It has also helped me to advise other kids, letting them know that they are half way there, so they should take their education seriously. Education is the key to success. Last, these mentors have challenged me to have a good attitude, to be hardworking and confident.

-- Vera
Even though I just started this pen-pal project, it has inspired me to break free from my shyness, because before this, I never introduced myself to anyone. I can talk about my life in Africa, sharing how I live and sharing more about my family. This project allows me to know people outside of Ghana. -- Nancy
This project inspires me to solve my problems.

-- Emmanuella
This project inspires me because I have found solutions to my challenges. It has also inspired me to keep on trying to achieve my goals. -- Laura
These pen pals have inspired me because my parents and I are now okay, and I was able to talk with my friend. -- Daniella
It has given me self-confidence and more knowledge. It has also helped me to set goals for the future. -- Felicia
This project has inspired me by changing my future. It has changed my attitude and has taught me how to forgive. -- Amy
So -- What have you done today to make a difference?
Related
Popular in the Community