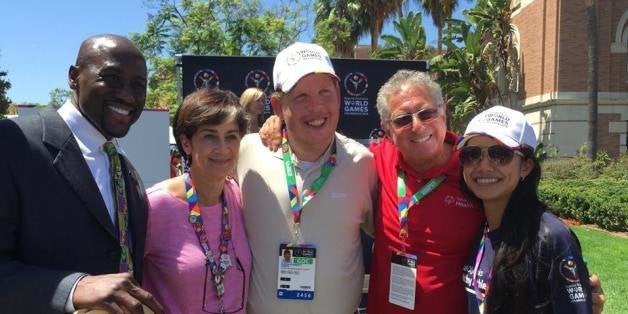 The world came together in Los Angeles last month at the Special Olympics World Summer Games in an amazing international celebration of abilities and possibilities.
It was the ideal place and time for the Golisano Foundation to announce that our founder, Tom Golisano would commit $25 million to expand Special Olympics Healthy Communities, a successful initiative we helped launch three years ago to enhance global access to healthcare and improve health outcomes for people with intellectual and developmental disabilities.
The Golisano Foundation is dedicated exclusively to supporting programs for individuals with intellectual disabilities and their families. Tom Golisano, founder and chairman of Paychex, one of the world's largest payroll and human resource companies, has a son with an intellectual disability. So this is the cause that is closest to his heart.
We are often asked if you want to improve healthcare why do you support Special Olympics? It's a sports organization, not a healthcare provider.
Athletes can't play and compete if they are in pain, can't see or hear or have any number of other issues. Which is why Special Olympics is now the world's leading global health provider for people with intellectual disabilities. No other organization comes close to having the infrastructure to assess and address the healthcare needs of people with intellectual disabilities. No other organization has the partnerships in place to break down the barriers of complex systems that are preventing people from accessing healthcare.
Through its Healthy Athletes screening programs on site at Special Olympics events around the world, hundreds of thousands of people with neglected health issues are able to get help with basic needs, like being able to see more clearly, or hear better or walk without pain -- all essential to being able to lead productive lives. It's an amazing program made possible by so many dedicated people.
But here is the big question: why do people with intellectual disabilities have to get healthcare in a tent at a sports event? What happens after the event? Who is managing their care? Where do they go for follow-up treatment?
It is unacceptable that millions of people -- our most vulnerable citizens -- suffer from pain and debilitating illnesses that can be treated because they fall through the cracks and don't have access to basic healthcare, where they live, year-round.
That has to change and it is changing. With Tom Golisano's and the Golisano Foundation's first gift of $12 million in 2012 to launch Health Communities, we were determined to take healthcare OUT of the tent and INTO communities.
Barriers are being broken down with insurers, governments, universities and healthcare providers.
In the past three years, Special Olympics has leveraged additional resources; engaging new global partners, health systems and universities; effectively raising awareness of the needs and discrepancies regarding overall health status of people with IDD; increasing access to community-based healthcare services; and empowering individuals and families through education and grass roots support. We have helped a lot of people, so many -- that we were encouraged to set our sights even higher.
Words we live by at the Golisano Foundation - which reflect our founder Tom Golisano's approach to business and philanthropy -- are Imagine the Possibilities.
What would it take to create more healthy communities? By making Healthy Communities a part of its global healthcare strategy Special Olympics has imagined what healthcare should be and can be and for people with intellectual and developmental disabilities.
And who better to lead the charge? We all want to live in a world that is inclusive. Especially when it comes to keeping us healthy.
Our commitment to Special Olympics, which is the largest gift from a single donor in the organization's 47-year history will help expand Healthy Communities to serve more communities, states and countries and help improve the overall health status of people with intellectual and developmental disabilities.
Special Olympics' picture of success reflects the Golisano Foundation's approach when seeking to resolve what seem to be insurmountable challenges, "imagine the possibilities."
We must accelerate our efforts and take Healthy Communities to transformative scale -- with inclusive healthcare for all -- ensuring that people with IDD are not excluded from the healthcare systems within their communities.
Only then can people with intellectual and developmental disabilities reach their full potential and find pathways to self-sufficiency, personal dignity, and the best possible expression of their abilities and talents throughout their lifetimes.
We are confident that expanding Healthy Communities will have a sustainable, positive impact on millions of people with intellectual and developmental disabilities around the world.
For those who have the resources and abilities please imagine with us what healthcare can and should be for people with intellectual disabilities. Join us and help make Inclusive healthcare for all a reality.
Popular in the Community