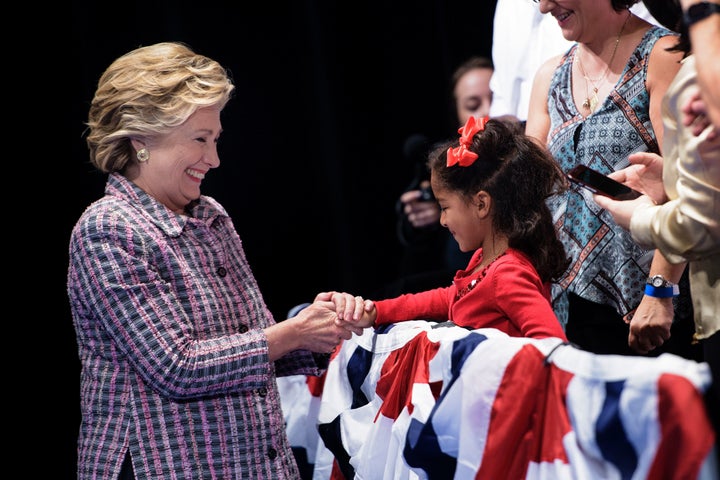 Through her past roles as the United States first lady, New York senator, U.S. secretary of state and presidential nominee, Hillary Clinton has met many kids at her rallies and events. In a new interview, she opened up about what she wants to teach these young people, and what they've taught her.
Chatting with Romper, Clinton discussed her new children's book, It Takes a Village, which was inspired by her 2006 book of the same name. The author mentioned that she's met several people throughout her life as a public figure and noted the kids were just as impactful as the adults.
"It's safe to say I've learned as much from the children I've met over the course of my career as I have from the adults," she told Romper. "In parts of the world that have experienced conflict, I've seen children reach across divides to play together and learn from each other."
Clinton also said many kids have reminded her of the importance of standing up for your beliefs and openly sharing your fears in order to bring about change.
"I've been so moved by the children I've met who were brave enough to share their hopes, dreams and fears with our country and the world — from the young people who helped raise awareness in the effort to pass the Children's Health Insurance Program back in the '90s to the children of immigrants who are speaking out today," she said. "For all our talk about listening to the 'adult in the room,' in my experience, the most compelling wisdom sometimes comes from the child in the room."
Just last month, Clinton responded to a sweet photo on Twitter that shows a girl who wore a pantsuit (Clinton's signature look) to meet her at a book signing.
Clinton responded by tweeting that it was "great to be back in Brooklyn sharing #ItTakesAVillage with readers of all ages!"
In her interview with Romper, Clinton encouraged parents to teach their kids the importance of "critical thinking, an open heart" and an appreciation for diversity. She also stressed that "raising feminist sons is just as important as raising feminist daughters," and described what it's like to see her own feminist daughter, Chelsea, as a mom.
"She can recite the latest American Academy of Pediatrics guidelines on just about everything, from infant feeding to screen time," she said. "As the mother, she's the expert, and I get to enjoy the special pleasure that comes from knowing you can just focus on being the most loving and helpful grandparent you can be."