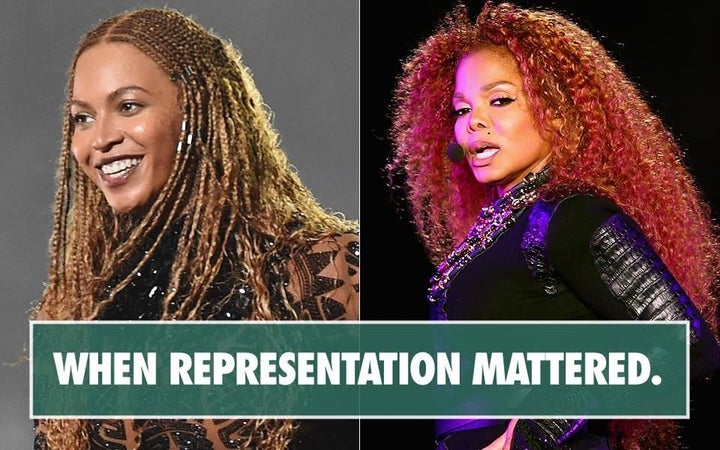 I'm a white man and a teacher. Much of my work over the past six years has involved meticulously analyzing Beyoncé's music, videos, and career alongside important black feminist writers ― in classrooms, during speaking engagements, and in writing. I'm sometimes criticized for doing so because I'm a white man talking about work that is outside my own personal experience. I'm not defensive about those critiques. They're valid. But I still attempt to explain why I do what I do because there are also more complicated conversations to be had, located under that surface, about power, responsibility, and representation.
My representation story is not about when I first saw or heard myself in pop culture. That can be a life-saving moment for those underrepresented, but I was everywhere, hard to miss. White men dominated when I was growing up, and still do. White men tacitly expect and demand anyone unlike them to erase their own differences, to identify with white male experience as the "norm." My representation story, as someone who holds power and privilege in various ways, is about learning to not see myself.
As a kid, I didn't know any political buzz words or anything about the dynamics of power and privilege. I just knew that I liked what I liked. And what I liked, revered above all other things actually, was Janet Jackson's music.
I was a white boy growing up in a monolithic ultra-conservative suburban town in Utah. Nothing about Janet Jackson reflected my reality or my surroundings. But looking back, hearing Jackson's "Control" began a life-long journey for me: one of deep appreciation of black feminist work of all kinds and attempts to connect, respectfully, across difference. It wasn't the novelty of difference or diversity that attracted me to Jackson; it was the content of her message, one of hard-won self-determination. One of overcoming obstacles and exposing the system that created those problems. As a black woman in America, she knew perfectly well what the real obstacles to self-determination were. As a white boy in Utah, I didn't. I wanted to learn from her.
As I grew up, I jumped from Janet Jackson to (among many others) Alice Walker in high school, Audre Lorde, Angela Davis, and June Jordan in college. I became politically conscious. But I had to search out these voices because they weren't readily offered to me in my formal education.
At the end of high school, I also came out as queer. In retrospect, I realized one of my early associations with Jackson singing, "When I was seventeen, I did what people told me / Did what my father said and let my mother mold me / But that was a long ago / Now I'm in control," was also a dream I wanted to realize for myself.  Despite the difference in our identities and situations, there was a kernel of commonality. That core experience of feeling "other" remains true across differences, though the particulars are vastly different.
I would never claim black women's struggle as my own. I don't feel like a black woman. I'm not a black woman. But what I've learned about black feminism as a political ideology is that it's about the liberation of all people from oppression ― starting with the most vulnerable, those living at the intersections of multiple oppressions. And though my own oppression as a queer man, my own "othering" differs in comparison, I know when oppression is fought at the intersections, it is fought for everyone anywhere on any of multiple axes. And I know the alternative model, i.e. working towards the easiest solution for the least oppressed among us winning inclusion in the system, does not work for those most in need. So I side with black feminism.
We all need to be studying black feminism. The journey that started with Janet Jackson for me has culminated in a university course I created in 2010 called "Politicizing Beyoncé" that I have been teaching ever since. The course puts Beyoncé's artistic work (which truly takes the baton from Jackson as the next great black feminist mainstream music and visual art) in conversation with black feminist writing spanning U.S. history. To mitigate my own identity, I only assign the words and work of black women in the class and use a conversational format in my teaching. Though I'm a white man present in the room, I feature black women exclusively on the syllabus. This isn't a perfect solution, but it's mine. And I'm open and willing to learn from any mistakes I'm bound to make in the service of bigger goals.
My students and the groups I speak to now are diverse. I'm not trying to teach on, for, about, or to black women's experience or position myself as an expert; rather, I want to encourage all young people to use black feminism as a lens to see the world while staying within the bounds of our own identities. An urgent and necessary skill. We all live together in a world that has made black feminism such an indispensable intervention; we all have parts to play in the solution, while always respectfully centering the voices of black women themselves of course. I try to use privileged pieces of my identity to gain access to spaces where I can create and continue introductory conversations around race, gender, and sexuality that prepare young people for further political thinking, organizing, and education that should and must be led by black women themselves.
I hope my story and experience can show how diverse (or as Shonda Rhimes rightly calls it, "normalized") representation is vital not just for those needing to see and hear themselves represented, but for those of us with power and privilege, desperately in need of lessons on how to connect across differences. It actually does us a great service to not see ourselves so heavily represented. When I first heard Janet Jackson's "Control" in 1986, I had no idea one day I would be teaching a class revolving around Beyoncé and black feminism. But when I first heard Jackson's words, I knew that they were changing me. That I would never forget them. And because I heard Janet Jackson in 1986, I'm still trying to work towards a world that connects across our differences.
After a long absence from music, Janet Jackson released a new album in 2015 called Unbreakable. In one song, she sings, "If you wanna show me love / Let's keep the conversation going." The conversation, for me, started in 1986 with Jackson's "Control." I'm no hero. I'm far from the only one doing any of this. This is just one queer white boy from Utah's story about how representation that didn't center on him deeply mattered. A story that hopefully begins to show, for those with access to power and privilege, lessons taken from not seeing yourself are so much more important than the tacit gratification of being seen as the default. Let's keep the conversation going.
This essay is part of the HuffPost Voices series "When Representation Mattered." The series highlights stories from people of all racial backgrounds, religions, abilities, ages, sexual and gender identities on what representation means to them. To submit your story (in written or vlog form) for consideration, email representationmatters@huffingtonpost.com. 
Past blogs in the series:
Calling all HuffPost superfans!
Sign up for membership to become a founding member and help shape HuffPost's next chapter
BEFORE YOU GO
PHOTO GALLERY
Janet Jackson's Style Evolution