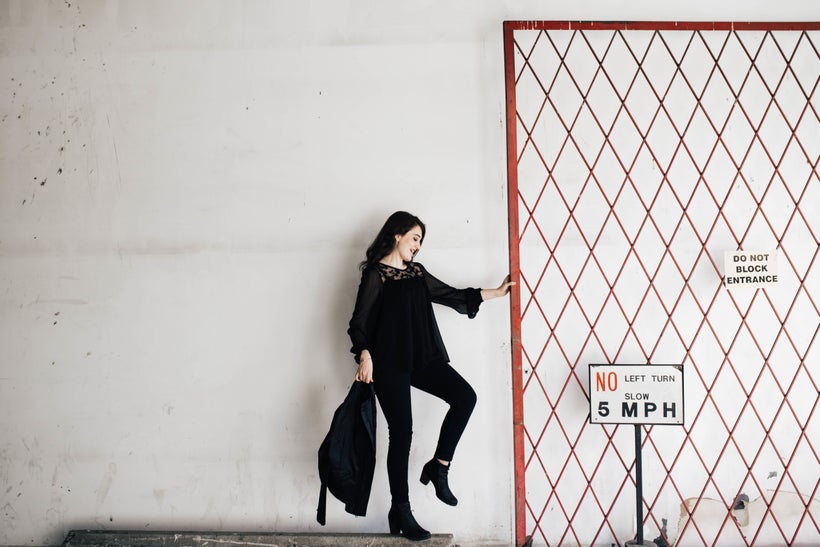 I have a palpable fear of being fat that began when I gained the "Freshman 15" at Vanderbilt. None of my clothes fit when I came home from school that Christmas. My parents could not contain their shock, and I felt mortified.
"Mortify" meaning I was so upset that I felt disgust in my body, felt wounded, felt that my body perhaps died, like the French word, mort. Ugh. It's really hard for me to think about that time, but I decided to share what happened because my story ends on a positive note and because I know there are lots of freshman getting ready to head home this holiday season with the Freshman 15.
That Christmas, when I was just eighteen and none of my jeans fit, I decided to hide my mortified body in khakis and polo shirts, since the preppie look was all the rage at Vandy. I bought a couple pairs of khakis and some shirts at the Army/Navy Surplus Store downtown, Chattanooga's source of preppy fashion. I ended up wearing those khakis for a year before I lost most of the weight.
Thankfully, somehow, I did not develop a lifelong eating disorder, even though I briefly flirted with one. I attribute this blessing to the strategies I list below.
My Guidelines Not to Be Fat
Here's what I've done to keep the Freshman 15 from coming back and what I do when I feel I've gained five pounds. I'm five-foot-eight and aim to weigh 129 pounds. (I have a small frame with small bones for my height, or that number would be higher.)
1. I do not weigh myself every day.
I almost never weigh myself. I've never personally owned a scale. If I weigh myself, it's at someone else's house or at the doctor's office, if forced.
In the past when I got on a scale and saw that I'd lost weight, I felt that a part of myself was lost, a part that I just ended up eating back.
At age eighteen, after the Freshman 15, I weighed myself constantly, which led to a small-scale, eating disorder disaster. I put a stop to it by getting off the scale, for one thing.
I learned how many calories foods I eat have. I keep count every day of the number of calories I eat.
This has become automatic, and I haven't had to write it down for years. Although to begin with, I wrote everything down. Today, I keep track in my head.
3. I cut back by 100 calories a day to lose weight.
No more. 100 calories is all I can eliminate from my diet without my body taking revenge and compelling me, as if I'm starving, to overeat. I decide on a few tiny things to cut out of my diet for six months to a year that add up to 100 calories, and I cut those out. That's all.
This past year in order to lose five pounds, I cut out the butter on my breakfast toast, downsized my daily Starbucks coffee from a grande to a tall, and switched to a granola bar with thirty fewer calories for my afternoon snack. That's all.
4. I do not starve myself.
In the past I've gained back all the weight starving myself lost me and then some. I learned to cut back 100 calories a day and no more through trial and error. That's all I can do and maintain a weight loss for a significant period of time. Luckily, I've never been more than five to eight pounds overweight since the Freshman Fifteen except when I was pregnant.
6. I exercise for an hour and a half 5 days a week. I know that sounds like a lot, but that's what it takes not to gain weight if I eat so I don't feel as if I'm depriving myself and so that I'm never hungry except at meal and snack time. You'll see below that I actually eat quite a bit.
7. I give myself six months to a year to meet a weight-loss goal.
What I Eat
Following is what I eat on a typical day.
2 pieces of whole wheat toast (the 60-calorie-a-slice variety), spread with a teaspoon of butter, sprinkled with a teaspoon of sugar and sometimes cinnamon
(In the past year I gained five pounds after a move, so I cut out the butter on my toast.)
2 cups of coffee with 1 teaspoon sugar and 1 oz. of skim milk each
Turkey sandwich on whole wheat bread with 3 cherry tomatoes (and/or avocado, but only occasionally), 1 tablespoon mayonnaise
Smoothie with 1 whole banana, 2 strawberries or 3 raspberries, 4 oz. unsweetened soy milk
Thermos of hot, decaf black tea with 2 teaspoons sugar to sip on the rest of the afternoon
Afternoon Snack (420 calories)
1 whole apple or handful of blueberries or strawberries in season
1 150-calorie, oat-based granola bar
(I cut down here from a 180-calorie granola bar to a 150-calorie one this past year to help lose those 5 pounds I gained that I mentioned above.)
And a 140-calorie chocolate-based granola bar (basically a candy bar that has 100 fewer calories). I need chocolate every day. That's my basic human need, so I don't deprive myself.
1 tall Americano from Starbucks with 3 packets (teaspoons) of sugar and a splash of non-fat milk (50 calories total)
1 piece of broiled or grilled chicken, steak, pork chop, or fish
tossed salad (assortment of lettuce, tomatoes, carrots, red cabbage, radishes, cucumber, etc.) with 2 tablespoons of Ranch, 1000 Island, or oil and vinegar
a side vegetable roasted in olive oil with salt, pepper, herbs (potatoes, broccoli, beets, carrots, tomatoes, etc.)
OR, a pasta dish with a protein and veggies plus the tossed salad
Snack before bed (140–300 calories)
Small bowl of cereal or 3–4 crackers or a 140-calorie granola bar. I might have one of these items two or three times a week, but not every night. Only if I'm hungry.
Average Daily Calories: 1720
On Eating Out
If I go out to eat on the weekend, I cut out the thermos of black tea and one of the granola bars in the afternoon to balance out a more caloric restaurant meal.
What Works for Me
1. I never go hungry. Never.
2. As you can see, I like sugar quite a lot, but am not that into bread, salty snacks, or fats. So I have sugar every day, somewhat in moderation. I've found that denying myself things I love only leads to binge eating them down the road.
Conclusion
I'm a person who was traumatized into having an overwhelming fear of being fat.
I've learned to keep a steady weight over the years by figuring out a way to allow myself to eat the foods I crave the most on a daily basis — sugar and chocolate.
I throw in lots of fruits and veggies by disguising them in smoothies and salads and as preludes to sugar and chocolate.
I eat almost the same thing for a good part of every day, day after day, but stuff I love, even though I know I should eat a wider variety of things.
I hope in some way, that my story may be of help to anyone struggling to maintain a healthy weight in a healthy way without developing an eating disorder. And, to any woman feeling low about the Freshman 15, it is a learning experience, sister, and I feel your pain. But, you will live through it. You will figure it out!
This post originally appeared on Medium.
For more by me, check out my new book, MURDER MASTERPIECE: A Boston Publishing House Mystery, on Amazon or Barnes & Noble.
Calling all HuffPost superfans!
Sign up for membership to become a founding member and help shape HuffPost's next chapter
This post was published on the now-closed HuffPost Contributor platform. Contributors control their own work and posted freely to our site. If you need to flag this entry as abusive,
send us an email
.