When I was little I wanted nothing more than to be a model or actress. I made my mom take me to those open auditions you hear on the radio where they try to sell you portfolio picture packages or acting classes. My mom wasn't into paying for that stuff, so I felt like I never truly could be "discovered." HA! I am so glad my mom never paid for those things now knowing what I do about this industry. When Baby A was born I decided to look into modeling because as most parents think, "my girls are so beautiful!" Not only that, but Baby A really has a special demeanor about her. She is one of the happiest babies I have ever met. That, paired with her adorable features, I thought she would be a good match and actually enjoy modeling. Not to mention college prices are only rising, so it would help put some extra cushion in her savings account.
I recently posted a picture on social media of Baby A on set of her latest role -- playing a Baby (duh) for a commercial. She has also done a handful of print ads for various local Twin Cities companies. I had quiet a few Facebook friends come out of the woodwork asking how I got her set up doing it, so I thought I would write a post on what we have learned so far. We are by no means experts, but thought I'd share our experiences over the past six months of doing this.
1. Submitting to agencies -- don't pay for fancy pictures! Every agency I submitted the girls into simply asked for any type of picture (non-professional is fine) at least 4x6, but not exceeding 8x10, in size. Usually if you go to the agency's website it will have information on what they want you to send to be considered. Babies change rapidly, so make sure they are very recent pictures. I sent in three 4x6s of each girl to four Twin Cities agencies. A headshot, full body shot, and candid shot. Include all information on the back of the pictures (parent name, their name and stats, contact information) and mail them out. Some agencies will take emails (only one did in my case) -- most said mail submissions only. We stuck only to submit with local agencies since we are not willing to travel for castings. Just Google "modeling agency, Minneapolis" or wherever and lots should pop up.
2. They will contact you. Trust me, if they are interested in your child they will. And in most cases, if you are contacted by multiple agencies you can work with ALL the agencies (unless you have to sign a non-compete, which is not normal unless you are highly regarded). So now -- assuming they contact you back, what does a relationship with an agency look like?
3. The agency will contact you about castings that your child fits the bill for. Then if you are available to take your child to the casting, you will schedule it through the agency. Go to the casting with your child. Generally, it is 15 minute (or less) process. They want to see the child's demeanor and also the parent that accompanies them. Don't be that overbearing stage parent. Let the professionals do their job and step back. If they need you to step in, they will ask. Then off you go. They will contact your agency if they deem your child is a good fit. Sometimes you get paid for "go-sees"/castings/auditions (if the client specifically asks for your child), but most of the time you do not.
4. Congratulations! Your child is cast! Now what? You will be given a time to arrive on set and they will generally do the rest (outfit, hair, makeup). Be sure to bring baby lotion, bottles, diapers, a blanket, and a toy to occupy your kid in case you have to wait. Usually they have a craft table with food if your child is eating solids. Most clients pay by the hour, but some will do fixed rate (I have seen this for video shoots). If you only work a few minutes, most pay for the full hour which is nice. Generally the rate includes the image/video rights forever or for "X years" and this is laid out in the contract that the agency would have sent you (ask your agency if you don't see this). Again, let the professionals do their thing and be there in case of questions and if they need your intervention if the child is getting upset.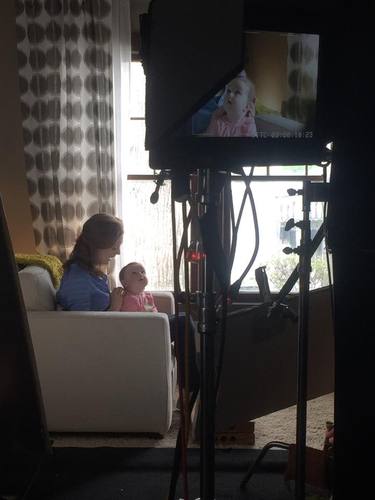 I don't usually take pictures on set as I don't want to appear to be "that mom," but was able to sneak a few at our last commercial while the crew was busy working.
5. Print vs Video. We have found print to be quick and easy. Baby A goes to a quick 10 minute casting and on the shoot date she is on set for less then an hour. Video productions are another story. Baby A went to a casting for about 15 minutes and then got a call back the following week for another 15 minute casting -- neither of these were paid. She ended up being picked and was given a flat rate if her video footage wasn't used (say she got fussy and they couldn't use her and used the other Baby) and another flat rate if they did use her footage for the commercial. You don't know what rate you will get until after production when they decide which Baby footage to put in the commercial (in our case they were shooting with her and only one other baby). This is typical with babies, to have a "back-up.
Next, they had her go to a fitting a week later which took about an hour. Finally, the shoot date. We had to arrive for a 7:50 a.m. call time and were given no idea of how long we would be "on set" (I asked). Luckily, they shot the Baby scene first, so we were out of there by 10:30 a.m. During that time only about 20 minutes was spent actually shooting. The rest was waiting a lot in a small trailer with many other actors, doing make-up, and getting her dressed. Then more waiting. Lots of waiting, but it was a fun experience and everyone was nice (professional and busy, but nice and accommodating).
6. Getting paid. Depending on the terms the agency has with the client, you will get paid once the agency is paid (usually 30-45 days out). The agency will take a percentage for doing their part (10-20 percent is common) and you will get the rest. Remember taxes are not taken out, so set some aside for that at the end of the year so you are not surprised!
My advice is if you child does enter this world, know as a parent you are there for only a few things: support, transportation and guardianship. I guess similar to putting your child into sports -- you let the coaches do their thing. The amount of pride you feel as a parent seeing your child smile in front of the camera is pretty awesome, I must admit. I suppose it is similar to seeing your kid win a soccer game.
Related