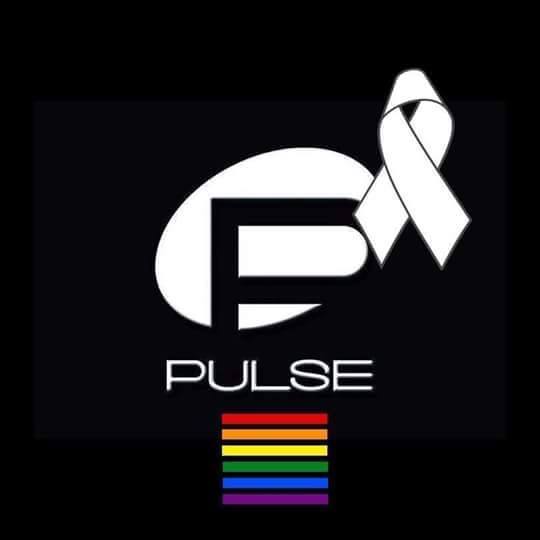 We all know what happened in the early morning hours at Pulse Nightclub on Sunday June 12, 2016. It was horrific. During Pride month. The worst mass shooting in the history of the United States of America.
First some history on Pulse (courtesy of my friend and Next Magazine Editor in Chief Alexander Kacala) Barbara Poma was introduced to the gay bar and club scene in Fort Lauderdale at the tender age of fourteen, thanks to her older brother John. On February 13th, 1991, her brother passed away after battling HIV for several years. In honor of her brother, Barbara opened Pulse Nightclub in Orlando, FL with business partner Ron Legler. They coined the name Pulse for John's heartbeat and dedicated themselves to serving the nightclub community, a community he loved so much. Pulse has worked with a wide range of organizations and hosted many community events such as Equal at UCF, Make A Wish, Equality Florida, Miracle of Love, Hope and Help (benefiting the AIDS walk), The Gathering Center, Come Out With Pride, and Gay Games Orlando 2016.
Post news binge today, there are a number of things I noticed and decided to compile here. Some positive, some hard realities, but all my truth and perspective. It is what I could do for our wonderful and wounded community today.
Tragedy Whores Abound
I first heard this phrase reading Carole Radziwill's first autobiographical novel "What Remains" and have shared the paragraph several times. Call them "ambulance chasers" or whatever you choose, but they are the type of people that take a local or national tragedy like this one and somehow manage to twist it to make it be about themselves. It's vile, its reprehensible, yet it shows very clearly the kind of people they are at their core. Ms. Radziwill I think encapsulates it the best, in her book where she states that they are "voyeurs. They feed like coffin flies on drama" and most clearly, indicates them as "emotional rubberneckers". I don't think these people can be described any more perfectly.
Go Out. Now.
Stop typing on Facebook and playing with crowns on Snapchat. Go out to the bar. Hit the dance floor. Grab a cocktail. These bars are part of the legacy of our community and to so many people, a landmark in their coming out process. Now more than ever, they need our support. Places like Pulse, The Manor, and The Parliament House are the fabric of Florida's LGBT nightlife. They are the backbones of our community. They are home. Now is the time to "go home" and support them more than ever. If we don't, the hate wins. And that my friends, is absolutely unacceptable.
There Is Still Homophobia; Everywhere.
Every time I go to a new area on vacation (or to New York City) my wonderful mother constantly tells me "be careful, there are still people who don't like people like you". While I sometimes brush it off as the musings of an overprotective and wonderfully loving mother, her words today rang so incredibly true. I have been to Pulse Nightclub. A number of times. This could have been Boston. Or Asbury Park. Or Provincetown.
According to news reports, the young man who committed these atrocities had a large problem seeing two men kissing in Miami several weeks ago. While I am lucky enough to live in a town (Asbury Park, N.J.) that has a thriving gay community, others are not as lucky. Gay bashings still occur. People are still killed for being gay in other countries. Many of the millennial generation specifically, do not recall having to quickly go into gay bars so you are not seen, and can't begin to comprehend a world where they are not accepted. While it's unfortunate that a horrific situation like this had to occur to demonstrate this fact, it needs to crystal clear; while we have come so far as a community, we still have an incredibly long way to go.

My Community Is Amazing
For almost twenty years, I have called Asbury Park, N.J. my home. It has been my haven, my home base, and my safe place. Some of my dearest friends own, manage and work in the tireless, rewarding and crazy business that nightclubs can be. I have seen each and every one of these people today band together to make sure that our community recognizes the events that have occurred and paying tribute to the victims and those affected with a candlelight vigil. They recognize that while the miles may separate us, the nightlife community is a large and diverse family tree, with branches spanning throughout the United States.
I have stood alongside this community through natural disasters (Hurricane Sandy) deaths of fellow community members, and watched it grow from a dark and moody town to one of the premiere tourism destinations for the LGBT community. Today and always, I am terribly proud of each and every one of the people that make up the wonderful fabric of my town.
Pride. Simply Pride.
People still will dance the night away at Club Cafe. WeHo boys will still sip cocktails at PUMP and The Abbey tonight. Brittany Lynn will still tear up Philly Pride today as the best drag queen in town. JR's in D.C. will continue to be the best spot to cruise post Pride festival. Each of these cities had Pride today. The celebrations did not stop. And they won't stop. The hate that has been demonstrated can only be matched by our communities banding together. June is Pride month. Proud in yourself. Your community. Your family. Now, more than any other Pride month is recent memory, it is imperative to be visible. Be present. Show yourselves.
Vigilance Is Key
If this incident teaches us anything, it is to be vigilant. While many of us take for granted being able to walk into our local tavern or nightclub and have an amazing experience, we don't take into account the fact that an unforeseen incident could occur. While we can only pray that an incident like last night will not continue to be the norm, it should indicate to all of us that we need to be more aware of our surroundings, especially when it is your first time in a new establishment. Get off your phone and look around. Where are the emergency exits? Where is the closest exit should you need to get out quickly? Where do you plan to meet up with friends should you end up separated? While these questions may seem extreme or trivial, in the world we live in now they are crucial to be answered.
Like Britney says, Do Somethin'
Let's be honest. The #PrayForOrlando and #Pulse hashtags are great, and the memes are appreciated. But there is more we can do. Go to www.redcross.org and click around. Blood donations are needed. And money is needed to aid people that are affected by the tragedy. A GoFundMe campaign has been set up to aid victims of the tragedy and you can donate at https://www.gofundme.com/2942a444.
Philadelphia's own Jimmy DePre took a break from spinning various Pride events to share feelings through music. These words are haunting and could not be more true at this moment.
There's a man with a gun in his hand
Something I can't understand
Love should be in demand
(John Gary Williams-The Whole Damn World Is Going Crazy)
Calling all HuffPost superfans!
Sign up for membership to become a founding member and help shape HuffPost's next chapter