Two years ago Stuart Edge got his start making videos when he left his well-paying but dirty job of cleaning porta potties for an internship at an agency that specialized in Youtube videos. With a little bit of instruction and a lot of time soaking up Youtube know-how, Stuart decided to create his own channel and video based on his passion for music, magic and social experiements. The result was spectacular.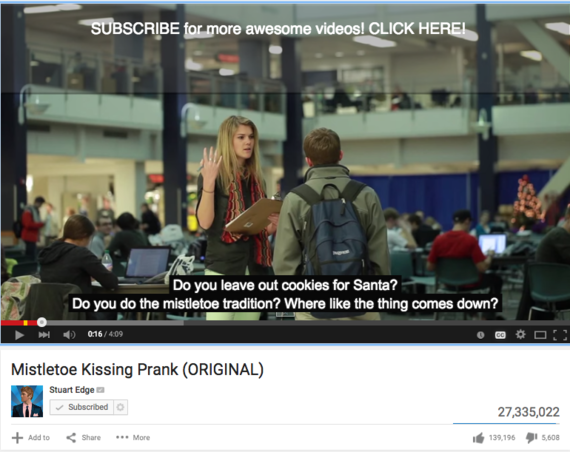 I flew Stuart out from his home base in Provo, Utah to my neighborhood in Southern California to learn everything I could about creating content from someone who is "edging" closer to the big leagues of mainstream entertainment with over 2 million subscribers.
Here are some of my take-away lessons:
1. The best content leaves your audience feeling "Wow!"
In a time when the barriers to entry to make a video are so low and according to Youtube, over 300 hours of video are being uploaded to Youtube every minute, your content better kick booty.
If you're not trying to "Wow!" your auidience every time then you shouldn't be surprised if your video has 23 views (and 20 of them are you). Of course I knew this but talking with Stuart really underscored the importance of it to me. Watch the video and the car I'm driving and you'll see me put this principle to the test!
2. Don't give up so soon
This is probably good advice for anyone doing any kind of work that matters. But it is especially important for content creators with a vision. Nothing worthwhile comes without a price, does it? Sometimes you have to grind it down to get to the good stuff under the thick outer layers that keep most people out.
Relationships. Good health. Becoming a competitive athlete. Finishing college. Starting a business. Whatever...When the going gets tough, don't quit if it's worth it. Stuart reminded me that we all have set backs and not everyone has a 27 million view hit video every time. It's about being patient and thinking and acting long-term. It's about staying in the boat even during the storms. And most of the time it's about reinvention and honing your skills.

3. Go ahead and put all your eggs in one basket
Over the past year Stuart has been asking his a audience on Youtube to join him on Snapchat, Facebook and Twitter. Those platforms have grown, but at the expense of his video views and subscribers. The result has been a gradual watering down of his potency on Youtube. The lesson here is about going all in or putting all your best eggs in the basket that is paying the bills. He's recalibrated his approach and returning to his video roots to put all his best stuff on his Youtube channel. Snapchat and other channels will be places to catch behind the scenes stuff and other ancillary content that doesn't cannibalize his sizable Youtube income.
What else did you learn from watching the full-length episode? Tweet me @BryanElliott or leave a comment below.
REAL LIFE. REAL NEWS. REAL VOICES.
Help us tell more of the stories that matter from voices that too often remain unheard.