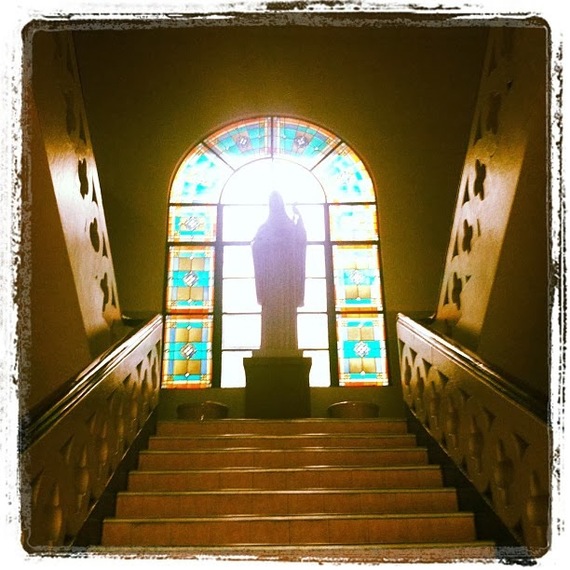 One Saturday morning, I had the great privilege of spending time with my mother's mentor and former boss, Sr. Soledad Hilado, OSB. She had not only been a teacher and president of St. Scholastica's College, one of the finest all-women Catholic private schools in the Philippines, but she had also been instrumental in the stewardship of PAASCU -- a body that oversaw the standards of accreditation for Philippine Schools, Colleges and Universities, of which St. Scholastica's was a charter member. Slight and demure, she was the embodiment of genteel grace yet a commanding presence.
All throughout my life Sr. Soledad has been a presence -- whether we were living in Manila or away -- in all important decisions, or life events, I knew my mother sought her counsel and advise.
In my life too, she made a major imprint -- she arranged for my first communion at age 6, when we had just learned that my father was going to be posted overseas to Singapore. I had just finished prep in St. Scholastica's College and she was concerned that going to an international school might interrupt my spiritual formation. So she arranged for me to be a sole communicant at the chapel in St. Scholastica's -- I had private instruction on communion from one of the sisters, Sister Lutgarde. Of course, to me, I didn't see the grandness of the gesture, the over-topness of it all. But looking back, I cannot escape the sense of love for my family that was displayed by Sr. Soledad's orchestration of my first communion as she broke down convention to ensure this one Sacrament was done "properly" -- this was the one great gift she could give us, as we embarked on a lifetime of being expatriated from country to country.
So that Saturday morning years later, I had come home to visit my parents -- it was my turn to live and work in Singapore. My mom told me Sister Soledad was ailing, and we agreed we should visit her. To our surprise, we found her in room, propped up on a pillow watching The Sound of Music on a DVR player. Her face lit up when she saw my mother. She said "Linda, you are so beautiful." Then she turned to me with characteristic frankness and sincerity, " You look lovely, but not like your mama." And we couldn't stop laughing. She made me sit by her bedside. And that's when the stories poured out of her.
"You see, back then I was a ballerina. I loved to dance. And I had suitors. They were fine men, they loved me -- but in my heart I knew something was not right. I loved my papa and my mama -- and it was a hard choice to leave them and my life and become a nun. You see, Mama was sick, and I was the one caring for her -- so my heart, it was breaking. It was like God was asking me to choose. But I knew there was only one choice. So I wrote a letter to Fr. xxxx, a Jesuit priest, when I decided it was time to enter the convent. I told him to fetch me. But of all days, he was at St. Scholastica's listening to a concert. I was so anxious. I got in touch with Sr. xxx and she said to wait outside the back entrance of St. Scholastica's so I could enter. And when I entered, I sent home a note to reach Papa at 6 p.m. to say that I was already inside the convent and nothing could be done. I went to my room, stepped out of my heels and looked at my feet inside my slippers. And that was that. That night the other novitiates -- they knew I was a dancer, so they asked me to perform. I danced a Hungarian folk dance," she recounted, her face beamed, eyes ablaze with the memory of that first night.
"The next day, my sister arrived. Papa had written a letter to Mother Superior. He said he knew that I could not be changed. He only asked that my mother be allowed to make all my other undergarments -- one last act of love from Mama. She wanted to hand sew everything for me. And it was done. Later on, I was assigned to the mountains. One of my former suitors followed me and asked me to leave. To come back. But how could I? My heart was so happy. So you see, whatever it is you choose, you must not settle -- whatever God gives you -- if you make the right choices -- you will be so joyful in that choice. Never settle. Sometimes you may think your heart is breaking -- like it was hard to leave my mama because she was sick -- but I was going to marry the Lord. When you make the right choices, they will be hard, but you will be filled with joy. Do not settle."
And, in that precious hour I spent with her -- I could not help but feel that I had glimpsed some divine spark. I saw her transform before my eyes -- her pale face had filled with light, remembering how she chose her destiny -- recalling the joy and freedom that such a choice gave her. In that moment, she was a teacher once again, illuminating the room with her wisdom, reminding me of how much more I needed to strive for. That in following God's path, it is often difficult, yet rewarding. And there is more than one path in serving the Creator -- the only thing He asks, is that with the gifts He gives us, is that we do not settle. Instead, we must joyfully embrace, and dance to the unique rhythm He gives us.
Thank you Sister Soledad for the many lessons and gifts you have given us over the years. Thank you especially for the privilege of that one morning with you. It was our privilege to have you in our lives.