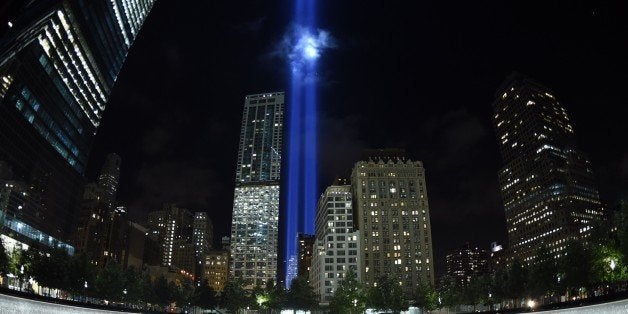 I was overwhelmed by unbridled passion, movement, energy, and emotion from the moment I stepped foot off of the plane in NYC.
I had never experienced anything quite like it.
People moving, things happening, laughs being had, shouting people, honking cars, running to catch a ferry, walking at running pace on the sidewalks, it was pure energy.
"This is New York City, this is the heart of it," I thought, but I hadn't even scratched the surface.
On the second day we took an exciting cab ride down towards Battery Park where we were going to jump from location to location in the lower side of Manhattan, sinking in some landmarks. The first stop, the 9/11 memorial.
I was very young when the towers went down. I honestly didn't really have much understanding of what was truly going on. I was only a young kid, running around in the back yard with a buck-knife my uncle had given me, thinking that we were being invaded land-war style. The news was really not the best thing for a kid with a wild imagination to be watching that day.
The years following I really became passionate about what happened that day. The mysteries behind it, the potential motives behind it.
I soaked up every bit of information, from conspiracy theories to Fox's coverage of the wars in the Middle East, to my very Democratic parents berating George W. Bush every time his snarky smile would hit the television screen. I soaked in everything, and I came to understand every perspective. I thought I knew the emotion behind that topic, I really thought I did.
It was like walking into a vacuum, taking the steps through security around the tarp-covered chain-link fence surrounding the memorial. I was holding my girlfriend's hand tight, drinking my coffee with the other hand, my stomach was sinking, I couldn't hear anything -- there was nothing to be heard.
I thought I was about to pass out, I thought my hearing had gone, I thought there was legitimately something physically the matter with me. There wasn't.
The "Heart of NYC" as I thought it was -- the energy, the movement, the noise -- was gone. The memorial was silent as the grave. It was a line of respect. The passion wasn't gone, the emotion didn't drop. It was stronger than ever. The roar that I had come to love of NYC was diminished to a faint whisper. A whisper of wind rushing through the trees surrounding beautiful stone waterfalls, cascading into the epicenter where havoc and destruction was had that day.
Everyone looked on in their own intimate way. With their own understanding of those events. It didn't matter what you thought happened that day, it didn't matter what motives you believe carried out those events. It didn't matter who you believed was at fault, or how it could have been prevented. You wept, you felt, you remembered.
I discovered a lot that day. I discovered the true heart of humanity that day. There is nowhere like Manhattan to experience the entire scale of human potential. It goes from the highest to the lowest and everything in-between. The beauty is that it's all connected, we're all one and the same. We're all together. I discovered that day that New York City is a family, and even more that humanity is a family. We're all connected, and we are all plugged in to one central hub.
That we can all sit in total silence -- hundreds, if not thousands of people -- and not say a word. Not argue, not point fingers, not blame, but understand. Understand that this is wrong. This shouldn't have to happen. These people we're beautiful, no matter who they were. It didn't matter what they had done, it didn't matter what they were doing.
They had potential, they meant something, they were loved.
They bring us together in a unified understanding that life is precious, that we have to respect life, and understand death for what it truly is -- a tragedy.
We will always remember, we will never forget. Those words mean something different to me now than they ever did before.
I won't ever forget the precious gift of life, and I will never diminish the enormous impact of death.
"We will never forget" -- but what is it that we will never forget? For me, it's life, humanity, compassion, respect, connection, community, understanding, empathy, and above all, love.
Calling all HuffPost superfans!
Sign up for membership to become a founding member and help shape HuffPost's next chapter