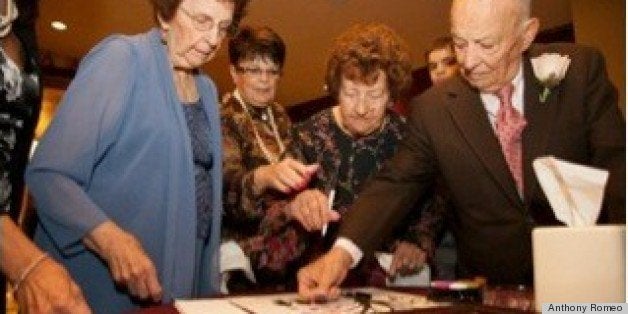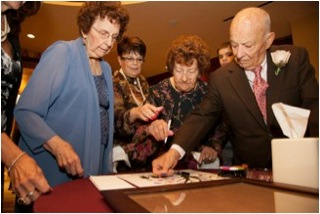 At 93 years old Vida Romeo still looked beautiful in blue. Her 96-year-old sister Ada chose a floral print, roses, to mark the occasion. And Vida's husband of 70 years, Frank? A simple brown. Noticeably absent from his wrist was a gold Bulgari watch; it was wrapped around the wrist of his grandson on the day of his wedding, his something borrowed.
Frank and Vida were stamping their fingerprints in our wedding guestbook. They were saying, "It wasn't enough to just be here. We wanted to leave our mark."
My husband and I were so lucky to have them with us on our special day in October. We learn what love is by watching those who have loved. We learn about commitment by watching people say, "I do." And, "I do too." After dancing to "Let Me Call You Sweetheart," Frank and Vida's first dance 70 years ago, we paused at the 70-minute mark to find them in the crowd. We hugged them, and we told them that we loved them. And we made sure that they knew that this frozen moment would stay with us for the rest of our lives.
They met at a party 73 years ago and have been together ever since. They married in Cedar Grove, where they still live. Seventy years have passed, and Vida still has Frank, and Frank still has Vida.
They are Catholic, Italian, proud North Jerseyans, Essex County pillars. Frank started a business in Clifton in 1948 that is still open, and he still puts in time there. They are an example of what marriage can be. What it ought to be, perhaps. They have seen wars, poverty and injustice of all sorts. In more than 90 years they've seen the world change, over and over again.
When I chose to go to Seton Hall University, my grandparents were so proud of me. For my high school graduation gift, my grandmother knitted me a red-and-black blanket. "For the Devils," she said with a hug and a kiss.
In my freshman year I was the victim of a hate crime. Someone vandalized my door with red paint and markers: Faggot. Queer. Homo. This was Vida's grandson, her Devils fan. I chose to come out to the college community, to help others create a dialogue through my experience. But I knew I'd have to tell my grandparents that I'm gay.
My grandmother has been unwavering in her love and support of me through the years. When I came out to her, I thought I'd have to dispel stereotypes because of the portrayal of gay characters on television. I said, "Grandma, I'm not like Jack from Will & Grace. I'm just me still." My grandma didn't miss a beat. She said, "Well, you're no Will."
They were both completely supportive: "When you've seen the whole world fight, you celebrate love." That's a lot of years of wisdom. Vida and Frank had found within themselves the place where family and faith could intersect peacefully.
A few years later I wanted them to be among the first to know that my partner and I had gotten engaged. My grandmother held my hand and said, "I can tell by the way I see you looking at each other that you really love each other. I love you, and I'm so happy that I'll get to see my grandson get married."
She asked me if I was going to get married at her church, Our Lady of the Holy Angels, in Little Falls. I told her that I wouldn't be able to do that. She asked me where in New Jersey we were going to get married. I had to tell her that we were not able to marry in our state. After some explanation, Vida looked at me and said, "Well, I don't understand. I can't understand. That doesn't seem fair."
And I realized, ultimately, that I couldn't understand either.
You see, this woman knows more about the world, and life, and love, and marriage, than almost anyone who reads these words. She's lived it. She gets to be the authority.
Many things change around us as we grow older. And there are things that do not change. My grandfather will always drive with two feet. My grandmother will always have a freezer full of homemade lentil soup. They remain honest to themselves after 70 years together. They will not change.
They believe that their grandson has a right to his 70 years.
We gave $25,000 to the New York state economy for our wedding -- florists, tuxedos, venues, catering, hotels and the like -- because we couldn't give it to New Jersey. Smarter minds than mine can calculate the kind of revenue that that would reflect at a statewide level; in any case, it appears obvious to me that a post-Sandy New Jersey economy might be reluctant to dismiss such economic boosters.
With over 200 days of marriage behind us, with each day that we are denied the immediate comprehension and understanding that the word "marriage" provides, it's unlikely that we'll be able to break Frank and Vida's record of 70 years. And that's OK.
I just thought that their story needed to be heard. Simply, they are two people who love each other and, through that love, have taught me all I need to know about marriage.
Safe to say, Grandma and Grandpa, you've left your mark.
Popular in the Community