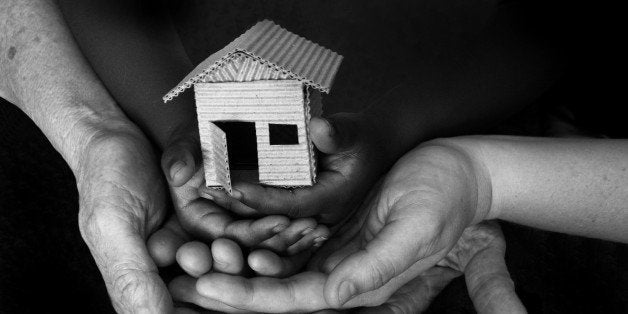 Three years ago my family and I were homeless. I have six children, and have been married to the love of my life for 20 years. We led a good life and my spouse and his occupation as an IT manager in the semiconductor industry left us doing well financially. We lived in a great home, had two cars, had kids in all sorts of activities and I busied myself with keeping everything in order on the home front. We did well for ourselves and listened to Suze Orman and had squirreled away money 'just in case' something would ever happen. We had a 401k ... etc etc etc. We had friends in our neighborhood that we went to dinners with and enjoyed our time out with them on weekly 'date nights.' For all intensive purposes life was good.
Then my spouse lost his job. The six-figure income was gone. At first we didn't think anything was going to be affected as we had saved for just such an occasion. Then rent payments, and car payments, and grocery payments, and medical bills siphoned all of our money away as the months ticked by with no job prospects coming our way ... things got very bleak at the end of that first year as our savings was almost gone. We moved into a cheaper home, cut every expense imaginable, and still no job. After moving into the inexpensive home my spouse was able to find work, but that was short lived. Two months into the new job and our new lease, they let the entire team go. I was pregnant with our sixth child at this time and we were in dire straits. I had no medical care, for me or my other children or spouse. We decided that we would use our last 800 dollars to move us back to Austin to live with family until we could find work. My oldest daughter was a senior in high school and in the middle of her school year and my second oldest was a sophomore. Both did not want to move and I tried to find a way to help them stay so she could graduate with her classmates of the last four years. My very best friend offered her home to the girls to finish out the year ... and my heart broke as I did what was best for my girls and let them live with her. They opened their hearts and home to my two oldest, but it was so very difficult for me and my family because we were such a tight-knit group. Their absence was missed at every dinner as we always ate together at the table.
That was year one of unemployment and entry into homelessness. We took the younger kids out of their school and enrolled them in Austin. It was a culture shock for them and they hated every minute of it. The only good part was being close to family. My spouse found out he had relatives living in a city just outside of Dallas called Athens Texas. It was a 2 hour drive into the city, but he felt he could do it. They allowed him to borrow one of their vehicles as both of ours were repossessed. Weeks went by and he was finally able to find a job as my belly grew more and more pronounced. So, after about a month at his new job layoffs were announced once again. It was like he kept hitting a brick wall. I tried to find work also, I applied at retail places like Walmart, and Target, and even asked the manager at our local 711 if they'd hire me. I applied for positions with corporations online utilizing LinkedIn, they liked what they saw online, but at the interview, everyone took one look at my belly and then it was 'we'll call you.'
I had had it. I was frustrated, and hurt, embarrassed and shaken to my core at how judgmental people can be when they discover that you are penniless or have to utilize food stamps to feed your family. The looks and stares I would receive in the grocery line were almost more than I could take. So for half of a school year, we borrowed a car ... a 4 door car woke everyone up at 4:00 a.m. and drove two hours into Dallas from Athens to get the kids to their old schools by 7:30. It was hard, especially on late nights when my daughter would play basketball until 10 p.m. and we had to make the two-hour drive home to Athens. We got home at midnight or 1 a.m. only to be up again at 4:30 the next day. We didn't have money to watch her play, just sat in the parking lot waiting for her game to finish. I'd wave at 'friends' who in previous years sat with us at dinner tables only to be ignored. Instead of lashing out, I took the lesson that was being administered to me and was determined to re-write the ending myself.
It was then that I made the decision to try to go back to college. I felt that deep down the only way that I was ever going to avoid those pitfalls that we have been climbing in and out of for those years was to finish school. So I sat in classrooms at the University of Texas campus in Richardson and listened, and studied social media, marketing, and technology innovation. I learned about the Kahn Academy, about YOU, about Richard Branson, about all of these people who did marvelous things for the world with their creativity and said to myself "that's going to be me."
I have ideas, dreams, creative thinking, artistic views and awesome ideas for applications for mobile devices that I'd like to see come to fruition one day. I have aspirations of creating a start up and perhaps someday I will. I will try my best to make them fruitful for my family because seven people living in a one bedroom hotel alongside a highway (which is where we ended up after Athens) is no place to raise children ... but it is quite a wake up call.
I live now with a different view on life and place value on things that really couldn't be bought. In losing everything we found ourselves. It's true ... I think the Stones said it best with the line "You can't always get what you WANT ... but if you try sometimes you might find ... you get what you NEED." I look at life with new eyes and with every step I ask myself if I need it or not. It serves me well. I have also found a new sense of humility and humanity in helping others. I hid my situation, out of embarrassment, and I know that there are others out there like me. In plain sight. I hope to be in a position someday to help families like mine who for whatever reason need to be uplifted.
Well, I left a few things out, but I think I summed up the pieces that have led me to the path I am on now. This semester I am a senior at UTD and while I still do not have a job, other than raising my children I look forward to what the future holds.