A mother reflects on her career in a male-dominated workplace.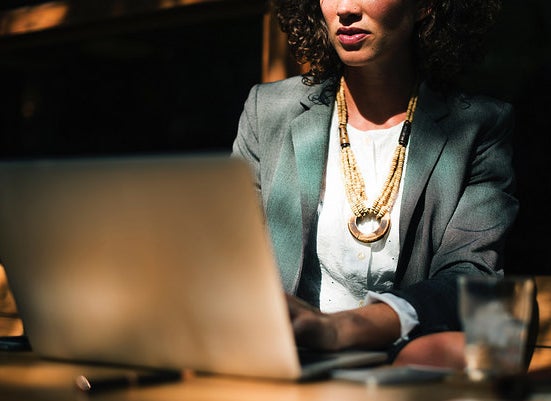 An Office Lady's day has a particular rhythm, and it didn't take long for it to become mine.
It was my first job out of college, and I was working at a company in Osaka. Office Lady is a traditional Japanese term, and the role is clearly defined.
Inside my assigned locker hung puffy-sleeved, cream-colored blouses, a knee-length navy skirt and a matching vest with gold buttons. Like the other female office workers, I wore the uniform every day. Pantyhose were a requirement, the type of shoes my choice. Most of the women wore practical flats or short pumps. I wore sneakers, my own nod to life at the Northeastern US college campus I'd just left.
The job was a year-long internship at Japan's third largest paint manufacturer. There were no other Americans. In fact, it was practically unheard of for a Western woman to be an Office Lady at all.
The idea was that the company would make use of my native English skills for its overseas business, while I would experience the culture and hone the Japanese I'd spent four years learning in college. I sat with dozens of men and women on a large, open sales floor among a cluster of desks that made up the International Department.
I would arrive each morning, put on my uniform and eat breakfast at my desk – usually a plastic-wrapped bun filled with sweet bean paste or chunks of cheese. Through the window, I would see the men in pants and dress shirts in the parking lot swinging their arms to calisthenics instructed over a PA, a typical way corporate Japan starts the day.
I spent my days copying, filing, and waiting for instructions from a soft-spoken, chain-smoking manager whom we called "Bucho." His title meant Department Head.
A bell would ring to signal lunch. Men and women sat on separate sides of the cafeteria. An unwritten rule but just "the way it is," a colleague told me. After lunch, the women would head en masse to the bathrooms to brush their teeth.
The remainder of the day would plod along slower than the first half. When the end-of-day bell rang at five, we'd rush to the lockers to change. Sometimes we would go together for cheesecake or green tea parfaits – snacks considered inappropriately feminine for men. Besides, the men stayed at the office and worked late.
I was an Office Lady like any other.
The only ritual in which I didn't participate was the making of tea. A major part of the Office Lady day, ocha-kumi happened once in the morning, and again in the afternoon. The women would disappear into the kitchenette to make tea for the team of men. Sweets accompanied the tea, handed carefully to each person on a small square of scrap paper that served as a plate.
Another American who had come before me – an opinionated Midwesterner named Sue – had bristled at the idea of women serving tea without help from the men. Thanks to her, gaijin women were not expected to make tea.
As it was, friends back in the US –most working in finance, an industry I would eventually join – would not have been caught dead carrying a tray of tea and daintily-set cookies for male colleagues.
For me, in deciding to what degree I should conform to Japanese culture, this seemed a good place draw the line.
After all, I was an Ivy League grad. For the past four years, we had been constantly congratulated for our smarts. Our ability to "get in" where many others had tried and failed spoke of a certain pedigree. We were "the best and the brightest," a phrase sprinkled upon us like pixie dust to serve as armor against life's realities.
It was easy to believe, attending class in majestic, gothic halls and lolling about on rolling lawns, that if I worked hard enough a path to success would continue to unfurl like a golden road to Oz.
As it happened, it wasn't my time as an Office Lady that shattered the illusion. I became a successful journalist after leaving the paint company. I spent nearly ten more years in Japan – as a foreign correspondent for the Associated Press, then TIME Magazine and ultimately in the Tokyo bureau of the Wall Street Journal.
The turning point was when, back in the US, I made a career change and took a job as an analyst for a New York-based hedge fund. I entered a male-dominated industry in which, unlike the paint company, expectations for women and men were exactly the same.
When I would think about my former Office Lady peers – most of whom had married and left the company to be full-time housewives, the typical path in Japan – I felt sorry for them.
Then I became pregnant with my first child.
I was the only woman on a twelve-person investing team. Suddenly, with my belly growing, there was no denying I was different. I tried my best to blend in, even joining the team for an offsite at an Arizona dude ranch that included a poker and cigar night.
I increasingly felt self-conscious, especially when I couldn't join the guys for a beer or had to leave a portfolio review to pee for the third time in a row. She is distracted. She's off her game, I suspected they thought. As if to confirm this, a senior member of our team—a father himself—said I was crazy if I thought I'd be able to travel with the same rigor as others once I'd become a mother.
Good luck wiping butts, he said.
The week after I returned from maternity leave, I was scheduled for an immediate trip to Japan. It wasn't a choice.
I left the company soon after. I began working at a big investment bank with an established HR department. There were more women, although still far fewer than the men. As before, I felt obliged to join poker nights with colleagues, and I regularly found myself in situations where I was the only woman.
I suffered humiliations disguised compliments. At a holiday party, one of my male bosses told my husband I was "a real sweetheart."
I shrugged it off, determined to just deal with it. After all, I was used to feeling out-of-place, perhaps due to many years as a foreigner in Japan.
The real problem arose – once again – with motherhood.
After my second child was born, I wanted to take the full five months the bank allowed for maternity leave. One of my bosses, a woman with children of her own, told me it would be "bad optics" – especially given how weak business was at the time. Ultimately, however, it was my decision. No pressure?
My annual bonus – discretionary and based on no published metrics – always seemed much lower than expected. This was also attributed to poor business conditions.
One year, I learned from a male colleague on my same level – also a good friend – that his "number" was $50,000 higher than mine.
"Next year," I was told when I asked my boss about it. "Once your account management is better."
Bad business? My performance? No matter the reasoning, I always had a vague sense that being a woman and a mother was hurting my career – albeit in hard-to-pin-down and sometimes hidden ways.
Understanding the nature of workplace sexism feels like trying to grab a fish in dark water. I get a quick sense of its shape, then it slips from my hands.
I still work in finance, a primarily-white-male environment that hides behind the idea of meritocracy and refuses to admit the crucial advantages that come from being a man.
I like my work and find it stimulating. But I still have days when I feel like Gregor Samsa in Kafka's "The Metamorphosis" – less a like a human woman and more like a gigantic bug.
My day-to-day experience of discrimination is subtler than the Wall Street "bro talk" and other egregious examples that get so much media attention.
In a recent team meeting, a male colleague passed me a note. It slid silently across the mahogany table, visible to those sitting near us. In ballpoint he had written – You have an irregular mole on the back of your arm that needs to be checked by a doctor.
Was this sexist? Helpful? As a woman, it was uncomfortable to be made suddenly aware of my body around a boardroom table filled entirely with men. I felt like crawling into the office kitchen, nibbling crumbs, and scuttling away to nap under the cabinets.
It's been twenty years since I worked as an Office Lady. By the time I left, though I never made tea for the men, I had started joining the other Office Ladies in the kitchenette. We hung out as they poured hot water, steeped the leaves and arranged cups on the tray.
Each of them admitted she didn't love making tea. Most had plans to eventually marry and quit – the only realistic exit from the tedium of their role in the company and a road well-traveled by Office Ladies in Japan.
When I told them I planned to marry, have kids and still work, they would say iii naaa — a polite expression of envy and admiration.
Now, I think – envious of what? As a somewhat arrogant and action-oriented American who saw herself as somehow set apart, even as our roles differed little, it used to frustrate me that my female colleagues wouldn't just stop making tea if they disliked doing it.
Why not go on a tea strike?
But at least they didn't pretend to be part of a meritocracy that doesn't fully exist.
We can all stop making tea, and we should. Still, I often think about the fact that the Japanese women I worked with then weren't culturally conditioned to expect equality. So they weren't disappointed that it was lacking.
For that, I now envy them.
About the author: Virginia Woods spent ten years in Japan, mainly as a foreign news correspondent. She now lives with her husband and two kids in Brooklyn, NY. She works in financial research.
Calling all HuffPost superfans!
Sign up for membership to become a founding member and help shape HuffPost's next chapter
This post was published on the now-closed HuffPost Contributor platform. Contributors control their own work and posted freely to our site. If you need to flag this entry as abusive,
send us an email
.