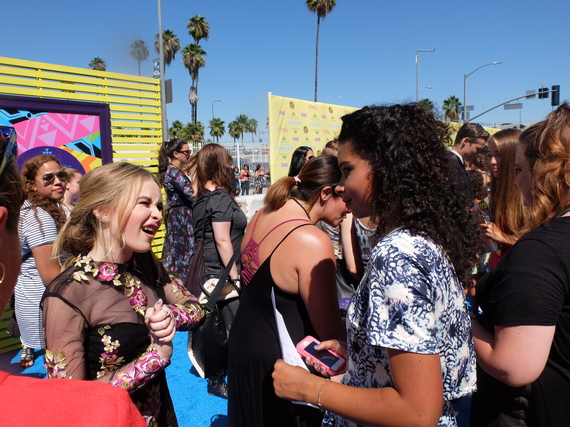 This Past Sunday, the 18th of August, I stepped out of my air conditioning and onto the blue astro-turf carpet at the 2015 Teen Choice Awards. I expected to melt, take selfies, and learn something new about our favorite celebrities. All three of these things happened. Here's 21 things I learned on the TCA's blue carpet ( + a vlog with photos of all of this happening) :
1. I asked every teen celeb the same question, "What's the best part about being a teen?" and got roughly the same answer - that you can explore, try new things, and really experiment with who you are. Sabrina Carpenter, however, was 500% honest about it: "You can get away with it."
2. I learned three facts about each of the boys from Forever in Your Mind, but here are three things they didn't tell me that I think you should know: 1. They each have very definite favorite colors. 2. They know the difference between a dress and a two piece and can appreciate both. 3. Liam was holding up four fingers the entire time and thought I wouldn't remember.
3. HEY VIOLET are not, in fact, Australian, and they share my strong appreciation of Dr. Martens.
4. Vine Stars really do talk that fast, unless, like Nash Grier, they are starring in a movie ('The Outfield', coming out this October) or, like Jake Foushee, they have the voice of an angel. Also, Hayes Grier? His eyes are thaaat blue.
5. I'm the third J that Jack & Jack never knew they needed.
6. Greer Grammer dyed her hair, but Flynn Rider has a thing for brunettes, so I think she's fine.
7. Zendaya's advice for teenage girls is so important: " Don't grow up too fast. We have plenty of time to grow up, so just enjoy yourself."
8. Little Mix are the British girl group I didn't realize I was such a massive fan of but I am now 500% on board.
9. Pierson Fode will take his clothes off if you ask/it's 105 degrees and he's wearing a leather jacket.
10. The Janoskians will wear no clothes at all, as they prefer paint, and glitter.
11. Skylar Astin's favorite Fat Amy line is "I'm gonna finish him like a cheesecake."
12. Flo Rida has someone whose job it is to polish his scalp. Just FYI.
13. Keith T. Powers came straight outta my hometown, and yes, his teeth are actually that perfect and his freckles are that good up close.
14. Between the two of us, Brec Bassinger and I cannot put up a velvet rope, but we can find the only decent selfie lighting out there.
15. Molly Tarlov and Jillian Rose Reed are just as great in person as they are on Twitter.
16. Literally, my life is interviewing celebrities on blue carpets, but Eva Gutowskis
version works too.
17. Riley Curry has a play-makeup set and thinks her dad needs to use it. No one agrees.
18. Chloe Grace Moretz's mum has some solid life advice: "If it makes you happy, do it, if it doesn't, don't do it."
19. The biggest difference between being a teen on TV and in real life? "It's not scripted, and it doesn't wrap up in a half hour", according to Ross Lynch. "You never have time to do homework", according to Marcus Scribner. Guess which is which.
20. Don't give Michael Willet a bad gift, as he will not be able to fake enthusiasm and it will be uncomfortable all around.
21. Natural hair is unnatural for Tyler Oakley and will cause lots of double takes.
21 1/2. If your iPhone overheats, as they do, and you say this in a sad voice around a lot of Vine stars, they will all feel your pain and come up with lots of creative solutions to cool it off.
Now the selfies and surfboards have settled, but I'll have this charming sunburn for a while. To keep up with the further adventures of the selfie queen, and to see more behind the scenes coverage, follow me @bentpieceofwire on twitter + at www.abentpieceofwire.com
Popular in the Community