I was moved to tears the weekend of Trump's inauguration but not because I fear the future. Alongside my mother, I joined over half a million people in a peaceful protest in D.C. to make history and remind myself that this is not the end. I have never been to a political protest before and honestly did not know what to expect. I had the privilege of hearing powerful speakers, among them Angela Davis, Kamala Harris, and Tammy Duckworth -- urging the crowds not give up, but instead to work with the administration to bring about the changes we actually want to see.
Women, men, and children alike took the opportunity to say something about this by peacefully protesting around the globe. From white-haired couples in pink hats to young boys and girls carrying colorful signs, millions came out to support the march. Black Lives Matter, Muslim activist groups, supporters of Planned Parenthood, and even an eight-year-old activist speaking for undocumented immigrants came out to make a statement.
The first thing I learned from my experience in Washington is that this is not going to get easier. This weekend was just a preview of the kind of activism this country needs for the next four years to protect basic fundamental human rights threatened by the new administration. Within hours of his inauguration, Trump and his administration took down the White House web pages on Climate Change, Civil Rights, and LGBTQ+ rights. He has nominated the Wolves of Wall Street to fill his cabinet.
Research, educate, and form opinions on issues. Read up on Trump's nominees for cabinet positions like Steven Mnuchin and decide if you want people like him directing U.S. policy. Write to your representatives and use your power as a constituent to make a difference.
The second powerful lesson I learned was we should support women in office. Stephanie Schriock, the President of Emily's List, noted that if women held fifty percent of the seats in Congress we wouldn't be debating access to birth control, the wage gap or still trying to solve the problem of sexual assault on college campuses. She advised the crowd to support candidates running for office who advocate for women's rights – or to run ourselves.
The final lesson I learned from my time in Washington was that if you want something done, you have to do it yourself. I heard so many different powerful and inspiring speakers this weekend and one of them was Amanda Nguyen. Nguyen is a perfect example of how activism can be effective. She is the president and founder of a non-profit called Rise, which was the lead organizer of the Sexual Assault Survivors' Rights Act. The law, signed by President Obama last October, guarantees rights for survivors of sexual assault, including ensuring that crime evidence is appropriately collected, tested and preserved.
In the crowd of over half a million people there was a poster that stood out to me. It said, "I kept asking, 'Why isn't somebody doing something?' Then I realized, I was somebody." I traveled to Washington D.C. from Minneapolis because I wanted to send a message and be part of a movement. This movement is not over and I know that I have to keep working to carry it on. I applaud everyone who protested this weekend and ask that you don't let the passion you have fizzle out.
Keep researching issues and watch what our president does, write to your representatives and let them know how you feel, communicate with your fellow citizens and approach life with positivity and hope. The march this weekend gave me hope for the next four years – and I hope it gave you something to look forward to as well.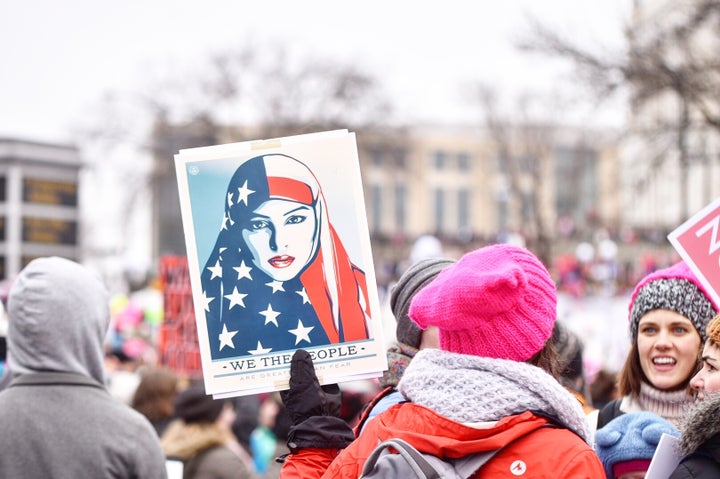 REAL LIFE. REAL NEWS. REAL VOICES.
Help us tell more of the stories that matter from voices that too often remain unheard.