Truth be told...before she met me, my wife wanted to marry Derek Jeter.
I can't say that I blame her.
He's a great ballplayer and he's a great guy.
For as long as I can remember, I have studied peak performers from all walks of life, from Abraham Lincoln to Albert Einstein, and from Babe Ruth to Derek Jeter. Out of all the greats, I probably have studied Derek Sanderson Jeter the most, observing nearly his entire career, and hearing him speak to the media, as well as what others have said about him.
Nobody can argue that Derek Jeter hasn't been a consistent peak performer, but what intrigues me is how he has been able to be just as consistent as a leader and role model on the same team for 20 years, in the toughest media market, and in an era of performance enhancing drugs.
When I heard that Jeter was retiring after this season, I wanted to get a first-hand glimpse at the real Derek Jeter, but as you can imagine, he has been difficult to reach this year. I finally got that chance. I saw a Derek Jeter that few people have experienced at "The Captains Farewell: A Tribute to Derek Jeter," a lunch and Q &A hosted by Brandon Steiner and Steiner Sports in New York City during Jeter's final week in pinstripes. "What makes Derek Jeter so great?" I asked attendees.
"His honesty and the fact that he is humble. To me, Jeter is the #1 Yankee of all time."
-Theresa O., Virginia
"Derek truly cares...about the game, about people. He would help anybody. Derek lives minute by minute and pitch by pitch. He is respectful, and is the same person that he was in 1996 when he was a rookie."
-Brandon Steiner, founder of Steiner Sports
"He is a great athlete, and a class guy who did it right on the field and off the field. He is a team player."
-Bucky *Expletive* Dent, World Series MVP 1978, New York Yankees
"Derek is very talented but what sets him apart is his ability to make others around him better. He is very grounded and motivated."
-Chris Chambliss, former First Baseman, New York Yankees
"What amazes me is that he has been consistently spectacular. Derek is respectful and always rises to the occasion."
-Johnette Howard, ESPN columnist
On video during the event:
"As great a player that Jeter is, he's an even better person."
-Goose Gossage, former Yankee pitcher
"He played hard every day."
-Pete Rose, MLB's All-Time Hit Leader
"Derek Jeter is the only Yankee any Red Sox fan can say something nice about."
-Ann Marie Dube, Diehard Red Sox fan of 36 years
Even Bald Vinny, the leader of the Bleacher Creatures said, "It won't be the same, that's for sure."
"He is exactly the way you see him. He was great with the fans and great with the younger players in the dugout," said Fran Lippincott, a security guard at the Yankees Double-A affiliate Trenton Thunder who escorted Jeter around the field signing autographs during his rehab stint just before Derek's 3,000th hit.
"I think Daddy would have been proud of Derek."
-Julia Ruth Stevens, daughter of Babe Ruth
I had a blast chatting with so many people on Derek...now here's Derek on Derek:
"What you do off the field is more important than what you do on the field."
"Be accountable for your actions. EVERY DAY."
Mariano Rivera and Derek got sent back to the minors early in their careers. Their reaction? They both cried, but then they bounced back and just focused on working hard every day to get back to the majors.
Jeter said that he prepares for every game the same way whether it is a regular season game, or the World Series.
To parents, Jeter said, "Let your kids have fun. Too many parents today put so much pressure on their children."
During the end of the Q & A, Brandon Steiner asked Derek: 
"Do you think you can win 7 games in a row? (to make the post-season)"
Jeter responded with "We have to win TODAY."
I love that answer because people often lose focus by thinking about the past or the future. The secret is staying in the moment.
So what did I learn from Derek Jeter?
1. Being a good person is more important than being a good athlete.
2. It doesn't take talent to give effort.
3. Focus on this pitch, this moment.
4. Dream big, then take action.
5. Have fun.
I thought long and hard about what question I would ask Derek Jeter if I had the opportunity. Here's what I came up with:
"Everybody talks about your confidence regardless of the situation. How did you maintain that confidence through the ups and downs for the past 20 years?"
"It can be difficult at times, but even if I am in an 0-for-20 slump, in my mind, my chances of getting a hit has increased. I never get too high or too low, and I treat every game the same."
It's no wonder why Steiner Sports has continued a strong relationship with Jeter since the beginning of his career. Derek is also a long-time member of Team Jordan, who has produced an anxiously-awaited new Jeter line of shoes. Louisville Slugger is retiring Jeter's model bat, the P72 which he has used for his entire career (another example of his loyalty and consistency). They are renaming the bat the DJ2. And if you haven't see the Jordan Jeter commercial or Gatorade's Jeter commercial, do it now below, but grab some tissues.
You may not be a Derek Jeter fan. You may not be a Yankee fan. You may not even be a sports fan, but as the Derek Jeter era comes to an end, you have to RE2PECT what he has done. The best part is that you don't have to have his talent, body, or bank account to be the type of person that he is.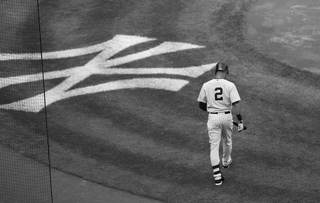 Connect with Ed:
Free Peak Performance Course: www.edtseng.com
Email: ed@edtseng.com
Phone: 609.558.1077
Calling all HuffPost superfans!
Sign up for membership to become a founding member and help shape HuffPost's next chapter